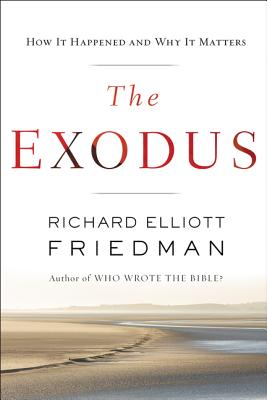 The Exodus (Hardcover)
HarperOne, 9780062565242, 304pp.
Publication Date: September 12, 2017
Other Editions of This Title:
Paperback (9/11/2018)
Compact Disc (9/12/2017)
MP3 CD (9/12/2017)
Compact Disc (9/12/2017)
* Individual store prices may vary.
Description
Discover the real history of the Exodus and why it matters.
Biblical scholars, Egyptologists, archaeologists, historians, literary scholars, anthropologists, and filmmakers are drawn to it.  Unable to find physical evidence until now, many archaeologists and scholars claim this mass migration is just a story, not history.  Others oppose this conclusion, defending the biblical account.
Like a detective on an intricate case no one has yet solved, pioneering Bible scholar and bestselling author of Who Wrote the Bible? Richard Elliott Friedman cuts through the noise — the serious studies and the wild theories — merging new findings with new insight.  From a spectrum of disciplines, state-of-the-art archeological breakthroughs, and fresh discoveries within scripture, he brings real evidence of a historical basis for the exodus — the history behind the story.  The biblical account of millions fleeing Egypt may be an exaggeration, but the exodus itself is not a myth.
Friedman does not stop there.  Known for his ability to make Bible scholarship accessible to readers, Friedman proceeds to reveal how much is at stake when we explore the historicity of the exodus.  The implications, he writes, are monumental.  We learn that it became the starting-point of the formation of monotheism, the defining concept of Judaism, Christianity, and Islam.  Moreover, we learn that it precipitated the foundational ethic of loving one's neighbors — including strangers — as oneself.  He concludes, the actual exodus was the cradle of global values of compassion and equal rights today.
About the Author
RICHARD ELLIOTT FRIEDMAN is one of the premier bible scholars in the country. He earned his doctorate at Harvard and was a visiting fellow at Oxford and Cambridge, a Senior Fellow of the American Schools of Oriental Research in Jerusalem, and a Visiting Professor at the University of Haifa. He is the Ann & Jay Davis Professor of Jewish Studies at the University of Georgia and the Katzin Professor of Jewish Civilization Emeritus of the University of California, San Diego. He is the author of Commentary on the Torah, The Disappearance of God, The Hidden Book in the Bible, The Bible with Sources Revealed, The Bible Now, The Exile and Biblical Narrative, the bestselling Who Wrote the Bible?, and most recently, The Exodus. He was an American Council of Learned Societies Fellow and was elected to membership in The Biblical Colloquium. His books have been translated into Hebrew, German, Italian, Spanish, Russian, Japanese, Polish, Hungarian, Dutch, Portuguese, Czech, Turkish, Korean, and French. He was a consultant for the Dreamworks film The Prince of Egypt, for Alice Hoffman's The Dovekeepers, and for NBC, A&E, PBS, and Nova.
Praise For The Exodus…
"A historical detective story. In fluent prose . . . Friedman makes a gripping and persuasive case that it was the Levites who escaped Egypt and carried the story of the Exodus into Canaan, teaching us one of Judaism's foundational ethics: not to oppress the stranger because we were once oppressed."
— New York Times Book Review

"By investigating verses from the Bible, evaluating inscriptions, incorporating material from archeological excavations, and assessing relevant historical data, Friedman builds his case that a small contingent of Levites were the actual group to leave Egypt. . . . Readers with a strong interest in the Bible will appreciate Friedman's exploration."
— Publishers Weekly

"Sensational and profound. An eye-opening study of perhaps the single most consequential event in the biblical narrative and one of the touchstones of both Jewish and Zionist aspiration."
— Jewish Journal

"Compelling, revealing and fascinating."
— Faith Matters

"The Exodus displays, yet again, the unique gifts of Richard Elliott Friedman, whose work always embodies the mastery of an accomplished biblical scholar, the eye of a literary detective teasing out the mysteries from an ancient text, and the skill of a born storyteller. A page-turner."
— Jonathan Kirsch, author of The Harlot by the Side of the Road

"A treasure! When Richard Elliot Friedman thinks Bible, new light shines. The Exodus is not only an argument for the reality behind the Exodus story, but is itself a revelation. Let Richard Friedman guide you from slavery to freedom, and teach a transformative Biblical lesson along the way."
— Rabbi Dr Bradley Shavit Artson, American Jewish University

"A fresh and compelling perspective on the exodus [that] demonstrates its link to the foundational concepts of monotheism and the ethical command to love all others. Friedman not only has produced a cogent analysis of the scholarship on these significant issues but also has given us a page-turner."
— Carol Meyers, Duke University

"Friedman's Exodus is accessible and up-to-date with a marvelous scholarly summary of the latest theories and data; his own Levite hypothesis may be the most compelling answer to one of the most important ancient puzzles in world history."
— Thomas E. Levy, University of California, San Diego

"Friedman's brisk and learned account of the biblical and historical evidence paints a compelling picture of where the Israelites came, their evolving view of God, and how it all fits together."
— Peter Enns, author of The Sin of Certainty

"An engaging book, masterfully written."
— Thomas Römer, Professor at the Collège de France and the University of Lausanne

"Richard Elliott Friedman has the rare ability to make biblical scholarship widely accessible and exciting.  This gripping read integrates a careful interpretation of the biblical text with the latest archaeological discoveries, yielding a compelling argument in favor of the Exodus."
— Jodi Magness, senior endowed chair in the Department of Religious Studies at the University of North Carolina at Chapel Hill

"An engaging discussion of the Exodus traditions in the Bible, their origin, and their importance.  Written in the clear and lively style we have come to identify with Richard Elliot Friedman, who has done more than any other scholar to introduce the intricacies of biblical scholarship to a broad audience."
— Marc Brettler, editor of The Jewish Annotated New Testament

"A study to not only help those who wonder how much is mere 'story' and how much can be supported with real evidence, but also what we can glean by its teachings, and how that has so broadly shaped the world as we know it."
— Southern Jewish Life Magazine

"With his engaging style, supported by superb scholarship and straightforward thinking . . . Friedman has succeeded in writing one of the most enjoyable books that I have read in a long time. I won't be alone in this opinion."
— Biblical Archaeology Review

"For anyone interested in the Bible, Richard Elliott Friedman's new book is a game changer. Friedman makes a credible and convincing case for the historical truth of a story that has been widely dismissed as wholly fictitious."
— The Christian Century

"[Friedman] does a magnificent job of bringing important ideas from the academy to a broad readership. Friedman upends widely repeated but erroneous beliefs about the origin of the Israelites."
— Jewish Review of Books