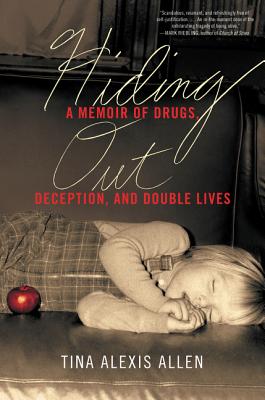 Hiding Out
A Memoir of Drugs, Deception, and Double Lives
Hardcover

* Individual store prices may vary.
Other Editions of This Title:
Digital Audiobook (2/19/2018)
Paperback (11/27/2018)
Compact Disc (2/20/2018)
MP3 CD (2/20/2018)
Description
"[Hiding Out] brims with drunkenness, sexuality and urgency...a "can't-put-down" read."  — Washington Post
Actress and playwright Tina Alexis Allen's audacious memoir unravels her privileged suburban Catholic upbringing that was shaped by her formidable father—a man whose strict religious devotion and dedication to his large family hid his true nature and a life defined by deep secrets and dangerous lies.
The youngest of thirteen children in a devout Catholic family, Tina Alexis Allen grew up in 1980s suburban Maryland in a house ruled by her stern father, Sir John, an imposing, British-born authoritarian who had been knighted by the Pope. Sir John supported his large family running a successful travel agency that specialized in religious tours to the Holy Land and the Vatican for pious Catholics.
But his daughter, Tina, was no sweet and innocent Catholic girl. A smart-mouthed high school basketball prodigy, she harbored a painful secret: she liked girls. When Tina was eighteen her father discovered the truth about her sexuality. Instead of dragging her to the family priest and lecturing her with tearful sermons about sin and damnation, her father shocked her with his honest response. He, too, was gay.
The secret they shared about their sexuality brought father and daughter closer, and the two became trusted confidants and partners in a relationship that eventually spiraled out of control. Tina and Sir John spent nights dancing in gay clubs together, experimenting with drugs, and casual sex—all while keeping the rest of their family in the dark.
Outside of their wild clandestine escapades, Sir John made Tina his heir apparent at the travel agency. Drawn deeper into the business, Tina soon became suspicious of her father's frequent business trips, his multiple passports and cache of documents, and the briefcases full of cash that mysteriously appeared and quickly vanished. Digging deeper, she uncovered a disturbing facet beyond the stunning double-life of the father she thought she knew.
A riveting and cinematic true tale stranger and twistier than fiction, Hiding Out is an astonishing story of self-discovery, family, secrets, and the power of the truth to set us free.
Praise For Hiding Out: A Memoir of Drugs, Deception, and Double Lives…
"I can fully recommend it, I read it cover to cover, the writing was excellent and was completely engrossed; the story is incredibly compelling." — Megyn Kelly, Megyn Kelly TODAY 
"I love this book—brave, brutal truths." — Rosie O'Donnell
"[Hiding Out] brims with drunkenness, sexuality and urgency...She showcases excellent writing skills, packaging grit and grime into glistening prose. Her twisted mystery, family woes of the nastiest kind and multilayered love stories spin together to form a "can't-put-down" read in Hiding Out."
— Washington Post
"[Tina Alexis Allen] doesn't hold back in her memoir Hiding Out." — Teen Vogue
"Tina Alexis Allen was tired of living in the shadows...She is hoping [Hiding Out] will encourage others to come forward and speak out against being abused." — FoxNews.com
"Scandalous, resonant, and refreshingly free of self-justification, Hiding Out is a compelling tale of sin and service, concealment and disclosure, hedonism and righteousness...an in-the-moment dose of the exhilarating tragedy of being alive."  — Mark Riebling, author of Church of Spies
"Allen's life — once dominated by cruelty and abuse — takes a deep dive into decadence, fueled by cocaine, champagne and Sir John's never-ending supply of mysterious money. Hiding Out is about a lot of lies, and some are the ones we tell ourselves." — New York Daily News
"Brutally honest and shamelessly truthful." — Fr. Richard Rohr, author of Falling Upward
"Hiding Out is a whiplash read for its drama and intrigue, but it's also an openhearted exploration of history, hypocrisy, and the fact that we may never know the answers to the questions that have shaped our lives." — Shondaland.com
"This is not a book for the faint of heart. Tina scrubs her soul clean within its pages, uncovering and exposing the web of lies her young adulthood had become…[she] succeeds on all levels with this memoir you definitely will not forget." — Talk Nerdy With Us
"A writer candidly confronts her personal truth in her quest for transformation, transcendence, and redemption." — Kirkus Reviews
"Deeply felt" — Booklist
"Perhaps it's Allen's background as an actress and playwright that gives Hiding Out, at turns jaw-dropping and spellbinding, its dramatic tension and spot-on dialogue. Her memoir is as compulsive to read as it is heartbreaking. And that's the truth." — Washington Independent Review of Books
Dey Street Books, 9780062565679, 288pp.
Publication Date: February 20, 2018
About the Author
Tina Alexis Allen is a GLAAD Award–nominated actress, producer, screenwriter, and playwright. She appeared on the WGN America series Outsiders, and has costarred in several feature films. Allen is also the cofounder of Gina Raphaela Jewelry's mission-driven No More Violence collection. She lives in New York and Los Angeles.
or
Not Currently Available for Direct Purchase