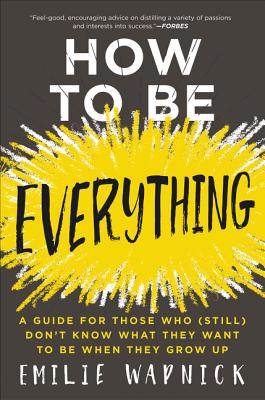 How to Be Everything
A Guide for Those Who (Still) Don't Know What They Want to Be When They Grow Up
Paperback

* Individual store prices may vary.
Other Editions of This Title:
Digital Audiobook (5/1/2017)
Hardcover (5/2/2017)
Paperback, Chinese (8/29/2018)
MP3 CD (5/2/2017)
Compact Disc (5/2/2017)
Compact Disc (5/2/2017)
Description
What do you want to be when you grow up? It's a familiar question we're all asked as kids. While seemingly harmless, the question has unintended consequences. It can make you feel like you need to choose one job, one passion, one thing to be about. Guess what? You don't.
Having a lot of different interests, projects and curiosities doesn't make you a "jack-of-all-trades, master of none." Your endless curiosity doesn't mean you are broken or flaky. What you are is a multipotentialite: someone with many interests and creative pursuits. And that is actually your biggest strength.
How to Be Everything helps you channel your diverse passions and skills to work for you. Based on her popular TED talk, "Why some of us don't have one true calling", Emilie Wapnick flips the script on conventional career advice. Instead of suggesting that you specialize, choose a niche or accumulate 10,000 hours of practice in a single area, Wapnick provides a practical framework for building a sustainable life around ALL of your passions.
You'll discover:
•  Why your multipotentiality is your biggest strength, especially in today's uncertain job market.
•  How to make a living and structure your work if you have many skills and interests.
•  How to focus on multiple projects and make progress on all of them.
•  How to handle common insecurities such as the fear of not being the best, the guilt associated with losing interest in something you used to love and the challenge of explaining "what you do" to others.
 
Not fitting neatly into a box can be a beautiful thing. How to Be Everything teaches you how to design a life, at any age and stage of your career, that allows you to be fully you, and find the kind of work you'll love.
Praise For How to Be Everything: A Guide for Those Who (Still) Don't Know What They Want to Be When They Grow Up…
"Feel-good, encouraging advice on distilling a variety of passions and interests into success. This book is chock full of great exercises and practical advice and we highly recommend picking up a copy. " — Forbes
"We are all unique, so why does there only seem to be one path towards success? How to Be Everything throws out this one-size-fits-all approach and explains how to make our diverse skills sets work for us. — Todd Rose, Harvard University scientist, co-founder and president of the Center for Individual Opportunity, and author of The End of Average
"Emilie brings hope, tools, inspiration and affirmation to the most misunderstood and undervalued segment of our society: multipotentialites. I raise my fist in solidarity, and celebrate this groundbreaking book!" — Pamela Slim, author of Body of Work and Escape from Cubicle Nation
"If you've struggled finding your place in a world that rewards conformity, you know that choosing a single profession isn't all it's cracked up to be. You're no longer alone—Emilie's HOW TO BE EVERYTHING is a beautiful guide with practical tools to help you find your way without losing yourself." — Chris Guillebeau, New York Times bestselling author of The Happiness of Pursuit and The $100 Startup
How to be Everything helps you understand and process your diverse skills so you don't have to sacrifice your potential. This book will help you fulfill your biggest dreams; all of them! — Buzzfeed
"If you still don't know what you're doing with your life, Emilie Wapnick's new book will make you feel better." — Bustle
"How to Be Everything is an empowering guide...This book is for the kind of people who can't choose just one path because they aspire to be Art Directors + Restaurant Owners + Teachers + Best-Selling Authors + more all in this lifetime" — Darla Magazine
HarperOne, 9780062566669, 240pp.
Publication Date: May 1, 2018
About the Author
Emilie Wapnick is a speaker, career coach, blogger, and community leader. She is the founder and creative director at Puttylike.com, where she helps multipotentialites integrate all of their interests to create dynamic, fulfilling, and fruitful careers and lives. Unable to settle on a single path, Emilie studied music, art, film production, and law, graduating from the Law Faculty at McGill University in 2011. Emilie is a TED speaker and has been featured in Fast Company, Forbes, The Financial Times, The Huffington Post, and Lifehacker. Her TED talk, "Why Some of Us Don't Have One True Calling," has been viewed over 3.5 million times, and has been translated into 36 languages. She has been hired as a guest speaker and workshop facilitator at universities, high schools, and organizations across the United States and internationally.
or
Not Currently Available for Direct Purchase