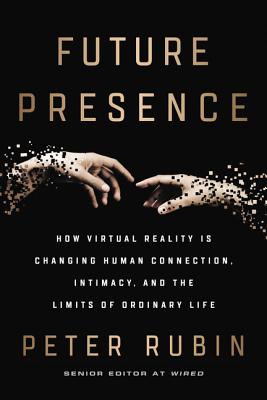 Future Presence
How Virtual Reality Is Changing Human Connection, Intimacy, and the Limits of Ordinary Life
Hardcover

* Individual store prices may vary.
Other Editions of This Title:
Digital Audiobook (4/16/2018)
Paperback (4/28/2020)
Compact Disc (4/17/2018)
MP3 CD (4/17/2018)
Compact Disc (4/17/2018)
Description
A Wired senior editor and virtual reality expert presents a captivating, candid glimpse into the future "realities" of this emerging technology: how we will use it to form previously impossible relationships, explore new frontiers of intimacy, and how it will forever change human connection.
Heralded as the most significant technological innovation since the smartphone, virtual reality is poised to transform our very notions of life and humanity. Though this tech is still in its infancy, to those on the inside, it is the future. VR will change how we work, how we experience entertainment, how we feel pleasure and other emotions, how we see ourselves, and most importantly, how we relate to each other in the real world. And we will never be the same.
Peter Rubin, senior culture editor for Wired and the industry's go-to authority on the subject, calls it an "intimacy engine." While once we needed another person to feel the sensations of closeness, trust, vulnerability, confidence, and titillation, VR will give us the ability to induce these sensations by ourselves for the first time in human history. This metamorphosis, Rubin argues, is going to have a powerful impact on relationships that will ripple throughout our society and our individual lives.
A journey into this uncertain future and a glimpse at the cultural implications and promises of a new reality, Future Presence explores a host of complex questions about what makes us human, what connects us, and what is real. Offering a glimpse into the mind-blowing things happening in universities, labs, and tech companies around the world, Rubin leads readers on an entertaining tour of the weirdest, wildest corners of this fascinating new universe. Describing this book as "half travelogue and half crystal ball", Rubin will:
Introduce readers to the creators and consumers of VR technology
Show readers what an experience is like inside the current VR devices
Explain how this technology will upend everything we know about human connection in the future
At once the incredible, inevitable story of virtual reality's rise and a look towards the future of our fantasies, Future Presence is a deeply personal examination of what connects us, and an analysis of what relationships, empathy, and sex could look like—sooner than we think.
Praise For Future Presence: How Virtual Reality Is Changing Human Connection, Intimacy, and the Limits of Ordinary Life…
"With Future Presence, Peter Rubin gets at the heart of why everyone – not just gamers, technophiles, or sci-fi fans – should be excited about Virtual Reality and how it will change their lives." — Shuhei Yoshida, President of Worldwide Studios at PlayStation
"A cool, smart take on virtual reality. Peter Rubin approaches a deliriously infinite topic not only with brain, but with heart." — Jaron Lanier, author of Dawn of the New Everything: Encounters with Reality and Virtual Reality and godfather of VR
"This book is like talking to your smartest, funniest friend about technology over drinks at your local bar. And you might need a drink to ready your body—because the future is now." — Aisha Tyler, director, actor, podcaster, and New York Times bestselling author of Self-Inflicted Wounds
HarperOne, 9780062566690, 288pp.
Publication Date: April 17, 2018
About the Author
Peter Rubin leads WIRED's editorial efforts on digital platforms and oversees culture coverage in the magazine and online. He covers virtual reality extensively, having written the magazine's June 2014 cover story on Oculus; he has broken a number of stories centered on the emergent platform; and he continues to make frequent media and panel appearances discussing the technology (as well as general pop culture). Rubin's writing has also appeared in the New York Times, GQ, Rolling Stone, Complex, Vibe, Glamour, Details, and many other outlets.
or
Not Currently Available for Direct Purchase