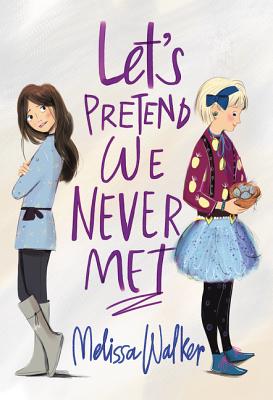 Let's Pretend We Never Met (Hardcover)
HarperCollins, 9780062567161, 240pp.
Publication Date: June 13, 2017
* Individual store prices may vary.
Description
"I love how this book gets the fragile ecosystem that is middle school. There's a purity to the voice that feels very real, very Judy Blume. Loved it!"—R. J. Palacio, author of Wonder
The Thing About Jellyfish meets The Kind of Friends We Used to Be in this sweet, honest middle grade debut.
If it were up to Mattie Markham, there would be a law that said your family wasn't allowed to move in the middle of the school year. After all, sixth grade is hard enough without wondering if you'll be able to make new friends or worrying that the kids in Pennsylvania won't like your North Carolina accent.
But when Mattie meets her next-door neighbor and classmate, she begins to think maybe she was silly to fear being the "new girl." Agnes is like no one Mattie has ever met—she's curious, hilarious, smart, and makes up the best games. If winter break is anything to go by, the rest of the school year should be a breeze.
Only it isn't, because when vacation ends and school starts, Mattie realizes something: At school Agnes is known as the weird girl who no one likes. All Mattie wants is to fit in (okay, and maybe be a little popular too), but is that worth ending her friendship with Agnes?
About the Author
Melissa Walker grew up in Chapel Hill, North Carolina, and is the author of eight young adult novels, including the Violet on the Runway series and Small Town Sinners. In the nonfiction world, she is a magazine editor and writer who works from the comfort of coffee shops in Brooklyn, where she lives with her husband and two young daughters. Find Melissa on Twitter @melissacwalker or visit www.melissacwalker.com.
Praise For Let's Pretend We Never Met…
"Mattie Markham is sweet and winning, very real, and a sixth-grade heroine. Add this book to your treasure shelf."
— Natalie Standiford, author of The Secret Tree

"A heartwarming and completely charming story about moving on, growing up, and being yourself."
— Sarah Mlynowski, New York Times bestselling author of the Whatever After series

"A gentle look at the challenges of both fitting in to a new situation and having a friend with special needs."
— Bulletin of the Center for Children's Books

"An accessible chapter book with a clear but gently delivered
message."
— Booklist

"I love how this book gets the fragile ecosystem that is middle school. There's a purity to the voice that feels very real, very Judy Blume. Loved it!"
— R.J. Palacio, author of Wonder