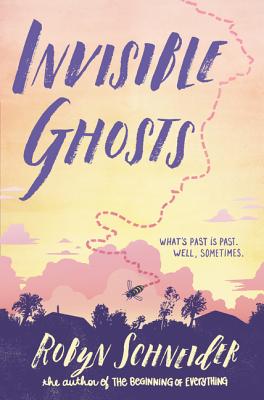 Invisible Ghosts
Hardcover

* Individual store prices may vary.
Other Editions of This Title:
Digital Audiobook (6/4/2018)
Paperback (5/5/2020)
Compact Disc (6/5/2018)
MP3 CD (6/5/2018)
Compact Disc (6/5/2018)
Description
Robyn Schneider, author of Extraordinary Means and The Beginning of Everything, delivers a sharply funny, romantic girl-meets-boy novel with a twist: boy-also-meets-girl's-ghost-brother.
When one girl's best friend is her dead brother's ghost, romance can be tricky. Perfect for fans of John Green and Nicola Yoon.
Rose Asher believes in ghosts. She should, since she has one for a best friend: Logan, her annoying, Netflix-addicted brother, who is forever stuck at fifteen. But Rose is growing up, and when an old friend moves back to Laguna Canyon and appears in her drama class, things get complicated.
Jamie Aldridge is charming, confident, and a painful reminder of the life Rose has been missing out on since her brother's death. She watches as Jamie easily rejoins their former friends—a group of magnificently silly theater nerds—while avoiding her so intensely that it must be deliberate.
Yet when the two of them unexpectedly cross paths, Rose learns that Jamie has a secret of his own, one that changes everything. Rose finds herself drawn back into her old life—and to Jamie. But she quickly starts to suspect that he isn't telling her the whole truth.
All Rose knows is that it's becoming harder to choose between the boy who makes her feel alive and the brother she isn't ready to lose.
Praise For Invisible Ghosts…
"Schneider's characters shine in this romance, strapped with quirky, nerdy obsessions that many teens will relate to, and supported by realistic voices. The integration of the ghost story is unique. Schneider authentically [captures] the sensation of not knowing where you belong, a feeling many teens know well."
— Booklist

"In a story about letting go and courageously moving forward, Schneider makes the paranormal seem plausible. Readers will readily suspend their disbelief to see how Rose, a relatable heroine, deals with an apparition who grows increasingly bothersome while trying to pursue a meaningful relationship with the boy she loves."
— Publishers Weekly

"Friends, parties, and romance all pull Rose away from the past; but at home, Logan's ghost drags her right back. Schneider's premise is an interesting twist on books featuring protagonists dealing with grief."
— School Library Journal

Praise for EXTROADINARY MEANS: "Schneider's subtlety, combined with themes about learning to live life fully, makes this an easy recommendation for those seeking titles similar in premise to John Green's The Fault in Our Stars."
— School Library Journal

"A must-read for fans of The Fault in Our Stars."
— TeenReads

"Balancing the hope of new beginnings against the uncertain fates of victims, it's a novel that should prompt thoughtful discussions."
— Publishers Weekly

"Clever banter, self-deprecating humor and the distinctive characters ensure that this captivating book about life, death, fear, and second chances will fly off the shelves."
— Voice of Youth Advocates (VOYA)

"The perfect read-next for fans of the sick-lit trend and readers looking for a tear-stained romance.
— Bulletin of the Center for Children's Books

"Fans of John Green's blockbuster The Fault in Our Stars who are eager for more of that kind of story will likely be satisfied."
— Booklist

Praise for THE BEGINNING OF EVERYTHING: "Smart writing and a compelling narrator raise this book above ordinary depictions of high school drama. Efficient use of language, evocative descriptions and subtle turns of phrase make reading and rereading this novel a delight."
— Kirkus Reviews (starred review)

"This thought-provoking novel about smart kids doing interesting things will resonate with the John Green contingent, as it is tinged with sadness, high jinks, wry humor, and philosophical pondering in equal measures."
— Booklist (starred review)

"Schneider shows remarkable skill at getting inside her narrator's head as his life swings between disaster and recovery."
— Publishers Weekly (starred review)

"Robyn Schneider can write."
— New York Times Book Review
Katherine Tegen Books, 9780062568083, 320pp.
Publication Date: June 5, 2018
About the Author
Robyn Schneider is the bestselling author of The Beginning of Everything, Extraordinary Means, and Invisible Ghosts, which have earned numerous starred reviews, appeared on many state reading lists, and been published in over a dozen countries. She is a graduate of Columbia University, where she studied creative writing, and the University of Pennsylvania Perelman School of Medicine, where she earned a master of bioethics. She lives in Los Angeles, California, but also on the internet. You can find her at www.robynschneider.com.