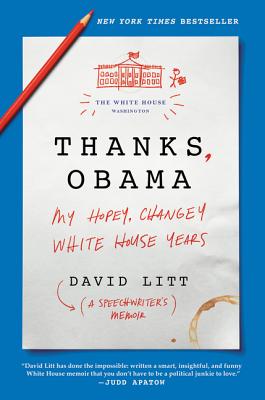 Thanks, Obama
My Hopey, Changey White House Years
Hardcover

* Individual store prices may vary.
Other Editions of This Title:
Digital Audiobook (9/18/2017)
Paperback (9/4/2018)
Compact Disc (9/19/2017)
MP3 CD (9/19/2017)
Compact Disc (9/19/2017)
Description
A NEW YORK TIMES BESTSELLER
An Esquire Best Book of 2017
Remember when presidents spoke in complete sentences instead of in unhinged tweets? Former Obama speechwriter David Litt does. In his comic, coming-of-age memoir, he takes us back to the Obama years – and charts a path forward in the age of Trump. 
More than any other presidency, Barack Obama's eight years in the White House were defined by young people – twenty-somethings who didn't have much experience in politics (or anything else, for that matter), yet suddenly found themselves in the most high-stakes office building on earth. David Litt was one of those twenty-somethings. After graduating from college in 2008, he went straight to the Obama campaign. In 2011, he became one of the youngest White House speechwriters in history. Until leaving the White House in 2016, he wrote on topics from healthcare to climate change to criminal justice reform. As President Obama's go-to comedy writer, he also took the lead on the White House Correspondents' Dinner, the so-called "State of the Union of jokes."
Now, in this refreshingly honest memoir, Litt brings us inside Obamaworld. With a humorists' eye for detail, he describes what it's like to accidentally trigger an international incident or nearly set a president's hair aflame. He answers questions you never knew you had: Which White House men's room is the classiest? What do you do when the commander in chief gets your name wrong? Where should you never, under any circumstances, change clothes on Air Force One? With nearly a decade of stories to tell, Litt makes clear that politics is completely, hopelessly absurd.   
But it's also important. For all the moments of chaos, frustration, and yes, disillusionment, Litt remains a believer in the words that first drew him to the Obama campaign: "People who love this country can change it." In telling his own story, Litt sheds fresh light on his former boss's legacy. And he argues that, despite the current political climate, the politics championed by Barack Obama will outlive the presidency of Donald Trump.
Full of hilarious stories and told in a truly original voice, Thanks, Obama is an exciting debut about what it means – personally, professionally, and politically – to grow up.
Praise For Thanks, Obama: My Hopey, Changey White House Years…
"Litt is a funny and skillful storyteller… While the first half of the book is enjoyable, the second half is masterly, rising to a crescendo that is as rousing as, well, a particularly inspiring campaign speech."
— New York Times Book Review

"Graceful, instructive, wry speechwriter memoirs like Litt's are the exception rather than the norm. . . . Thanks, Obama will join the ranks of lasting works about the texture of political life, and of coming-of-age accounts by staffers who grow up personally and politically at the same time."
— The Atlantic

"His time [in the White House] was as 'hopey changey' as advertised—with a little bit of absurdity and humor added into the mix."
— Elle, Best of the Month

"Serve[s] as a more devastating indictment of the current administration than a campaign-style book ever could . . . limber, funny and illuminating."
— New Republic

"Highly entertaining . . . much more than a scrapbook of Beltway gossip and Obama idolatry."
— Pacific Standard

"Irresistibly charming . . . Litt minted his star converting world affairs into jokes. The translation of satire back to sincerity is trickier to pull off, and lands with its own undeniable grace."
— Slate

"Litt is a skilled storyteller with a keen sense of humor and unique experiences and insight to draw upon."
— Bustle

"Litt also offers both humor and optimism, two things many of us sorely need these days."
— Bustle, Best of the Month

"What Litt understands and what Thanks, Obama makes clear may very soon be forgotten: The finest presidential speeches can heal the nation."
— Paste Magazine

"A thoughtful and funny account of life as a minnow surrounded by Washington's self-important whales . . . ranks with other classics from former White House speechwriters, such as Peggy Noonan's What I Saw at the Revolution."
— USA Today, *** 1/2
Ecco, 9780062568458, 320pp.
Publication Date: September 19, 2017
About the Author
David Litt is the New York Times best-selling author of Thanks, Obama: My Hopey Changey White House Years. From 2011-2016, David wrote speeches for President Obama, and was described as "the comic muse for the president" for his work on the White House Correspondents' Dinner. Since leaving the White House, he served as the head writer and producer for Funny Or Die's office in Washington, with a focus on improving youth turnout in the 2018 election, and developed a sitcom based on his life in D.C.  He frequently appears on CNN and MSNBC to discuss current events. 
Coverage from NPR
or
Not Currently Available for Direct Purchase