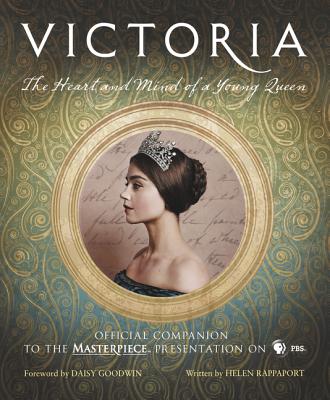 Victoria (Hardcover)
The Heart and Mind of a Young Queen: Official Companion to the Masterpiece Presentation on PBS
Harper Design, 9780062568892, 304pp.
Publication Date: January 31, 2017
* Individual store prices may vary.
Description
The official companion to the Masterpiece presentation on PBS, Victoria delves into the private writings of the young Queen Victoria, painting a vivid picture of the personal life of one of England's greatest monarchs.
From the producers of Poldark and Endeavour, ITV's Victoria follows the early years of the young queen's reign, based closely on Victoria's own letters and journals. Now explore this extensive collection in greater depth, and discover who Victoria really was behind her upright public persona.
At only eighteen years old, Victoria ascended the throne as a rebellious teenager and gradually grew to become one of the most memorable, unshakeable and powerful women in history. The extensive writings she left behind document this personal journey and show how she triumphed over scandal and corruption. Written by author and Victoria historical consultant, Helen Rappaport, and including a foreword by Daisy Goodwin—acclaimed novelist and scriptwriter of the series—Victoria details the history behind the show. Revealing Victoria's own thoughts about the love interests, family dramas and court scandals during her early reign, it also delves into the running of the royal household, the upstairs-downstairs relationships, and what it was like to live in Victorian England.
Full of beautiful photography from the series and genuine imagery from the era, Victoria takes you behind the palace doors and discover the girl behind the queen.
About the Author
Helen Rappaport is the historical consultant for the PBS series Victoria. She is a longstanding author and historian specializing in the Victorian period and revolutionary Russia. She is a frequent contributor to television and radio documentaries, most recently Queen Victoria's Children (2013) and Russia's Lost Princesses (2014) both for BBC Two, and forthcoming BBC and ITV documentaries about the Jamaican Crimean War heroine, Mary Seacole. Helen lives in West Dorset, England.
Daisy Goodwin studied nineteenth-century history at university and has been using it ever since. She has written two bestselling novels set in the Victorian era, My Last Duchess and The Fortune Hunter, as well as the screenplay for Masterpiece's Victoria on PBS. She has three dogs, two children, and a husband.
Praise For Victoria: The Heart and Mind of a Young Queen: Official Companion to the Masterpiece Presentation on PBS…
"Rappaport's text beautifully and chronologically guides the reader through the early years of Victoria's reign… This is a volume fans of the Masterpiece series will look at again and again."
— Newark Star Ledger

"A marvelous companion to this series, with wonderful illustrations and an engaging backstory…"
— New York Journal of Books