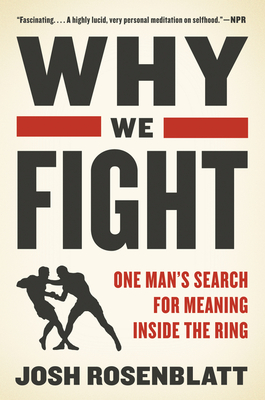 Why We Fight
One Man's Search for Meaning Inside the Ring
Paperback

* Individual store prices may vary.
Other Editions of This Title:
Hardcover (1/15/2019)
MP3 CD (1/15/2019)
Compact Disc (1/15/2019)
Compact Disc (1/15/2019)
Description
Shortlisted for the William Saroyan International Prize for Writing
A physical and philosophical mediation on why we are drawn to fight each other for sport, what happens to our bodies and brains when we do, and what it all means

Anyone with guts or madness in him can get hit by someone who knows how; it takes a different kind of madness, a more persistent kind, to stick around long enough to be one of the people who does the knowing.
Josh Rosenblatt was thirty-three years old when he first realized he wanted to fight. A lifelong pacifist with a philosopher's hatred of violence and a dandy's aversion to exercise, he drank to excess, smoked passionately, ate indifferently, and mocked physical activity that didn't involve nudity. But deep down inside there was always some part of him that was attracted to the idea of fighting. So, after studying Muay Thai, Krav Maga, Brazilian jiu-jitsu, and boxing, he decided, at age forty, that it was finally time to fight his first—and only—mixed martial arts match: all in the name of experience and transcending ancient fears.
An insightful and moving rumination on the nature of fighting, Why We Fight takes us on his journey from the bleachers to the ring. Using his own training as an opportunity to understand how the sport illuminates basic human impulses, Rosenblatt weaves together cultural history, criticism, biology, and anthropology to understand what happens to the human body and mind when under attack, and to explore why he, a self-described "cowardly boy from the suburbs," discovered so much meaning in putting his body, and others', at risk.
From the psychology of fear to the physiology of pain, from Ukrainian shtetls to Brooklyn boxing gyms, from Lord Byron to George Plimpton, Why We Fight is a fierce inquiry into the abiding appeal of our most conflicted and controversial fixation, interwoven with a firsthand account of what happens when a mild-mannered intellectual decides to step into the ring for his first real showdown. 
Praise For Why We Fight: One Man's Search for Meaning Inside the Ring…
"Fascinating . . . a highly lucid, very personal meditation on selfhood."
— NPR Books

"Glistens with illuminations about courage and aging. The aim was self-transformation. Win or lose, it was mission accomplished."
— Wall Street Journal

"A story of perilous becoming."
— Los Angeles Times

"A book worth reading not only for those who enjoy MMA and other forms of professional fighting, but for those who are baffled as to why such a bloody sport would ever be appealing. . . . Rosenblatt's observations about being a Jewish athlete are also quite timely."
— Salon

"Rosenblatt offers much food for thought in this intellectual memoir blending sports and self-transformation."
— Library Journal

"A very entertaining and informative chronicle of a quixotic journey of self-examination."
— Booklist

"Over the last several years I've read quite a few books by thoughtful men and women about the lure of various forms of fighting. Josh Rosenblatt's Why We Fight is much the best of this mini-genre."
— David Shields, author of The Thing About Life Is That One Day You'll Be Dead

"This is a terrific story—funny and scary and moving—as well as a thoughtful meditation on bravery, violence, pain, aging, and how getting hit in the face can change your life for the better."
— Paul Bloom, Yale University, author of Against Empathy: The Case for Rational Compassion

"'But I was tired of myself, so I said yes.' And thus begins Rosenblatt's journey from chicken to beast. I loved this book mostly for its gorgeous restraint. It ain't a macho brag but rather a piece of Old Testament prophecy. A clarion call advocating the importance of physicality."
— Chas Smith, author of Welcome to Paradise, Now Go to Hell: A True Story of Violence, Corruption, and the Soul of Surfing

"Erudite."
— Publishers Weekly
Ecco, 9780062569998, 224pp.
Publication Date: March 17, 2020
About the Author
Josh Rosenblatt is a writer and journalist whose work has appeared in VICE, the Texas Observer, and the Austin Chronicle. Between 2012 and 2014 he was the editor-in-chief of Fightland, VICE Media's mixed martial arts publication. Josh lives in Brooklyn with his wife, Katchen.