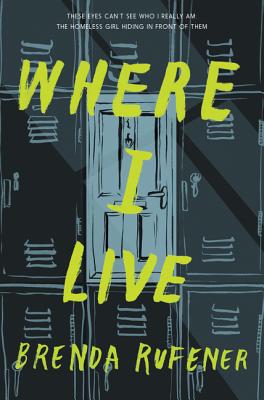 Where I Live
Hardcover

* Individual store prices may vary.
Description
Included on Bustle's list of the "27 Most Anticipated YA Contemporary Books Hitting Shelves in 2018"!
"Fans of Jennifer Niven and Nicola Yoon will enjoy this realistic debut novel, which brings to light heavy topics of homelessness and abuse." —School Library Journal
"Where I Live is hard-hitting and real and filled with hope. It makes you want to find your voice, find your people, and tell your story." —Jennifer Niven, New York Times bestselling author of All the Bright Places and Holding Up the Universe
From debut author Brenda Rufener comes a heart-wrenching and evocative story perfect for fans of Thirteen Reasons Why, Girl in Pieces, and All the Bright Places.
Linden Rose has a big secret—she is homeless and living in the halls of her small-town high school. Her position as school blog editor, her best friends, Ham and Seung, and the promise of a future far away are what keep Linden under the radar and moving forward.
But when cool-girl Bea comes to school with a bloody lip, the damage hits too close to home. Linden begins looking at Bea's life, and soon her investigation prompts people to pay more attention. And attention is the last thing she needs.
Linden knows the only way to put a stop to the violence is to tell Bea's story and come to terms with her own painful past. Even if that means breaking her rules for survival and jeopardizing the secrets she's worked so hard to keep.
Praise For Where I Live…
"A powerful, stirring debut, Where I Live takes us on a journey into a hidden world that exists all around us—exploring homelessness, poverty, love, and grief with insight, sensitivity, and most of all, hope." — Amber Smith, New York Times bestselling author of The Way I Used to Be
"A compelling and deeply felt debut, Where I Live is an unflinching portrayal of homelessness, abuse, and love. Linden's story grabbed me and didn't let me go." — Carlie Sorosiak, author of IF BIRDS FLY BACK
"Where I Live tempers the precarious existence of homelessness with the saving grace of friendship. A poignant, hopeful, and unvarnished story of courage and resilience." — Kerry Kletter, acclaimed author of The First Time She Drowned
"Fans of Jennifer Niven and Nicola Yoon will enjoy this realistic debut novel, which brings to light heavy topics of homelessness and abuse." — School Library Journal
"This debut novel takes readers into a world where serious issues of poverty, homelessness, and violence are juxtaposed with the everyday drama of high school hierarchies, relationships, and life." — Voice of Youth Advocates (VOYA)
"A frank and emotional portrayal of a very real, very prevalent, but often unspoken problem in the United States, Where I Live is long overdue in the young adult world." — Bustle
HarperTeen, 9780062571090, 352pp.
Publication Date: February 27, 2018
About the Author
Brenda Rufener spent her childhood stomping through the woods of Oregon in search of bat-filled caves and Bigfoot. She successfully located one of the two and spent the rest of her time penciling short stories. A double major in English and biology, Brenda graduated from Whitman College. She lives in North Carolina with her family and is an advocate for homeless youth. Where I Live is her debut novel and is followed by Since We Last Spoke. Visit her online on Twitter @BrendaKRufener, on Instagram @brendarufener, and at her website at www.brendarufener.com.