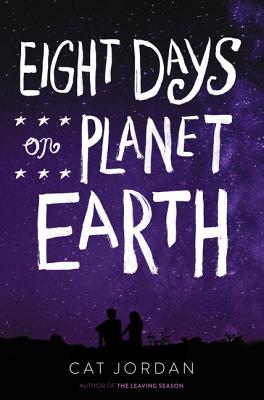 Eight Days on Planet Earth
Hardcover

* Individual store prices may vary.
Description
A heart-wrenching romance full of twists that are sure to bring tears to readers' eyes, from Cat Jordan, author of The Leaving Season.
How long does it take to travel twenty light years to Earth?
How long does it take to fall in love?
To the universe, eight days is a mere blip, but to Matty Jones, it may be just enough time to change his life.
On the hot summer day Matty's dad leaves for good, a strange girl suddenly appears in the empty field next to the Jones farm—the very field in rural Pennsylvania where a spaceship supposedly landed fifty years ago. She is uniquely beautiful, sweet, and smart, and she tells Matty she's waiting for her spaceship to pick her up and return her to her home planet. Of course she is.
Matty has heard a million impossible UFO stories for each of his seventeen years: the conspiracy theories, the wild rumors, the crazy belief in life beyond the stars. When he was a kid, he and his dad searched the skies and studied the constellations. But all of that is behind him. Dad's gone—but now there's Priya. She must be crazy…right?
As Matty unravels the mystery of the girl in the field, he realizes there is far more to her than he first imagined. And if he can learn to believe in what he can't see: the universe, aliens…love…then maybe the impossible is possible, after all.
Praise For Eight Days on Planet Earth…
"A wonderfully readable, ultimately hopeful, and life-affirming story that will be enjoyed by fans of Nicola Yoon's The Sun Is Also a Star and Gae Polisner's The Memory of Things." — School Library Journal
PRAISE FOR THE LEAVING SEASON: "Jordan has crafted a story about leaving, about growing up, and about finding your path and being true to yourself… Fans of Sarah Dessen, Lurlene McDaniel, and other similar romance authors may enjoy Jordan's debut offering." — School Library Journal
"The real-life drama told in Middie's voice artfully weaves a complicated personal story of rebellion and personal growth as she figures out what is really important to her and what love really means. A touching coming-of-age romance." — Kirkus Reviews
"Some may find the ending exhilarating, while others will be reaching for hankies. Jordan's debut novel should appeal to fans of Elizabeth Eulberg and Jenny Han." — Booklist
"Debut author Jordan capably shows how Middie discovers new dimensions of herself, as well as how life moves on and brings new opportunities in the process… readers looking for happy endings won't be disappointed as Middie stumbles her way back toward love and happiness." — Publishers Weekly
"A story at turns gentle and devastating-the subtle romantic tension simmers as Jordan's characters fight to define themselves and connect with one another. Gripping and joyful all at once." — Megan Mulry, USA Today bestselling author of A Royal Pain
HarperTeen, 9780062571731, 320pp.
Publication Date: November 7, 2017
or
Not Currently Available for Direct Purchase