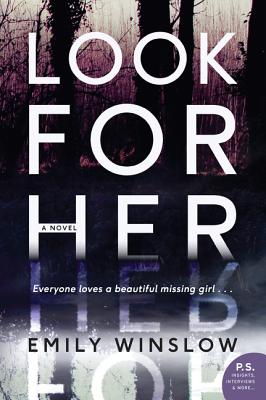 Look for Her
A Novel (Keene and Frohmann #4)
Paperback

* Individual store prices may vary.
Description
Everyone loves a beautiful missing girl…
"Look For Her ratchets up the tension while also offering moments of sheer grace."-Riley Sager, bestselling author of Final Girls
"Beautifully written with an expertly twisty, surprising story, this is a must-read!"
   — Chevy Stevens, New York Times bestselling author of Never Let You Go
Lilling might seem like an idyllic English village, but it's home to a dark history. In 1976, a teenage girl named Annalise Wood disappeared, and though her body was later discovered, the culprit was never found. Decades later, Annalise maintains a perverse kind of celebrity, and is still the focus of grief, speculation, and for one young woman, a disturbing, escalating jealousy.
When DNA linked to the Annalise murder unexpectedly surfaces, cold case detective Morris Keene and his former partner, Chloe Frohmann, hope to finally bring closure to this traumatized community. But the new evidence instead undoes the case's only certainty: the buried body that had long ago been confidently identified as Annalise may be someone else entirely, and instead of answers, the investigators face only new puzzles.
Whose body was unearthed all those years ago, and what happened to the real Annalise? Is someone interfering with the investigation? And is there a link to a present-day drowning with eerie connections? With piercing insight and shocking twists, Emily Winslow explores the dark side of sensationalized crime in this haunting psychological thriller.
Praise For Look for Her: A Novel (Keene and Frohmann #4)…
"Impressively twisty and [a] flawlessly constructed plot.… An intriguing, suspenseful, and briskly paced story with complex characters, evocative descriptions of England's Cambridgeshire, plenty of clever misdirection, and a satisfying ending."
— Kirkus Reviews

"Look For Her ratchets up the tension while also offering moments of sheer grace. The cold case at the novel's heart--and the chorus of voices obsessed with it--linger long after the last page is turned."
— Riley Sager, bestselling author of Final Girls

"Look for Her is a nuanced, thought-provoking portrait of a crime and its aftermath. Beautifully written with an expertly twisty, surprising story, this is a must-read!"
— Chevy Stevens, New York Times bestselling author of Never Let You Go

"A match to the DNA found on a long-dead girl's clothing makes the case look open and shut, but nothing is easy or simple, thanks to Winslow's delightfully devious mind. Surprising and satisfying, you won't be able to stop turning the pages of Look For Her."
— Karen Dionne, author of The Marsh King's Daughter

"Winslow's kaleidoscopic narrative technique, employing first-person accounts from multiple characters, makes for engaging reading."
— Publishers Weekly

"Using multiple narrators... Winslow spins the plot to a satisfying and humane conclusion, with Keene and Frohmann again proving to be a winning pair."
— Booklist

"What seems at the outset to be a textbook psychological thriller is anything but. The twists and turns make [for] a compelling read…. A very entertaining and readable thriller that can hold its own with the best of the current crop. A good choice for mystery book groups."
— Library Journal

"Winslow's novel is a compulsive page-turner…. I would highly recommend this book to any thriller/mystery lover who takes joy in indulging in brilliant characterisation and suspense. Watch out for this novel, it is going to be big!"
— TheBookBag (UK)

"Gorgeous twists and turns…. Deaths in the present day. Surprise secret off-spring. Dysfunctional families. The haunting of an entire community by a shocking death.…. Haunting and fabulous, multi-layered and intelligent…. A series to discover and fall in love with."
— Northern Crime

"Author Emily Winslow is a very clever writer and has developed a style uniquely her own.... With a variety of well-drawn characters and backstories, red herrings included, this makes for a very interesting read."
— RedCarpetCrash.com

"Emily Winslow is a precise and expert analyst of the darkest parts of the human psyche."
— Sophie Hannah, New York Times bestselling author of Closed Casket

"The Whole World shines as a potent look at the self-absorption and angst of youth and the regrets and doubts of middle age."
— Richmond Times-Dispatch

"The Start of Everything has the artistry of literature, the grittiness of a best-selling crime thriller, the complexity of an academic puzzle and characters you will not easily forget."
— Booklover Book Reviews

"Wonderfully complex….Themes [of] loss, grief, change, fear, betrayal, lies, parent/child relationships, forgiveness, and redemption are ripe for analysis."
— Booking Mama on The Start of Everything

"[The Red House] is a triumph....[Winslow] handles to perfection the multiple-protagonist viewpoints....Time these excellent stories were snapped up by a TV company."
— Books Monthly

"Nothing less than stunning."
— Book of the Month Club on The Start of Everything

"What a ride! Read this book."
— Decatur Daily on The Whole World

"A masterly whodunnit! Emily Winslow effortlessly weaves together separate lives and intertwined lies, creating a powerful web of small deceits and horrifying misdeeds. The Start of Everything is a must-read!"
— Lisa Gardner, #1 New York Times bestselling author

"The combination of raw emotion and psychological sophistry is beguiling. Look for Her is the most devious and cleverly plotted mystery from Winslow yet…. If you enjoy gritty drama, literary thrillers and compelling crime puzzles, I wholeheartedly recommend Emily Winslow's Look for Her and entire back catalogue."
— The Booklover (Australia)
William Morrow Paperbacks, 9780062572585, 304pp.
Publication Date: February 13, 2018
About the Author
Emily Winslow is an American living in Cambridge, England. She is the author of the novels The Whole World, The Start Of Everything, and The Red House.