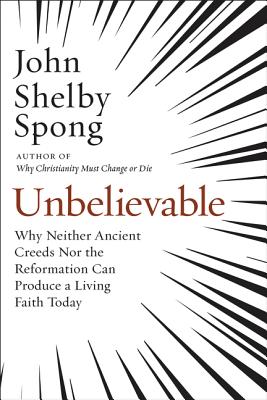 Unbelievable
Why Neither Ancient Creeds Nor the Reformation Can Produce a Living Faith Today
Paperback

* Individual store prices may vary.
Other Editions of This Title:
Compact Disc (6/26/2018)
Hardcover (2/13/2018)
MP3 CD (6/26/2018)
Description
Five hundred years after Martin Luther and his Ninety-Five Theses ushered in the Reformation, bestselling author and controversial bishop and teacher John Shelby Spong delivers twelve forward-thinking theses to spark a new reformation to reinvigorate Christianity and ensure its future.
At the beginning of the sixteenth century, Christianity was in crisis—a state of conflict that gave birth to the Reformation in 1517. Enduring for more than 200 years, Luther's movement was then followed by a "revolutionary time of human knowledge." Yet these advances in our thinking had little impact on Christians' adherence to doctrine—which has led the faith to a critical point once again.
Bible scholar and Episcopal bishop John Shelby Spong contends that there is mounting pressure among Christians for a radically new kind of Christianity—a faith deeply connected to the human experience instead of outdated dogma. To keep Christianity vital, he urges modern Christians to update their faith in light of these advances in our knowledge, and to challenge the rigid and problematic Church teachings that emerged with the Reformation. There is a disconnect, he argues, between the language of traditional worship and the language of the twenty-first century. Bridging this divide requires us to rethink and reformulate our basic understanding of God.
With its revolutionary resistance to the authority of the Church in the sixteenth century, Spong sees in Luther's movement a model for today's discontented Christians. In fact, the questions they raise resonate with those contemplated by our ancestors. Does the idea of God still have meaning? Can we still follow historic creeds with integrity? Are not such claims as an infallible Pope or an inerrant Bible ridiculous in today's world?
In Unbelievable, Spong outlines twelve "theses" to help today's believers more deeply contemplate and reshape their faith. As an educator, clergyman, and writer who has devoted his life to his faith, Spong has enlightened Christians and challenged them to explore their beliefs in new and meaningful ways. In this, his final book, he continues that rigorous tradition, once again offering a revisionist approach that strengthens Christianity and secures its relevance for generations to come.
Praise For Unbelievable: Why Neither Ancient Creeds Nor the Reformation Can Produce a Living Faith Today…
"In his final climactic book, Bishop Spong provides us with a primer on his core ideas, a courageous agenda for the future of the Jesus tradition, and some provocative proposals for pursuing that agenda. Essential reading for anyone who cares about the future of humanity and Christianity."
— The Very Reverend Gregory C. Jenks, Ph.D., Dean of Christ Church Cathedral, Grafton

"For those seeking to extricate themselves from the confusion of conventional Christianity's creeds and dogmas, Unbelievable distills an honest and demanding vision for a 21st Century faith."
— Rev. David M. Felten, co-author of Living the Questions

"Bishop Spong has created just what we needed if we are going to save intelligent Christianity from extinction. I love this book."
— Fred C. Plumer, President of The Center for Progressive Christianity

"If you choose just one book of Spong's, then choose Unbelievable. This final book is not only a summation of his life's teaching but a contemporary catechism that addresses the real questions and profound hesitations contemporary people have about Christianity."
— Peter Francis, Warden of Gladstone's Library

"Episcopalian bishop and prolific writer Spong has penned what he declares to be his final book, encapsulating a lifetime of thinking and teaching in order to call upon Christianity to undergo a transformation."
— Kirkus Reviews

"Spong makes his arguments in the manner of a cogent, smart preacher or lecturer speaking to all who want to keep Christianity while dispensing with miracles, dogma, and blind faith. Luther launched a reformation with 95 theses. Spong would launch another with 12."
— Booklist

"Spong's stimulating call for a newly revitalized Christianity will appeal to contemporary Christians who view traditional Christianity as dismayingly outmoded."
— Publishers Weekly (starred review)

"[Spong] takes readers back to Martin Luther's original questioning of the Church, asking them to ponder whether or not the idea of God still has meaning. It's easy to understand why his previous books have been best sellers. This one will be no exception."
— Retailing Insight

"A hard-hitting critique of traditional Christianity and as a final attempt by Spong to convince believers to explore their beliefs in new and poignant ways…We stand beside him and all who thirst for a church that is not fearful of inquiry, freedom, and knowledge."
— Spirituality & Practice

"His best book . . . He doesn't just tear down; he seeks to put something viable, even substantial in its place."
— Insights
HarperOne, 9780062641304, 336pp.
Publication Date: January 8, 2019
About the Author
John Shelby Spong, the Episcopal Bishop of Newark before his retirement in 2000, has been a visiting lecturer at Harvard and at more than 500 other universities all over the world. His books, which have sold well over a million copies, include Biblical Literalism: A Gentile Heresy; The Fourth Gospel: Tales of a Jewish Mystic; Re-Claiming the Bible for a Non-Religious World; Eternal Life: A New Vision; Jesus for the Non-Religious, The Sins of Scripture, Resurrection: Myth or Reality?; Why Christianity Must Change or Die; and his autobiography, Here I Stand. He writes a weekly column on the web that reaches thousands of people all over the world. To join his online audience, go to www.JohnShelbySpong.com. He lives with his wife, Christine, in New Jersey.