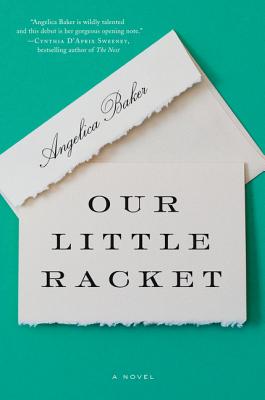 Our Little Racket
A Novel
Hardcover

* Individual store prices may vary.
Other Editions of This Title:
Digital Audiobook (6/19/2017)
Paperback (7/31/2018)
MP3 CD (6/20/2017)
Compact Disc (6/20/2017)
Compact Disc (6/20/2017)
Paperback, Large Print (6/20/2017)
Description
A captivating debut about wealth, envy, and secrets: the story of five women whose lives are dramatically changed by the downfall of a financial titan
On September 15, 2008, the world of Greenwich, Connecticut, is shaken. When the investment bank Weiss & Partners is shuttered, CEO Bob D'Amico must fend off allegations of malfeasance, as well as the judgment and resentment of his community. As panic builds, five women in his life must scramble to negotiate power on their own terms and ask themselves what —if anything—is worth saving.
In the aftermath of this collapse, Bob D'Amico's teenage daughter Madison begins to probe her father's heretofore secret world for information. Four other women in Madison's life —her mother Isabel, her best friend Amanda, her nanny Lily, and family friend Mina —begin to question their own shifting roles in their insular, moneyed world. 
For the adults, this means learning how to protect their own in a community that has turned against them. For the younger generation, it means heightened rebellion and heartache during the already volatile teenage years. And for Lily, it means deciding where her loyalties lie when it comes to the family in which she is both an essential member and, ultimately, an outsider.  All these women have witnessed more than they've disclosed, all harbor secret insecurities and fears, and all must ask themselves—where is the line between willful ignorance and unspoken complicity?
With astonishing precision, insight, and grace, Angelica Baker weaves a timeless social novel about the rituals of intimacy and community; of privilege and information; of family and risk; of etiquette and taboo.
Praise For Our Little Racket: A Novel…
""I read all 512 pages of Angelica Baker's debut novel greedily, in one dizzying weekend, unable to put it down...The book gets beyond moneymaking hubris to a more basic kind of desire-the fretful, shapeless longing of those who are sidelined to be seen somehow as indispensable."
— The Atlantic

"Baker skillfully grapples with questions of complicity...the novel is never less than gripping, and even if this is a world seemingly unfamiliar to you, it's impossible not to be swept up in the hard universal truths uncovered within its pages."
— Nylon Magazine

"A classic page-turner...As the story unfolds, the author takes us deep into Gold Coast life in 2008, just as the financial collapse was about to wreak havoc on the American economy... Elegant writing and razor-sharp analysis of upper-class suburbia."
— Connecticut Post

"Our Little Racket is a smart debut novel that examines power, greed, and the price of the American dream."
— PopSugar, "Best Books for Summer 2017"

"Although the novel is set in the banking crisis of 2008, it feels as current as today's congressional testimony... Ambitious... The atmosphere in this novel is stretched taut as the characters wait for the other polished loafer to drop."
— Kansas City Star

"Wry and perceptive."
— The National Book Review

"Working in the vein of Wharton, Cheever and Yates, but with a voice and vision wholly her own, Angelica Baker has crafted a timely and powerful exploration of greed and hubris...Clear and commanding prose... Baker is wildly talented and this debut is her gorgeous opening note."
— Cynthia D'Aprix Sweeney, bestselling author of The Nest

"Our Little Racket is a golden web of a story hanging in the rubble of a house built by deceit and greed. A magnificent debut."
— Ramona Ausubel, author of Sons and Daughters of Ease and Plenty and No One is Here Except All of Us

"Angelica Baker has written a terrific, whip-smart debut. Our Little Racket is a humane and serious window onto the troubling social world of the bankers who wrecked our economy. This is a great first novel."
— Stuart Nadler, author of The Inseparables

"A wonderfully rich debut from an incisive and elegant writer. Baker's women are worlds unto themselves, each with her own center of gravity, and it is a total pleasure to be held captive by them."
— Julia Pierpont, author of Among the Ten Thousand Things

"Our Little Racket is a gratifying peek over the hedgerows of Greenwich, laden with delicious anthropological detail. But like a modern day Henry James, Angelica Baker uses the lives of the one percent to explore themes-of love and loyalty, family and friendship-that matter to all of us."
— Rumaan Alam, author of Rich and Pretty

"Blending high-stakes economic intrigue with high-class family drama, Our Little Racket is a sweeping and immersive novel. Baker fully inhabits each of her characters, voicing each with depth and breadth...[An] engrossing and illuminating glimpse into Greenwich's upper crust."
— Booklist

"A personal, thought-provoking portrait emerges of the American Dream, complete with a web of visible and invisible cracks in the foundation."
— Publishers Weekly
Ecco, 9780062641311, 512pp.
Publication Date: June 20, 2017
About the Author
Angelica Baker was born and raised in Los Angeles. She received her B.A. from Yale University and her M.F.A. from Columbia University. She now lives in Brooklyn.
or
Not Currently Available for Direct Purchase