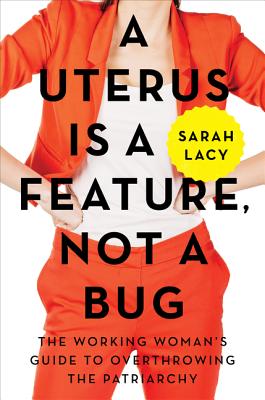 A Uterus Is a Feature, Not a Bug
The Working Woman's Guide to Overthrowing the Patriarchy
Hardcover

* Individual store prices may vary.
Other Editions of This Title:
Digital Audiobook (11/13/2017)
Compact Disc (11/14/2017)
Compact Disc (11/14/2017)
Description
A rallying cry for working mothers everywhere that demolishes the "distracted, emotional, weak" stereotype and definitively shows that these professionals are more focused, decisive, and stronger than any other force.
Working mothers aren't a liability. They are assets you—and every manager and executive—want in your company, in your investment portfolio, and in your corner.
There is copious academic research showing the benefits of working mothers on families and the benefits to companies who give women longer and more flexible parental leave. There are even findings that demonstrate women with multiple children actually perform better at work than those with none or one.
Yet despite this concrete proof that working mothers are a lucrative asset, they still face the "Maternal Wall"—widespread unconscious bias about their abilities, contributions, and commitment. Nearly eighty percent of women are less likely to be hired if they have children—and are half as likely to be promoted. Mothers earn an average $11,000 less in salary and are held to higher punctuality and performance standards. Forty percent of Silicon Valley women said they felt the need to speak less about their family to be taken more seriously. Many have been told that having a second child would cost them a promotion.
Fortunately, this prejudice is slowly giving way to new attitudes, thanks to more women starting their own businesses, and companies like Netflix, Facebook, Apple, and Google implementing more parent-friendly policies. But the most important barrier to change isn't about men. Women must rethink the way they see themselves after giving birth. As entrepreneur Sarah Lacy makes clear in this cogent, persuasive analysis and clarion cry, the strongest, most lucrative, and most ambitious time of a woman's career may easily be after she sees a plus sign on a pregnancy test.
Praise For A Uterus Is a Feature, Not a Bug: The Working Woman's Guide to Overthrowing the Patriarchy…
"A passionate polemic about the almost invisible role the patriarchy plays in controlling women's lives."
— San Francisco magazine

"Finally, a working mom book with attitude. The book is an inspiring reminder of how much mothers can accomplish when they decide that 'No' is not an option."
— New York Post

"One of Silicon Valley's most outspoken journalists challenges us to recognize that motherhood is a source of strength, not weakness. It's an unusually provocative, refreshingly candid rallying cry for a world of work that treats women fairly. Consider this book the real battle hymn of the tiger mother."
— Adam Grant, New York Times bestselling author of  Give and Take, Originals, and Option B with Sheryl Sandberg

"Sarah Lacy has been challenging the male-dominated culture in Silicon Valley for years, never backing down. She's paved the way for more women to stand up and speak out. Her persistence pursuit of equality is in all her work, including this necessary book."
— Sallie Krawcheck, bestselling author of Own it, and Co-founder and CEO of Ellevest

"The hot stew of pregnancy, motherhood, and career is utterly different for every woman. No matter what your experiences are, reading about Sarah's will help you feel more connected to yourself and to other women, and give you some specific ideas for how to find your own way to integrate all the ingredients life throws your way, and to help others find theirs."
— Kim Scott, bestselling author of Radical Candor

"A Uterus is a Feature, Not a Bug is exactly right. It's a great case for why motherhood isn't something to be explained away or dealt with carefully on a resume. It's actually the source of our superpowers."
— Claire Shipman, bestselling co-author of The Confidence Code
Harper Business, 9780062641816, 320pp.
Publication Date: November 14, 2017
About the Author
Sarah Lacy is the founder, CEO, and editor-in-chief of the investigative tech news site Pando.com. She has been covering technology news and entrepreneurship for over fifteen years, with stints at BusinessWeek and TechCrunch before founding her own company while on maternity leave in 2011. She lives in San Francisco. Most importantly of all, she is the mother of two young children.
or
Not Currently Available for Direct Purchase