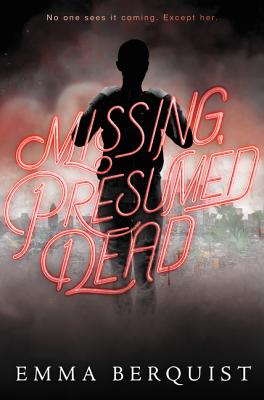 Missing, Presumed Dead
Hardcover

* Individual store prices may vary.
Description
When eighteen-year-old Lexi foresees the brutal murder of a young woman outside a club in downtown L.A., she is powerless to stop it.
But then the girl's ghost appears, seeking vengeance, and Lexi is swept into a dangerous search that could put her directly in the path of a serial killer. From the author of Devils Unto Dust, this fast-paced and literary thriller will haunt fans of Maureen Johnson's Truly Devious and Karen M. McManus's One of Us Is Lying.  
With a touch, Lexi can sense how and when someone will die. Some say it's a gift. But to Lexi it's a curse—one that keeps her friendless and alone. All that changes when Lexi foresees the violent death of a young woman, Jane, outside a club.
Jane doesn't go to the afterlife quietly. Her ghost remains behind, determined to hunt down her murderer, and she needs Lexi's help. In life, Jane was everything Lexi is not—outgoing, happy, popular. But in death, all Jane wants is revenge.
Lexi will do anything to help Jane, to make up for the fact that she didn't—couldn't—save Jane's life, and to keep this beautiful ghost of a girl by her side for as long as possible.
Emma Berquist's second novel is a haunting and atmospheric murder mystery that tackles themes of depression, loneliness, love, and identity. This high-concept novel is for fans of Holly Black's
The Coldest Girl in Coldtown
and Tahereh Mafi's Shatter Me series.
Praise For Missing, Presumed Dead…
"A lonely teen must use her odd powers to track down a killer. . .Lexi and Jane's tentative (and unusual) relationship is sweet. . .Berquist effectively tackles the destructive nature of grief and loneliness." — Kirkus Reviews
"The atmosphere of the grim dog-eat-dog world of the seedier parts of Los Angeles provides an enticing noir flavor. Lexi's aching loneliness is palpable in her narration. . .The romance between Lexi and Jane offers a bright spot, and their relationship develops organically from merely a source of comfort to genuine love. . . .a compelling page turner." — Bulletin of the Center for Children's Books
"Gritty and high-concept, this cross-genre murder mystery has plenty of appeal for horror and crime fiction fans, and the beginnings of a star-crossed f/f romance add depth." — ALA Booklist
"Horror meets mystery in this supernatural whodunit for lovers of mystery and suspense. . .A fun, fast-paced read for students looking for a thrill." — School Library Journal
Greenwillow Books, 9780062642813, 384pp.
Publication Date: May 21, 2019