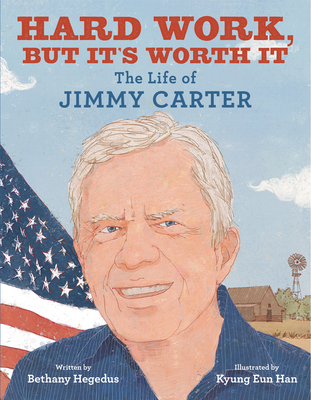 Hard Work, but It's Worth It
The Life of Jimmy Carter
Hardcover

* Individual store prices may vary.
Description
The first picture book about the inspiring life of humanitarian Jimmy Carter, the thirty-ninth president of the United States and a Nobel Prize winner—from Alabama Spitfire author Bethany Hegedus. This nonfiction picture book is an excellent choice to share during homeschooling, in particular for children ages 4 to 6. It's a fun way to learn to read and as a supplement for activity books for children.
Even before Jimmy Carter became president, he knew the value of hard work. Living on his family's peanut farm, Jimmy saw how hard work yielded strong results.
At least it did for some people. But growing up in the segregated South, Jimmy also saw firsthand how white people and black people were not treated equally. None of it was right. None of it was fair.
So Jimmy created a list of Good Mental Habits to help him navigate life's challenges. The list guided his thoughts and actions and helped him fight for change, whether working with civil rights leaders to end racial discrimination in his home state of Georgia, helping to negotiate peace in the Middle East, or building homes for the poor through Habitat for Humanity.
From the statehouse to the White House and beyond, Jimmy has worked to make change for all people, devoting decades to public service and becoming one of the most respected humanitarians of our time. It's hard work, but it's worth it.
Praise For Hard Work, but It's Worth It: The Life of Jimmy Carter…
"Intertwined qualities of grit and social conscience inform every page of Hegedus's sensitive, uplifting biography, while Han's reportorial digital illustrations reflect Carter's unpretentious character." — Publishers Weekly
"An affectionate, admiring tribute to our 39th president." — Kirkus Reviews
"The book doesn't shy away from Carter's failings…But it ends with his triumphant return to prominence as a humanitarian, depicting a man always true to himself and the "Good Mental Habits" list he wrote as a boy." — New York Times Book Review
"Uses stories from Carter's childhood to engage young readers while making significant points…. An informative introduction to Jimmy Carter." — ALA Booklist
"Inspirational in every way, this selection is first-rate." — Nationally Syndicated Columnist Books to Borrow . . . Books to Buy

Praise for ALABAMA SPITFIRE: "The inspirational story of a protagonist who 'carved out a life of her own design.'" — Kirkus Reviews
Praise for ALABAMA SPITFIRE: "An affectionate ode to a writer who 'carved out a life of her own design.'"

— Publishers Weekly
Praise for ALABAMA SPITFIRE: "Admirably show[s] Lee's experiences in Alabama and in New York City."

— School Library Journal
Balzer + Bray, 9780062643780, 40pp.
Publication Date: January 28, 2020
About the Author
Bethany Hegedus is the award-winning author of Alabama Spitfire: The Story of Harper Lee and To Kill a Mockingbird; Truth with a Capital T; and Between Us Baxters and coauthor along with Arun Gandhi of Grandfather Gandhi. She owns the Writing Barn, a writing workshop and retreat center in Austin, Texas. Bethany is a former educator who speaks and teaches across the country. You can find her online at www.bethanyhegedus.com.
Kyung Eun Han once worked as a corporate credit analyst until she changed her career to illustration. Her debut picture book, Into the Forest, was published in Korea in 2018. Kyung uses both digital and traditional media to create her artwork and has also illustrated for advertising, movies, and magazines in addition to picture books. She lives in Anyang, Korea. You can visit her online at www.kyungeunhan.wixsite.com/illust.