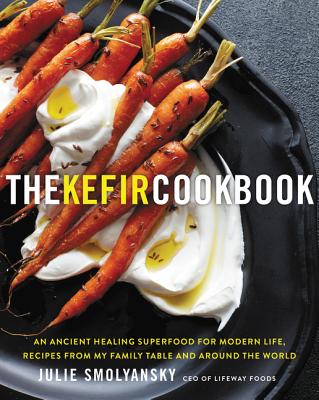 The Kefir Cookbook
An Ancient Healing Superfood for Modern Life, Recipes from My Family Table and Around the World
Hardcover

* Individual store prices may vary.
Description
Over 100 globally-inspired sweet and savory recipes made with one of the most probiotic-rich and nutrient-dense superfoods on the planet
Derived from the Turkish word "keif" meaning "feeling good," kefir is a tart, tangy cultured milk, low in sugar and lactose free, and an excellent source of protein, calcium, and B vitamins. Originating from a grain that dates back two thousand years to the Caucasus Mountains of Europe, it is also one of the healthiest natural foods available—scientifically shown to help boost immunity, improve gut health, build bone density, fight allergies, and aid the body's natural detoxification.  
In 1986, ten years after they emigrated from Kiev, Michael and Ludmila Smolyansky introduced kefir to America. Today their children, Julie and Edward, lead Lifeway Foods Inc., the Smolyansky family company and the top-selling kefir brand in America. In The Kefir Cookbook, Julie shares her family's abiding love of kefir through treasured family stories and innovative recipes. From Ludmila's Borscht, a staple of life behind the Iron Curtain, to Nutella Smoothies, a homage to the Rome that welcomed them as refugees, and Kefir Jerk Chicken, a celebration of friendship experienced with her young daughters, these dishes showcase the versatility of this ancient healing food.
While kefir can be drunk straight from the bottle, whipped into smoothies, or used in parfaits and smoothie bowls, Julie reveals in more than 100 recipes—including contributions by Christy Turlington Burns, Seamus Mullen, and Katrina Markoff—how it can also be blended with your favorite comfort foods to add tang, boost creaminess, and elevate their nutritional properties. Deeply personal, The Kefir Cookbook offers unique spins on classic recipes, while introducing contemporary flavors and textures to inspire you in the kitchen every day.
Praise For The Kefir Cookbook: An Ancient Healing Superfood for Modern Life, Recipes from My Family Table and Around the World…
"A beautiful journey of food, family, travel and triumph over adversity. With The Kefir Cookbook, Julie uses mouthwatering recipes and personal stories to bring the immigrant experience to life and give the reader a seat at her table. It's a book for both body and soul." — Arianna Huffington, #1 New York Times bestselling author of Thrive
"The Kefir Cookbook is a well written exploration of a modern way to mindfully nourish and heal the mind, body, and spirit with an ancient food." — Deepak Chopra, MD
"Julie's recipes will make you feel both nourished and powerful—exactly what kefir's ancient probiotics will do, too! Healthy and delicious, they will become staples of your real food kitchen. The Kefir Cookbook weaves the true story of the American Dream into the flavors of global cooking." — Ellen Gustafson, author of We the Eaters: If We Change Dinner, We Can Change the World and Co-Founder of FEED
"In The Kefir Cookbook, Julie beautifully chronicles her family's American immigrant success story through delicious recipes that have become cultural staples (literally). It's a book every immigrant family can relate to, and should definitely read. And now we know kefir has enormous health benefits, as well." — Bianna Golodryga, CBS News correspondent
"The Kefir Cookbook does more than simply fulfill your curiosity about superfoods and how to integrate them into your everyday life for a healthier, more nutritious existence. Julie's beautifully written stories…[are] an inspirational, soul-filled guide to fearlessly taking on the world." — Suzie Baleson, Founder, The Wellth Collective
"The Kefir Cookbook is Julie's real-life journey toward the American dream told through recipes…Each recipe offers unique insight into her remarkable story, beautifully weaving her family's traditional recipes with those she has discovered in her decades of travel." — Nicole Bernard Dawes, Founder and CEO of Late July Snacks
"Julie and her family are a true Chicago success story. This book is an incredible look into her family's history and all they have accomplished. I am proud to call her a friend, and excited for the world to see this book." — R.J. Melman, President of Lettuce Entertain You Enterprises 
"A memoir, culinary adventure, and global food tour all wrapped in one! The Kefir Cookbook satisfies the dietitian in me who believes in balanced eating (including a little sugar!) and inspires the mom in me." — Rebecca Scritchfield, RDN, author of Body Kindness
"Fans of kefir, as well as those new to it, will find plenty to embrace here. . . Smolyansky skillfully demonstrates how a single ingredient can fortify an array of dishes, both savory and sweet." — Publisher's Weekly
HarperOne, 9780062651303, 336pp.
Publication Date: March 6, 2018
About the Author
JULIE SMOLYANSKY is CEO and president of Lifeway Foods Inc., the company her parents founded to introduce kefir to the US. Named the nation's youngest female CEO of a publicly held firm in 2002, she was recently named to Fortune's "40 under 40" and Fast Company's "Most Creative People in Business 1000." Julie lives in Chicago.
or
Not Currently Available for Direct Purchase