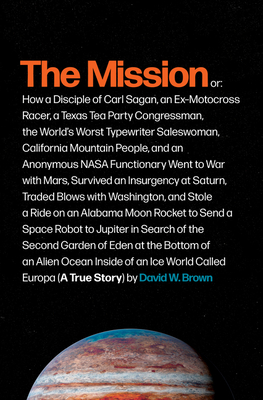 The Mission
A True Story
Hardcover

* Individual store prices may vary.
Other Editions of This Title:
Digital Audiobook (1/25/2021)
Paperback (1/25/2022)
MP3 CD (1/26/2021)
Compact Disc (1/26/2021)
Description
"Exceptionally absorbing and thrilling. ... Masterful." —Nature
A "magnificent" (Scientific American), genre-defying narrative of the most ambitious science project ever conceived: NASA's deep space mission to Europa, the Jovian moon where might swim the first known alien life in our solar system
In the spirit of Tom Wolfe and John McPhee, The Mission is an exuberant master class of creative nonfiction that reveals how a motley, determined few expanded the horizon of human achievement.
When scientists discovered the first ocean beyond Earth, they had two big questions: "Is it habitable?" and "How do we get there?" To answer the first, they had to solve the second, and so began a vivacious team's twenty-year odyssey to mount a mission to Europa, the ocean moon of Jupiter.
Standing in their way: NASA, fanatically consumed with landing robots on Mars; the White House, which never saw a science budget it couldn't cut; Congress, fixated on going to the moon or Mars—anywhere, really, to give astronauts something to do; rivals in academia, who wanted instead to go to Saturn; and even Jupiter itself, which guards Europa in a pulsing, rippling radi­ation belt—a halo of death whose conditions are like those that follow a detonated thermonuclear bomb.
The Mission is the Homeric, never-before-told story of modern space exploration, and a magnificent portrait of the inner lives of scientists who study the solar system's mysterious outer planets. David W. Brown chronicles the remarkable saga of how Europa was won, and what it takes to get things done—both down here, and up there.
Praise For The Mission: A True Story…
"Scientists believe that any extraterrestrial life in our solar system would most likely be found on Europa, a moon of Jupiter. This book chronicles the work of a tenacious team of researchers who have spent decades investigating that possibility, despite obstacles both bureaucratic (NASA's long-standing preoccupation with Mars) and physical: Europa lies within a 'pulsing, rippling' belt of radiation and is covered by an ice shell 'kilometers thicker than any hole ever drilled on earth.'" — New Yorker
 "Exceptionally absorbing and thrilling. ... This is a book celebrating the resilience and perseverance of a group of smart people who worked relentlessly to make a Europa mission a reality. ... The story up to here is worth being told, and The Mission does it masterfully." — Nature
"Magnificent. ... This book cannot answer the question of what—if anything—lurks in Europa's dark abyss, but it masterfully reveals with remarkable clarity what lies within the hearts of the men and women determined to find out." — Scientific American
"Brown is a nimble, gifted writer, downright Dickensian in his pointed descriptions and irreverent humor… Brown's language drew me in to the world of interplanetary science and made me a part of it. The Europa Clipper mission is scheduled to launch in 2024 and, thanks to The Mission, I will be looking up, dreaming of Europa's oceans, and those plumes, and waiting for news of what we find there." — Air Mail
"The Mission reads almost like a novel. Brown immersed himself in the lives of his characters and their work, coming away from his research with a richly realized story about fascinating characters." — Houston Chronicle
"In The Mission, David W Brown tells the remarkable story of the team of scientists whose determination made the Europa Clipper mission happen, despite resistance from all quarters." — BBC Science Focus, "Ten Best Science Books of the Month"
"With deftness and vigor, David W. Brown brings to life the intricate science, the historical heft and, most exquisitely, the beating hearts at the center of his sprawling, immersive story. With rich characters, an epic struggle and a Herculean resolve, The Mission is an extraordinary tale, extraordinarily told." — Megan Abbott, bestselling author of Dare Me and Give Me Your Hand
"Europa is the sparkly jewel of the Jupiter system and learning its mysteries is a delight, but it's the people and their dreams and their stories that shine in The Mission. David W. Brown deftly weaves together the science, the history, and the politics to write the definitive account of one of NASA's most exciting upcoming missions." — Dr. Mike Brown, Caltech astronomer and author of How I Killed Pluto and Why It Had It Coming
"This is an epic, delicious, funny yet serious and inspiring account of the tortuous bureaucratic and engineering journey to send a robotic mission to Jupiter's icy moon Europa. For those of us who believe the search for extraterrestrial life is the most thrilling exploration of our lifetime, this is the book to read." — Mark Bowden
"Absolutely riveting from the very first page. David W. Brown is a beautiful writer who brings this incredible story to life in sharp, surprising prose. It is a true pleasure to read." — Aryn Kyle, award-winning author of The God of Animals and Boys and Girls Like You and Me
"This is one of the most impressive works of nonfiction I've ever read. It defies genre in many ways. It's science, yes, but it's driven by characters—brilliant, real-life scientists with contagious determination. David W. Brown turns complex planetary science into lyrical, accessible prose... It was compulsively readable and astonishing in scholarship."  — Erin Entrada Kelly, Newbery Medal-winning author of Hello, Universe

"An enthusiastic account of an interplanetary probe to a distant moon... NASA continues to accomplish great feats, and more are in the offing, including this book's subject: the 2024 launch of a multibillion-dollar spacecraft to explore Jupiter's moon Europa. ... Brown engagingly describes the cutthroat NASA political landscape... A delightful slice of NASA life."
— Kirkus Reviews (starred review)
"Brown skillfully braids biography, science, obsession, and accounts of bureaucracy-wrangling into this mesmerizing tale of 'good, bare-fisted science.' Salted with pop culture references and humor, Brown's fascinating outing will entertain anyone curious about space exploration." — Publishers Weekly (starred review)
"Brown leaves no door closed as he covers the science, logistics, personalities, and politics of this extraordinary NASA mission. His extensively researched, humorous, raucous, dramatic, and pop-culture-and science-fiction-laced immersion in planetary science will have readers hanging on every word." — Booklist
"This true story has not been previously written about in such detail. … An engaging read for all, especially for anyone curious about the details of space exploration." — Library Journal
"The Mission is as much about the people behind space exploration as it is about the science of distant moons. ... [Brown] vividly captures the challenges, triumphs and disappointments they have confronted. … Combining science and technology with the emotional human experience, The Mission is a fresh look at the future of space exploration." — BookPage
"This beautiful book is a gem of an introduction to our Solar System and how, over decades, human minds and robotic spacecraft have learned more about it." — BBC Sky at Night Magazine
"The Mission is fascinating. … Poetic." — The Times (UK)
Custom House, 9780062654427, 480pp.
Publication Date: January 26, 2021
About the Author
David W. Brown is a freelance writer whose nonfiction appears frequently in The Atlantic, The New Yorker, and the New York Times. His work can also be found in Scientific American, Vox, and Smithsonian. He is an Antarctic expeditioner, an endurance runner, a former U.S. Army paratrooper, and a veteran of Afghanistan. He is a graduate of Louisiana State University and holds a Master of Fine Arts in creative writing from the University of Arkansas at Monticello. The Mission is his fourth book. Brown lives in New Orleans, Louisiana.