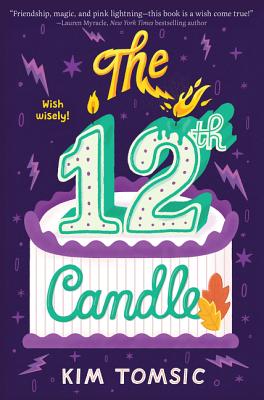 The 12th Candle
Hardcover

* Individual store prices may vary.
Other Editions of This Title:
Paperback (9/15/2020)
Compact Disc (10/8/2019)
MP3 CD (10/8/2019)
Description
Middle school meets magic in this hilarious and heartfelt novel about a girl whose life flips when she wishes on an enchanted candle—perfect for fans of Sarah Mlynowski and Wendy Mass.
Sage Sassafras's life is cursed! No, really. Since birth, Sage has been plagued by the Contrarium Curse that's set her at odds with classmate Priscilla Petty.
Every time something goes right for Priscilla, it goes terribly, horribly wrong for Sage. And things always go well for Priscilla.
Sage blames the curse for all her middle school misery—from losing a friend to failing gym to gaining a reputation as the girl whose daddy's in trouble. So when Sage is given a magical candle on her twelfth birthday, she seizes the chance to turn her luck around—with a wish to reverse the curse.
But when the consequences of her wish take a terrible turn, Sage has to team up with her worst enemy—before she's doomed to a life of opposites forever. 
Praise For The 12th Candle…
"Tomsic demonstrates that wishes have a power of their own, no matter the good intentions behind them. [Sage has a] colorful group of friends whose engaging dialogue and ever-evolving relationships capture the essence of middle-school interaction."
— Booklist

"A thoughtful look at curse versus choice and an encouragement to youngsters to make their own paths."
— Kirkus Reviews

Sage is a believable feisty twelve-year-old, who has been trying to outrun her family's tarnished reputation for as long as she can remember, and her vulnerability to the preening Priscilla is keenly relatable.
— Bulletin of the Center for Children's Books

PRAISE FOR The 11:11 Wish: "Debut author Tomsic infuses Megan's first-person narrative with lots of personality and a distinctive voice, and secondary characters are all complex and multidimensional. Light fantasy firmly grounded in the realities of middle-school emotions."
— ALA Booklist

"Readers will empathize with [Megan's] tenuous position and her tenacity despite the hilarious situations she gets herself into. A fine, funny fix."
— Kirkus Reviews

"Tomsic puts a pawsitively magical twist on middle school mayhem. Whimsical and wacky, The 11:11 Wish is a romp of a read sure to please young teens and tweens."
— Ingrid Law, Newbery Honor Winner and New York Times Bestselling Author of Savvy

"Full of unexpected twists and turns, this sweet, funny book is pure magic."
— Tara Dairman, author of All Four Stars

"The book briefly touches on the seriousness of bullying and having a parent in prison, but overall it treats its subject matter with a light hand, and there's plenty of appeal in the notion of magic and wish fulfillment. Readers will contentedly follow Sage to the neatly wrapped happy ending."
— Bulletin of the Center for Children's Books
Katherine Tegen Books, 9780062654977, 336pp.
Publication Date: October 8, 2019
About the Author
Kim Tomsic has been the new girl at eight different schools, where she earned a variety of conflicting labels: the dork, the cool kid; the pretty girl, the ugly girl; the smart kid, the normal kid; the worst at sports, decent at sports; and the shy girl, the talker. She kept one label: the talker. Kim now lives in Colorado with her husband, two children, and two dogs; all five keep her laughing. The 11:11 Wish is her first middle grade novel and is followed by The 12th Candle. Visit her at: www.kimscritiquingcorner.blogspot.com.