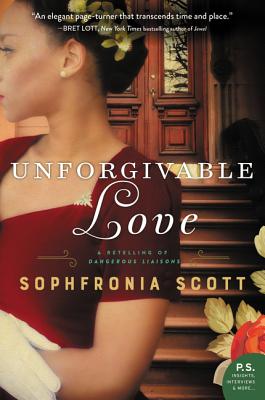 Unforgivable Love
A Retelling of Dangerous Liaisons
Paperback

* Individual store prices may vary.
Other Editions of This Title:
Digital Audiobook (9/25/2017)
Compact Disc (9/26/2017)
Description
"Marvelously dramatic…brings its era to life with lush detail." – People Magazine
In this vivid reimagining of the French classic Les Liaisons Dangereuses, it's the summer when Jackie Robinson breaks Major League Baseball's color barrier and a sweltering stretch has Harlem's elite fleeing the city for Westchester County's breezier climes, two predators stalk amidst the manicured gardens and fine old homes.
Heiress Mae Malveaux rules society with an angel's smile and a heart of stone. She made up her mind long ago that nobody would decide her fate. To have the pleasure she craves, control is paramount, especially control of the men Mae attracts like moths to a flame.
Valiant Jackson always gets what he wants—and he's wanted Mae for years. The door finally opens for him when Mae strikes a bargain: seduce her virginal young cousin, Cecily, who is engaged to Frank Washington. Frank values her innocence above all else. If successful, Val's reward will be a night with Mae.   
But Val secretly seeks another prize. Elizabeth Townsend is fiercely loyal to her church and her civil rights attorney husband. Certain there is something redeemable in Mr. Jackson. Little does she know that her worst mistake will be Val's greatest triumph.
Praise For Unforgivable Love: A Retelling of Dangerous Liaisons…
"Marvelously dramatic…brings its era to life with lush detail." — People
"Complicated characters, unbearable tension, heartbreak, and betrayal make Unforgivable Love an absorbing read. [...] Deeply poignant." — Erika Robuck, national bestselling author of Hemingway's Girl
"Unforgivable Love is an exquisite, sexy, beautifully imagined novel in which Sophfronia Scott expertly recasts the intrigues and characters of Dangerous Liaisons in Harlem of the late 1940s. [...] Both a virtuosic homage and a thrilling retelling--Unforgivable Love is a stunning accomplishment." — Christine Sneed, author of The Virginity of Famous Men and Little Known Facts
"At once beautiful and ominous, visceral and ethereal, tragic and fulfilling, Unforgivable Love is a genuinely moving novel [...] Sophfronia Scott has given us a book that will last, an elegant page turner that transcends time and place." — Bret Lott, New York Times bestselling author of Jewel
"Imagine Dangerous Liaisons set in 1940s Harlem, amidst the nascent civil rights movement, baseball, and jazz, and you have Sophfronia Scott's riveting novel Unforgivable Love.[...] I miss this world-and Scott's gorgeous prose already." — Lori Ostlund, author of After the Parade
"Unforgivable Love is lyrical and lush, enchanting and energetic. With botttomless empathy and loving attention to detail, Sophfronia Scott embraces a classic and makes it her own." — Tayari Jones, author of Silver Sparrow and An American Marriage
"Unforgivable Love is a fast-paced tale of intrigue, seduction, and betrayal. Sophfronia Scott leaves us breathless." — Lee Martin, Pulitzer Prize Finalist author of The Bright Forever
" [...]  here is this eighteenth century French tale remade into a panorama of mid-century Harlem, America--full of brilliant characters, a tale of love and lust and treachery, written with the rhythms of jazz, giving forth beautifully rendered rooms and streets and sounds [...] better than the original." — Richard Bausch, award-winning author of Before, During, After
"Scott's wonderful, original retelling of Dangerous Liaisons takes readers deep into the lives of her characters; Mae, Val, and Elizabeth are riveting and complex. You won't be able to stop reading this terrific, absorbing book." — Karen E. Bender, author of Refund, Finalist for the National Book Award
"Scott's novel is a vivid, vibrant, and panoramic exploration of the hearts and minds of its mostly well-heeled characters and the universal themes of love, sex, and social intrigue [...]Scott takes readers there and lets them wander and discover this exciting, historical time and place." — Breena Clarke, author of the award-winning Oprah book club pick, River, Cross My Heart  
"Unforgivable Love is an unforgettable read. Scott's reimagining of Dangerous Liaisons into 1940's Harlem society is nothing short of inspired, with all the spice and spite and delight of the original, and more. Nuanced, haunting, elegant, this is a book I can't wait to read again - and then, again." — Robin Black, author of Life Drawing
"Unforgivable Love is vibrant, thoughtful and very sexy. It sneaks up on you and once you are under its spell, it won't let go." — Martha Southgate, author of The Fall of Rome
"In this remarkable retelling of the French classic Les Liasions Dangereuses, Sophfronia Scott brings scandal, manipulation, and perverse desire to (barely) postwar America […] Beautifully written, sumptuously atmospheric, fearless […] Unforgivable Love is surely the breakout book for this thrilling new voice." — Bill Roorbach, award-winning author of Life Among Giants and The Girl of the Lake
"Scott sets this fresh retelling of Pierre Choderlos de Laclos' novel against an alluring backdrop of city nightclubs, country retreats, tightknit church communities, and the Brooklyn Dodgers... A dazzlingly dark and engaging tale full of heartbreak, treachery, and surprise." — Kirkus Reviews
"Scott's heady blend of sumptuous description, rarefied setting, sensuality, revenge, and redemption will keep readers engaged."
  — Booklist
"Scott should take a bow for penning this delicious and infinitely enjoyable read." — Essence
"Scott's latest is a brilliantly written retelling of a classic story, Dangerous Liaisons, that will enthrall readers from the first page." — RT Book Reviews (4 1/2 stars)
"Unforgiveable Love did not disappoint! It is sultry and sexy as a summer night, languid and luscious as the jazz that underscores its pages. [...] Highly recommended." — Historical Novel Society
William Morrow Paperbacks, 9780062655653, 528pp.
Publication Date: September 26, 2017
About the Author
Sophfronia Scott hails from Lorain, Ohio. She was a writer and editor at Time and People magazines before publishing her first novel, All I Need to Get By. She holds an MFA from Vermont College of Fine Arts and a bachelor's degree in English from Harvard. Her short stories and essays have appeared in numerous literary journals. She lives in Connecticut with her husband and son.
Coverage from NPR