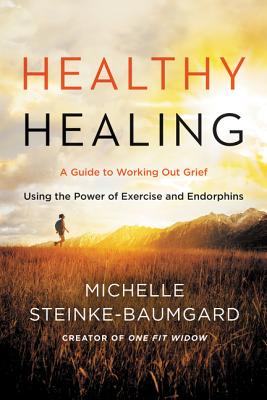 Healthy Healing
A Guide to Working Out Grief Using the Power of Exercise and Endorphins
Paperback

* Individual store prices may vary.
Description
Instead of helping in the aftermath of loss, many of the books and strategies meant to guide us through grief only add to the sadness. No one understands the need for a new approach more than Michelle Steinke-Baumgard, who lost her husband in a tragic plane accident and became a widow overnight. In the darkest moment of her life, the mother of two young children found solace and hope in the unlikeliest of places: exercise. She recorded her journey in her blog, One Fit Widow, and soon had a huge community of devoted followers. Now, Michelle offers her revolutionary solution to grief to everyone struggling with their own loss.

Healthy Healing addresses the physical, mental, and emotional effects of grief in a way that no other book in the category has ever done, offering a 12-week plan that empowers you to work through loss by using the power of exercise and endorphins, and rediscovering happiness by strengthening body, mind and spirit through fitness. And the benefits don't end there: Exercise helps with poor sleep—a common side effect of trauma—and proper nutrition boosts immunity and fuels you through a busy, stressful time. Michelle dispels common myths about grief and replaces them with relatable advice and actionable inspiration, including:

• Starting with baby steps such as taking a walk or being in nature
• Learning to be comfortable with alone time and rediscovering your strength
• Pairing your exact circumstances with the right form of exercise, whether it's gentle yoga to release trapped sadness or intense kickboxing to work through anger
• Embracing community and surrounding yourself with support
This book is an exercise plan, nutrition guide, and, most importantly, a compassionate companion during the most difficult time in your life. With Healthy Healing, you'll learn how to channel your pain into something productive—and use tragedy as a catalyst for inspired change.
Praise For Healthy Healing: A Guide to Working Out Grief Using the Power of Exercise and Endorphins…
"Healthy Healing will not only guide you through your grief—it will literally save your life. It is about time we have a book that doesn't leave the body behind after loss."  — Christina Rasmussen, author of Second Firsts: Live, Laugh and Love Again 
"I have never seen the road to 'everything is going to be okay' more clearly than in the pages of this book. It's not just a call to action. It's a call to life. Steinke takes your hand from page one and doesn't let it go." — Laura Munson, New York Times bestselling author of This Is Not the Story You Think It Is and founder of Haven Writing Retreats
"Healthy Healing gives life to the notion that there can be beauty in the places that feel broken...get moving to a healthier life of hope and healing...become a living legacy in a way that really honors our loved ones." — Bonnie Carroll, President and Founder of Tragedy Assistance Program for Survivors and 2015 Recipient of the Presidential Medal of Freedom  
"Michelle is a living example of her wise guidance on the power of endorphins and exercise to heal and empower your journey. May it propel you on your walk into a bright, renewed future full of unlimited possibility. Life changing from the inside out!"  — Carolyn Moor, Founding Director at Modern Widows Club  
"If you are even remotely considering changing your lifestyle, and/or are struggling with grief, pick up this book. Not only will your body thank you, but in times of loss, your heart and soul will thank you." — Girl Well Read
"Practical, relatable, and life-affirming, Healthy Healing is a valuable resource for any grieving person. Michelle has not only found her own path through unthinkable tragedy, but she has created a roadmap for people facing any of life's challenges." — Michele Neff Hernandez, Founder and Executive Director, Soaring Spirits International  
HarperOne, 9780062656032, 304pp.
Publication Date: October 24, 2017
or
Not Currently Available for Direct Purchase