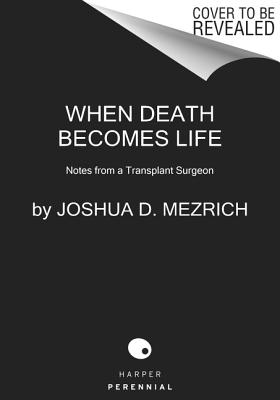 When Death Becomes Life
Notes from a Transplant Surgeon
Paperback

* Individual store prices may vary.
Other Editions of This Title:
Digital Audiobook (1/14/2019)
Hardcover (1/15/2019)
MP3 CD (1/15/2019)
Compact Disc (1/15/2019)
Compact Disc (1/15/2019)
Description
"Although When Death Becomes Life is about courage and innovation and dedication, it is foremost a book about hope…. This monumental and enthralling history of one of modern medicine's most rousing triumphs is a definitive testament to that hope, and to the brave physicians and patients whose sacrifices made it possible."
   — New York Journal of Books
A gifted surgeon illuminates one of the most profound, awe-inspiring, and deeply affecting achievements of modern day medicine—the movement of organs between bodies—in this exceptional work of death and life that takes its place besides Atul Gawande's Complications, Siddhartha Mukherjee's The Emperor of All Maladies, and Jerome Groopman's How Doctors Think.
At the University of Wisconsin, Dr. Joshua Mezrich creates life from loss, transplanting organs from one body to another. In this intimate, profoundly moving work, he illuminates the extraordinary field of transplantation that enables this kind of miracle to happen every day.
When Death Becomes Life is a thrilling look at how science advances on a grand scale to improve human lives. Mezrich examines more than one hundred years of remarkable medical breakthroughs, connecting this fascinating history with the inspiring and heartbreaking stories of his transplant patients. Combining gentle sensitivity with scientific clarity, Mezrich reflects on his calling as a doctor and introduces the modern pioneers who made transplantation a reality—maverick surgeons whose feats of imagination, bold vision, and daring risk taking generated techniques and practices that save millions of lives around the world.
Mezrich takes us inside the operating room and unlocks the wondrous process of transplant surgery, a delicate, intense ballet requiring precise timing, breathtaking skill, and at times, creative improvisation. In illuminating this work, Mezrich touches the essence of existence and what it means to be alive. Most physicians fight death, but in transplantation, doctors take from death. Mezrich shares his gratitude and awe for the privilege of being part of this transformative exchange as the dead give their last breath of life to the living. After all, the donors are his patients, too.
When Death Becomes Life also engages in fascinating ethical and philosophical debates: How much risk should a healthy person be allowed to take to save someone she loves? Should a patient suffering from alcoholism receive a healthy liver? What defines death, and what role did organ transplantation play in that definition? The human story behind the most exceptional medicine of our time, Mezrich's riveting book is a beautiful, poignant reminder that a life lost can also offer the hope of a new beginning.
Praise For When Death Becomes Life: Notes from a Transplant Surgeon…
"When Death Becomes Life braids unflinching medical history with frank clinical memoir. . . . there are no demigods in the world of transplant, just especially ambitious and unquesy humans." — Wall Street Journal
"[A] no-holds-barred narrative. . . . A visceral tale of hearts and bones, surgical bravura, and the "web of transplantation" that binds people who might never meet." — Nature
"A fascinating examination of our bodies' organs and the intimacy of their placement and replacement. Joshua Mezrich weaves in the history, ethics, and technical grit of how doctors and patients navigate this miraculous second chance at life." — Danielle Ofri, M.D., Ph.D., author of What Patients Say, What Doctors Hear
"An outstanding memoir by a transplant surgeon who combines an autobiography and operating room dramatics with an equally engrossing history of his profession.... Medical memoirs have become a significant genre over the past two decades, and this one ranks near the top, in a class that includes the best." — Kirkus Reviews (starred review)
"A valuable account of a key chapter from medical history. Mezrich moves smoothly between the different strands of his narrative, with the historical material as accessible as the autobiographical." — BookBrowse
"An extraordinary and deftly-crafted combination of medical history and personal memoir, When Death Becomes Life should be a part of every community, college, and university library collection." — Midwest Book Review
"In his eloquent and illuminating new book, this dedicated doctor and elegant writer weaves stories from his own awe-inspiring work into a history of the medical advances that have made the extension of many lives possible." — The Entertainment Report
"[When Death Becomes Life] sheds light on a critical area of medicine, one that's ready for advancements, innovations and breakthroughs. . . . provid[ing] a fascinating look at the realities of transplantation today." — CSL Behring
"An attention-grabbing and candid look at human organ transplantation... Success through perseverance is this book's main theme, and Mezrich does a commendable job sharing his death-to-life experiences in a vital field." — Publishers Weekly
"Skillfully stitching medical memoir to medical history, transplant surgeon Joshua Mezrich shares stories of patients and donors, provides profiles of pioneers in the field of organ transplantation, and serves up some self-examination. . . . [An] enlightening transplantation chronicle." — Booklist
Harper Perennial, 9780062656216, 384pp.
Publication Date: January 7, 2020
About the Author
A graduate of Cornell Medical School, Joshua Mezrich, MD, is an associate professor of surgery in the division of multi-organ transplantation at the University of Wisconsin School of Medicine and Public Health.