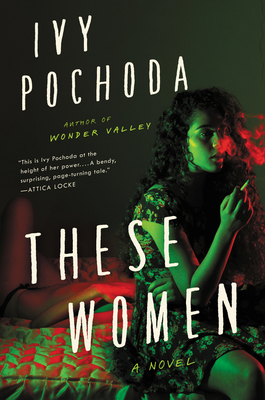 These Women
A Novel
Hardcover

* Individual store prices may vary.
Other Editions of This Title:
Digital Audiobook (5/18/2020)
Digital Audiobook (5/18/2020)
Paperback (4/13/2021)
Paperback, Large Print (5/19/2020)
MP3 CD (5/19/2020)
Compact Disc (5/19/2020)
Description
SHORTLISTED FOR THE EDGAR AWARD FOR BEST NOVEL
AN LA TIMES BOOK PRIZE, MYSTERY & THRILLER FINALIST * AN INTERNATIONAL THRILLER WRITERS FINALIST, BEST HARDCOVER NOVEL * A MACAVITY BEST MYSTERY NOVEL FINALIST
A Recommended Book From
The New York Times Book Review * The Washington Post * Vogue * Entertainment Weekly * Elle * People * Marie Claire * Vulture * The Minneapolis Star-Tribune * LitHub * Crime Reads * PopSugar * AARP * Book Marks * South Florida Sun Sentinel
From the award-winning author of Wonder Valley and Visitation Street comes a serial killer story like you've never seen before—a literary thriller of female empowerment and social change
In West Adams, a rapidly changing part of South Los Angeles, they're referred to as "these women." These women on the corner … These women in the club … These women who won't stop asking questions … These women who got what they deserved … 
In her masterful new novel, Ivy Pochoda creates a kaleidoscope of loss, power, and hope featuring five very different women whose lives are steeped in danger and anguish. They're connected by one man and his deadly obsession, though not all of them know that yet. There's Dorian, still adrift after her daughter's murder remains unsolved; Julianna, a young dancer nicknamed Jujubee, who lives hard and fast, resisting anyone trying to slow her down; Essie, a brilliant vice cop who sees a crime pattern emerging where no one else does; Marella, a daring performance artist whose work has long pushed boundaries but now puts her in peril; and Anneke, a quiet woman who has turned a willfully blind eye to those around her for far too long. The careful existence they have built for themselves starts to crumble when two murders rock their neighborhood.
Written with beauty and grit, tension and grace, These Women is a glorious display of storytelling, a once-in-a-generation novel.
Praise For These Women: A Novel…
"If women are the victims in this intricate, deeply felt, beautifully written novel, they are also its heroes. The story unfolds through the perspectives of five characters, all women, with overlapping and interweaving histories. Their voices sizzle and sparkle; each of them helps advance the plot, and each brings to it her own particular pain and her own particular tragedy. All are haunted by birth and circumstance." — New York Times Book Review
"Flawless... Razor-sharp… 'These Women' is at first glance a conventional murder mystery constructed on that sturdy old tripod of serial killer, murdered women and dogged female detective. But each of those elements is freshly minted here thanks to the psychological depth granted each character and the graceful twists of Ms. Pochoda's cunning yet unfussy plot….Only when the last piece of this finely crafted puzzle slides into place is the killer revealed." — Wall Street Journal
"These Women doesn't hinge on the killer's identity or the logistics of catching him. Instead, the central question is whether anyone will ever listen to the women, victims or survivors…. In fine-tuned and affecting prose, Pochoda captures the women's voices, the way they use cracked humor or street smarts as coping mechanisms." — Los Angeles Times
"The city that Pochoda conjures in artful, unmissable detail on nearly every page: a place as textured and immediate as any breathing, sentient character."
— Entertainment Weekly
"Pochoda turns grief, suffering and loss into art, crafting a literary thriller that is no less compelling for its deep emotional resonance." — Vogue
"These Women is a gritty murder mystery with a feminist twist. Ivy Pochoda's LA-set noir is the perfect summer read." — O, the Oprah Magazine
"Ivy Pochoda asks readers to consider one of the themes that unites her books: Who are the people we overlook, ignore, don't see, dismiss in the world?…. Not only has Pochoda written an immersive, intriguing murder mystery — she's also crafted a framework with which we can examine how all women are viewed in Western cultures." — NPR
"Electric.... Filled with snappy and propulsive prose... In revealing what happens when women are discounted, [Pochoda] poses an uncomfortable question: Why do we fight for some and not others?" — Time
"Five very different women have one thing in common: They are all being watched by a vicious series killer. Inverting the classic cat-and-mouse style, Ivy Pochoda's masterful page-turner rocks with tension." — Marie Claire
"Stunning . . . . Ivy Pochoda finds beauty in the gritty side, hope where others see limited options, and grace and strength in those who live on the margins. So do the characters in These Women the excellent fourth novel from this California author. Loneliness, courage and the strength to go on swirl through the lives of These Women, each of whom Pochoda explores with compassion and empathy as they try to survive South Central Los Angeles' mean streets. . . . Pochoda delves deep to explore each woman's psyche while finding the humanity in the smallest details." — South Florida Sun Sentinel
"Pochoda's unconventional crime novel probes whom we listen to and why, and whose voices are deemed worthy of being heard." — Vulture
"This stunning, thought-provoking novel set in Los Angeles is about a group of women connected in terrible, tragic ways. The narrative flips the lens of a traditional serial killer novel and focuses light on the women with an unabashed authenticity."
— Minneapolis Star Tribune
"Ivy Pochoda is the empath of the overlooked, writing thoughtful, nuanced novels about individuals whose voices frequently go unheard in the real world…. A feminist-weighted piece of crime fiction…. While serial killers dehumanize their victims, and true crime reportage reduces them to before and after photographs, here Pochoda restores their humanity, giving these women identities beyond their relationship to the killer." — Los Angeles Review of Books
"[Pochoda] brings a devasting feminist slant to a serial killer story, set against the mean streets of South Los Angeles... As sharp as the blade of a knife."

— The Girlfriend
"Heartbreaking.... This deep dive into the lives of women too often unseen in the shadows makes them vividly unforgettable." — Publishers Weekly (starred review)
"Pochoda stuns with this disquieting literary thriller rife with descriptive street language and violence. It is complex, intense, and enthralling." — Library Journal (starred review)
"With raw, visceral prose, Pochoda vividly evokes L.A.'s distinctive cityscape and the burdens and threats women face there." — Booklist
"These Women is full of resilient and undaunted characters that society often doesn't give a second look to. But Ivy Pochoda does and in these pages she gives us the small story that grows so large in meaning and emotion as to transcend genre. It tells us how to look at ourselves and at what is important." — Michael Connelly, author of Fair Warning
"I can promise you will not easily forget the women in this book. This is Ivy Pochoda at the height of her power—to slip inside the psyche of women at the margins; to, with a conjurer's flair, capture the voices of multiple characters with pitch perfect grace; and to craft a bendy, surprising, page-turning tale.  It's brilliantly plotted and beautifully written." — Attica Locke
"Ivy Pochoda's These Women is, to put it simply, brilliant. I usually hate it when people use the term tour-de-force but in this case, it applies." — Crime Reads
Ecco, 9780062656384, 352pp.
Publication Date: May 19, 2020
About the Author
Ivy Pochoda is the author of The Art of Disappearing, Visitation Street, and Wonder Valley, a Los Angeles Times Book Prize finalist and winner of the Strand Critics Award. She lives in Los Angeles.