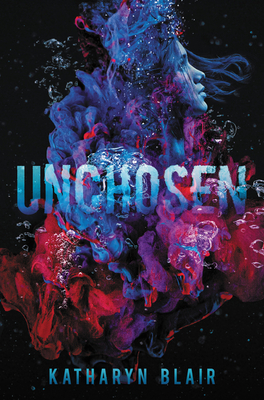 Unchosen
Hardcover

* Individual store prices may vary.
Other Editions of This Title:
Digital Audiobook (1/25/2021)
MP3 CD (1/26/2021)
Compact Disc (1/26/2021)
Description
Katharyn Blair crafts a fiercely feminist fantasy with a horrifying curse, swoon-worthy sea captains, and the power of one girl to choose her own fate in this contemporary standalone adventure that's perfect for fans of The Fifth Wave and Seafire, and for anyone who has ever felt unchosen.
For Charlotte Holloway, the world ended twice.
The first was when her childhood crush, Dean, fell in love—with her older sister.
The second was when the Crimson, a curse spread through eye contact, turned the majority of humanity into flesh-eating monsters.
Neither end of the world changed Charlotte. She's still in the shadows of her siblings. Her popular older sister, Harlow, now commands forces of survivors. And her talented younger sister, Vanessa, is the Chosen One—who, legend has it, can end the curse.
When their settlement is raided by those seeking the Chosen One, Charlotte makes a reckless decision to save Vanessa: she takes her place as prisoner.
The word spreads across the seven seas—the Chosen One has been found.
But when Dean's life is threatened and a resistance looms on the horizon, the lie keeping Charlotte alive begins to unravel. She'll have to break free, forge new bonds, and choose her own destiny if she has any hope of saving her sisters, her love, and maybe even the world.
Because sometimes the end is just a new beginning.
Praise For Unchosen…
"Fast-paced action and romantic tension make up the bulk of the story . . . Blair deftly uses her dystopian framework to amplify issues of sexism, classism, and racism, as well as explore the tension between moral responsibility and survival. The Crimson lays bare many of this society's flaws, as the rich and powerful are able to escape its worst consequences at the expense of the vulnerable. Strengthened by a female protagonist whose insecurities ring true and whose growth is hard-won, this relevant adventure is sure to interest socially conscious fantasy fans." — Publishers Weekly
"Sometimes a novel comes around at just the right time. Charlotte's struggle throughout Unchosen to find herself in the chaotic world she lives in feels like the story we need right now. If you are looking for a book to give you hope, adventure, sisterhood, and romance, look no further than Unchosen." — The Nerd Daily
"The worldbuilding is well thought out . . . A fun and action-packed read. " — Kirkus Reviews
" . . . An effectively built dystopia with terrifying monsters and equally horrible humans. Charlotte's believable as the often-overlooked middle sibling who now is understandably overwhelmed with suddenly having to save the world. Blair takes a hard swing at capitalism and patriarchy in a pointed ending that pits Charlotte's selflessness against selfish men's curses and greed."   — Bulletin of the Center for Children's Books
"Blair (The Beckoning Shadow, 2019) capably builds an exciting world studded by zombies and seafaring, and she subverts the 'chosen one' trope in an entertaining way. Readers can look forward to a fast-paced plot, dynamic cast of characters, and fierce heroine, all packaged in a thrilling adventure that doesn't disappoint." — Booklist Online
"This adventure has a fast-paced plot that holds readers' attention, with strong writing and vibrant descriptions . . .  VERDICT Recommended for mature middle school and high school ­collections." — School Library Journal
"A thrill ride from start to end, this book captivated me with its deadly stakes, breathtaking romance, and unforgettable characters. One of my all-time favorite reads!" — Kathryn Purdie, #1 New York Times bestselling author of Burning Glass and Bone Crier's Moon
"In the spirit of Walking Dead and Divergent, Blair offers a deeply felt testament to love and survival and sisterhood—to everything that makes us whole and human—in a story that ultimately upends the idea of a chosen one to reaffirm the human heart." — Margaret Stohl, #1 New York Times bestselling co-author of the Beautiful Creatures Novels
Praise for THE BECKONING SHADOW:

Katherine Tegen Books, 9780062657640, 416pp.
Publication Date: January 26, 2021
About the Author
Katharyn Blair is a novelist and screenwriter. She graduated with her MFA in 2015 and is finishing her MA in literature. She's been a social media coordinator for several films at 20th Century Fox, an intern at her city's Parks and Recreation Department, a gymnastics coach, and, most recently, a writing professor at Azusa Pacific University. She lives outside of Los Angeles with her family. The Beckoning Shadow is her debut novel.