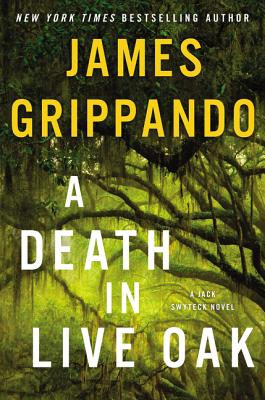 A Death in Live Oak (Hardcover)
A Jack Swyteck Novel
Harper, 9780062657800, 384pp.
Publication Date: February 6, 2018
* Individual store prices may vary.
Description
From New York Times bestselling author James Grippando, a riveting, timely story ripped from the headlines. Defense attorney Jack Swyteck defends a white college student charged in Florida's first racial terror lynching in more than a half century. 
When the body of Jamal Cousin, president of the pre-eminent black fraternity at the University of Florida, is discovered hogtied in the Stygian water swamps of the Suwanee River Valley, the death sets off a firestorm that threatens to rage out of control when a fellow student, Mark Towson, the president of a prominent white fraternity, is accused of the crime.
Contending with rising political tensions, racial unrest, and a sensational media, Towson's defense attorney, Jack Swyteck, knows that the stakes could not be higher—inside or outside the old Suwanee County Courthouse. The evidence against his client seems overwhelming. Then Jack gets a break that could turn the case. Jamal's murder bears disturbing similarities to another lynching that occurred back in the Jim Crow days of 1944. Are the chilling parallels purely coincidental?
With each twist and turn, Jack is convinced that his client may be the victim of something even more sinister than the case presented by the state attorney. For Jack, it's about the truth. And he's determined to find it, no matter what the cost.
About the Author
James Grippando is a New York Times bestselling author of suspense. He was a trial lawyer for twelve years before the publication of his first novel, The Pardon, in 1994. He is now counsel at the law firm of Boies Schiller Flexner LLP and an adjunct professor of law and modern literature at the University of Miami School of Law. His novels are enjoyed world-wide in twenty-eight languages, and his novel Gone Again won the 2017 Harper Lee Prize in Legal Fiction. He lives in South Florida.
Praise For A Death in Live Oak: A Jack Swyteck Novel…
"Tackling racism, white supremacists, and a generations-old lynching, the book is admirably heartfelt and humane."
— Kirkus

"Engrossing and unflinching...a timely look at issues of race and hatred...action-packed and involving..."
— South Florida Sun Sentinel