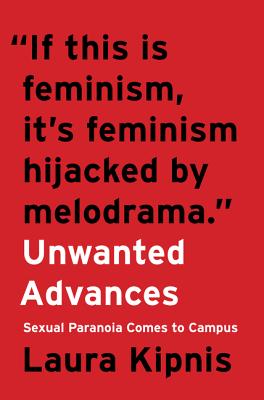 Unwanted Advances
Sexual Paranoia Comes to Campus
Hardcover

* Individual store prices may vary.
Other Editions of This Title:
Digital Audiobook (4/3/2017)
MP3 CD (4/4/2017)
Compact Disc (4/4/2017)
Compact Disc (4/4/2017)
Description
A Wall Street Journal Best Book of 2017
From a highly regarded feminist cultural critic and professor comes a polemic arguing that the stifling sense of sexual danger sweeping American campuses doesn't empower women, it impedes the fight for gender equality.
Feminism is broken, argues Laura Kipnis, if anyone thinks the sexual hysteria overtaking American campuses is a sign of gender progress.
A committed feminist, Kipnis was surprised to find herself the object of a protest march by student activists at her university for writing an essay about sexual paranoia on campus. Next she was brought up on Title IX complaints for creating a "hostile environment." Defying confidentiality strictures, she wrote a whistleblowing essay about the ensuing seventy-two-day investigation, which propelled her to the center of national debates over free speech, "safe spaces," and the vast federal overreach of Title IX.
In the process she uncovered an astonishing netherworld of accused professors and students, campus witch hunts, rigged investigations, and Title IX officers run amuck. Drawing on interviews and internal documents, Unwanted Advances demonstrates the chilling effect of this new sexual McCarthyism on intellectual freedom. Without minimizing the seriousness of campus assault, Kipnis argues for more honesty about the sexual realities and ambivalences hidden behind the notion of "rape culture." Instead, regulation is replacing education, and women's hard-won right to be treated as consenting adults is being repealed by well-meaning bureaucrats.
Unwanted Advances is a risk-taking, often darkly funny interrogation of feminist paternalism, the covert sexual conservatism of hook-up culture, and the institutionalized backlash of holding men alone responsible for mutually drunken sex. It's not just compulsively readable, it will change the national conversation.
Praise For Unwanted Advances: Sexual Paranoia Comes to Campus…
"Unwanted Advances is necessary. Argue with the author, by all means. But few people have taken on the excesses of university culture with the brio that Kipnis has." — Jennifer Senior, New York Times
"Laura Kipnis is a hero. She has written a book that will benefit many while bring all kinds of grief upon her." — Huffington Post
"A wry, pragmatic analysis.…The greatest pleasure Unwanted Advances affords comes from Kipnis' keen sense of human psychology." — BookForum
"It is precisely the gray where Kipnis summons her strongest stroke, swimming the murkiest depths of our sexual psyches...Even if the current is choppy and the shore miles off, the journey seems more important than ever, and one feels grateful to tread behind her." — Salon.com
"Gripping.… Unwanted Advances is a clarion call for both men and women to recognize the reality of female autonomy that feminism has always argued for, and that today's campus culture threatens to eclipse." — Tablet
"Clarity of expression and the uncompromising vehemence of her thoughts make Kipnis the best polemical investigator writing today, which both sells her short and raises an unexpected question: how come reading her, however uncomfortable or complex the subject, is always such a tremendous pleasure?" — Geoff Dyer, author of White Sands
"Laura Kipnis has written a brave, disturbing, yet scrupulously fair book: a brilliant and pragmatic manifesto for a kind of 'adult' feminism that rejects the campus cult of female victimhood." — Terry Castle, author of The Professor
"...Kipnis is everything the academic bureaucrats she writes about are not: brave, honest, judicious, mature, and self-aware, with a seasoned understanding of both sexual politics and campus politics. She has struck a mighty blow for sanity, equality, and academic freedom." — William Deresiewicz, author of Excellent Sheep
"...[C]hilling, shocking, meticulously reported, eminently readable, and in places perversely hilarious...most of all it is a crucial piece of a burgeoning conversation about threats to free speech and intellectual freedom on college campuses...Kipnis's voice is as clarion as her insights are astute." — Meghan Daum,, author of The Unspeakable
"Laura Kipnis's new book is a revelation: a great work of investigative journalism and a thorough examination of a case that feels like it couldn't happen in America... Kipnis makes you fear for a whole new set of reasons." — Hanna Rosin, author of The End of Men
"This book is harrowing; this book is hilarious (like Dorothy Parker channeling Franz Kafka); but the main thing it is is BRAVE. On top of which, it is urgently necessary." — Lawrence Weschler, author of Waves Passing in the Night
"I loved reading [Unwanted Advances]…force[s] readers to really consider their position and to see if they can fully defend it, or at least to think beyond feminist platitudes…a persuasive and valuable contribution to the continuing debate over how to deal with sexual assault on college campuses." — Jill Filipovic, New York Times Book Review
"[Kipnis] has written a book about sexual paranoia on the American campus, Unwanted Advances. Which happens to be rather brilliant." — Independent (UK)
"....riveting read...,Unwanted Advances is a bracing book, its message delivered with fierce intelligence and mordant humor.": — Bookshelf
Harper, 9780062657862, 256pp.
Publication Date: April 4, 2017
About the Author
Laura Kipnis is a cultural critic and a professor at Northwestern University, where she teaches filmmaking. She is the author of six previous books, including Against Love: A Polemic and Men: Notes from an Ongoing Investigation. She has received fellowships from the Guggenheim Foundation and Yaddo, among others, and has written for Slate, Harper's, the New York Times Magazine, the New York Times Book Review, and Bookforum. Her essay "Sexual Paranoia Strikes Academe" was included in The Best American Essays 2016, edited by Jonathan Franzen. She lives in New York and Chicago.
or
Not Currently Available for Direct Purchase