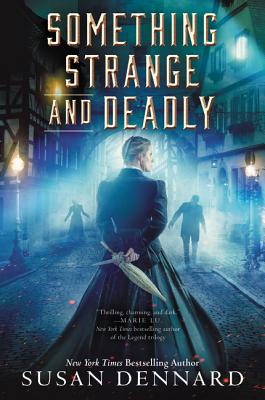 Something Strange and Deadly (Something Strange and Deadly Trilogy #1) (Paperback)
HarperTeen, 9780062658159, 544pp.
Publication Date: July 11, 2017
* Individual store prices may vary.
Description
New York Times bestselling author Susan Dennard adds a "never before in print" e-novella and a gorgeous new cover to the first book in the Something Strange and Deadly trilogy. Perfect for fans of Cassandra Clare's Infernal Devices series.
Sixteen-year-old Eleanor Fitt's brother is missing. After discovering the Dead are rising and wreaking havoc in Philadelphia, she knows that her brother is involved.
So Eleanor enlists the help of the Spirit-Hunters. This motley crew, hired to protect the city from supernatural forces, is after the necromancer who has been reanimating corpses. Their skills can save her brother. Yet as Eleanor spends time with the Spirit-Hunters and their handsome inventor, Daniel, the situation becomes dire. Now not only is her reputation at risk, but her very life hangs in the balance.
In Something Strange and Deadly, Susan Dennard weaves together beautifully imagined scenes of action, adventure, and vivid Victorian life to create an entertaining steampunk tapestry of humor, horror, and romance. Readers will be intrigued from the start.
Praise For Something Strange and Deadly (Something Strange and Deadly Trilogy #1)…
"Thrilling, charming, and dark, Something Strange and Deadly is a delicious sandwich of harmonious flavors. I fell for Daniel, I soaked in the zombie mayhem with glee, I delighted in the steampunk fashion and gadgetry. If you enjoyed The Clockwork Angel, you'll love this. Fantastical fun."

"This debut novel is quite compelling and features a plot that moves at breakneck speed. The plot is full of action, betrayal, and romance."

"Mystery, romance, humor, action, a sure-fire setting: Dennard delivers."

"Debut author Dennard deftly weaves together a vast plot blending historical fiction, horror, romance, and mystery. A roaring-and addictive-gothic world."

"From the first page, readers will be awakened to an 1876 Philadelphia replete with animated corpses, irresistible romance and a game of intrigue. Those who enjoy Cassandra Clare's the Infernal Devices series will be spellbound by Dennard's macabre and impressive debut."

A wonderfully brisk pace sweeps readers into an intriguing mystery. Eleanor serves as a highly entertaining guide and readers will find themselves settling in among the undead just fine.