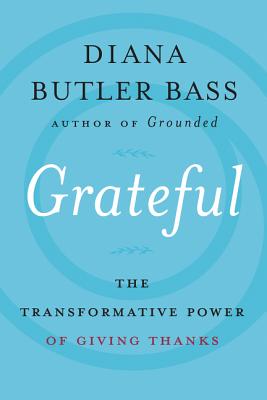 Grateful
The Transformative Power of Giving Thanks
Hardcover

* Individual store prices may vary.
Other Editions of This Title:
Digital Audiobook (4/2/2018)
Paperback (4/9/2019)
Compact Disc (4/3/2018)
Compact Disc (4/3/2018)
Description
The Wilbur Award-winning book Grateful is now available in paperback and with an updated subtitle.
If gratitude is good, why is it so hard to do? In Grateful, Diana Butler Bass untangles our conflicting understandings of gratitude and sets the table for a renewed practice of giving thanks.
We know that gratitude is good, but many of us find it hard to sustain a meaningful life of gratefulness. Four out of five Americans report feeling gratitude on a regular basis, but those private feelings seem disconnected from larger concerns of our public lives. In Grateful, cultural observer and theologian Diana Butler Bass takes on this "gratitude gap" and offers up surprising, relevant, and powerful insights to practice gratitude.
Bass, author of the award-winning Grounded and ten other books on spirituality and culture, explores the transformative, subversive power of gratitude for our personal lives and in communities. Using her trademark blend of historical research, spiritual insights, and timely cultural observation, she shows how we can overcome this gap and make change in our own lives and in the world.
With honest stories and heartrending examples from history and her own life, Bass reclaims gratitude as a path to greater connection with god, with others, with the world, and even with our own souls. It's time to embrace a more radical practice of gratitude—the virtue that heals us and helps us thrive.
Praise For Grateful: The Transformative Power of Giving Thanks…
"What we have... [is a] utopian book [that] advocates a corrective vision of American society that is desperately needed. It is not impossible to imagine a society based on gratitude. It merely takes courage, creativity, and trust." — Los Angeles Review of Books
"Bestselling author and scholar Bass takes two seemingly contradictory recent surveys of the mood of Americans as the jumping off point for her excellent call for a more conscientious practice of gratitude…. Will please longtime fans as well as readers interested in living a more productively thankful life."  — Publishers Weekly, starred review
"There is no better response to this historical moment than cultivating gratitude. This book will show both why and how to do it, and in the process you will get the extraordinary pleasure of Diana's company, as she rediscovers the gifts that gratitude brings." — Ana Marie Cox, political commentator, host of With Friends Like These podcast
"Gratitude is the undeniable beginning of the spiritual life.  Diana Butler Bass offers us a superb overview of this virtue in our individual and communal lives. As she unpacked the various graces and challenges associated with expressing thanks, I found myself grateful to her for this deeply spiritual book." — James Martin, SJ, author of Jesus: A Pilgrimage and The Jesuit Guide to (Almost) Everything
"Diana Butler Bass is one of the most thoughtful, insightful voices to emerge among us. Her words are a gentle but fierce reminder that on some eternal level, all is well." — Marianne Williamson, New York Times bestselling author of Tears to Triumph
"Grateful is a timely and beautifully-written book. The practice of gratitude has been a lifeline for me in a challenging season, and this wise book articulates both a helpful challenge and a soul-shaping framework." — Shauna Niequist, New York Times bestselling author of Present Over Perfect
"An insightful, illuminating, and thought-provoking book on the subject, one that is simultaneously a meditation and celebration." — Booklist
"Provides a series of ethical actions to bring gratitude truly alive in our everyday lives, making it both a personal and a public practice." — Spirituality & Practice
Bass writes about things that matter, and she does so with graceful, accessible intelligence. In Grateful, she guides us to discover how we can grow in gratitude as individuals and as communities. If you let this book into your mind, it will find its way to your deepest heart. — Brian D. McLaren, author of The Great Spiritual Migration
"In Grateful, Diana Butler Bass is a calming voice in raging cultural seas. She accomplishes this feat by flipping individualism on its head using a surprising lever: gratitude. Grateful is challenging and refreshing, and speaks to the core of so much modern misery." — "Science Mike" McHargue, author of Finding God in the Waves and co-host of The Liturgists Podcast
"If the world has you feeling a little down, I urge you to read this book and enjoy its invitation to a deeper, richer life." — Spirituality and Health
"Deep, warm, smart, spiritual, reflective, practical, thoughtful and oh-so-engaging, Gratitude is a spoonful of honey to help us transform the 'hard' in our lives into wisdom, compassion, and even resistance." — The Rev. Jacqueline J. Lewis, Senior Minister, Middle Collegiate Church and author of The Pentecost Paradigm
Grateful is that beautiful miracle of both challenge and embrace; pushing us toward a deeper way of living while understanding how difficult that living can be and what it costs us. Diana's warmth, humor, and resilient faith are in full bloom in Grateful—and they're contagious. — John Pavlovitz, author of A Bigger Table
"In weaving together sociology, psychology, art, religion, and data, Bass has produced an intimate, spiritual case for reconsidering gratitude — one that suggests others' practices of thankfulness may save us, too." — Sojourners
"Full of provocative and inspiring ideas... it's terrific reading for anyone trying to preach or teach or lead a small group in this anxious era in which confrontational voices seem to be surrounding us. This book is an invitation, a pathway forward." — David Crumm, Read the Spirit
"Invites us to a personal virtue and habit of thankfulness, even as it nurtures us into a deeper spirituality, even as it reminds us of the social and civic implications of taking on authentic gratitude. This simple virtue, when teased out and given some political teeth, can be downright revolutionary." — Hearts and Minds
"Mixing sociological research with warm personal anecdotes of appreciation for the everyday, Bass examines why individuals find it challenging to maintain a practice of gratitude and reveals how thankfulness can serve as the foundation of a healthy community." — BookPage
"A fascinating book." — The Faith Angle
HarperOne, 9780062659477, 256pp.
Publication Date: April 3, 2018
About the Author
Diana Butler Bass (Ph.D., Duke) is an award-winning author of eleven books, popular speaker, inspiring preacher, and one of America's most trusted commentators on religion and contemporary spirituality, especially where faith intersects with politics and culture.
Her bylines include The New York Times, the Washington Post, CNN.com, Atlantic.com, USA Today, Huffington Post, Christian Century, and Sojourners. She has commented in the media widely including on CBS, CNN, PBS, NPR, CBC, FOX, Sirius XM, TIME, Newsweek, Rolling Stone, Mother Jones, and in multiple global news outlets.
Her website is dianabutlerbass.com and she can be followed on Facebook, Twitter, and Instagram. She writes a twice-weekly newsletter - The Cottage - which can be found on Substack. 
Book Videos
or
Not Currently Available for Direct Purchase