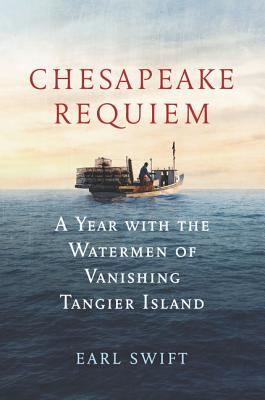 Chesapeake Requiem
A Year with the Watermen of Vanishing Tangier Island
Hardcover

* Individual store prices may vary.
Other Editions of This Title:
Digital Audiobook (8/6/2018)
Paperback (2/18/2020)
Compact Disc (8/7/2018)
MP3 CD (8/7/2018)
Compact Disc (8/7/2018)
Description
THE NEW YORK TIMES BESTSELLER 

A brilliant, soulful, and timely portrait of a two-hundred-year-old crabbing community in the middle of the Chesapeake Bay as it faces extinction.
A BEST BOOK OF THE YEAR: Washington Post, NPR, Outside, Smithsonian, Bloomberg, Science Friday, Christian Science Monitor, Chicago Review of Books, and Kirkus 
"BEAUTIFUL, HAUNTING AND TRUE." — Hampton Sides •  "GORGEOUS. A TRULY REMARKABLE BOOK." — Beth Macy • "GRIPPING. FANTASTIC." — Outside • "CAPTIVATING." — Washington Post • "POWERFUL." — Bill McKibben • "VIVID. HARROWING AND MOVING." — Science • "A MASTERFUL NARRATIVE." — Christian Science Monitor • "THE BEST NONFICTION BOOK OF THE YEAR."  — Stephen L. Carter/Bloomberg
Tangier Island, Virginia, is a community unique on the American landscape. Mapped by John Smith in 1608, settled during the American Revolution, the tiny sliver of mud is home to 470 hardy people who live an isolated and challenging existence, with one foot in the 21st century and another in times long passed. They are separated from their countrymen by the nation's largest estuary, and a twelve-mile boat trip across often tempestuous water—the same water that for generations has made Tangier's fleet of small fishing boats a chief source for the rightly prized Chesapeake Bay blue crab, and has lent the island its claim to fame as the softshell crab capital of the world.
Yet for all of its long history, and despite its tenacity, Tangier is disappearing. The very water that has long sustained it is erasing the island day by day, wave by wave. It has lost two-thirds of its land since 1850, and still its shoreline retreats by fifteen feet a year—meaning this storied place will likely succumb first among U.S. towns to the effects of climate change. Experts reckon that, barring heroic intervention by the federal government, islanders could be forced to abandon their home within twenty-five years. Meanwhile, the graves of their forebears are being sprung open by encroaching tides, and the conservative and deeply religious Tangiermen ponder the end times.   
Chesapeake Requiem is an intimate look at the island's past, present and tenuous future, by an acclaimed journalist who spent much of the past two years living among Tangier's people, crabbing and oystering with its watermen, and observing its long traditions and odd ways. What emerges is the poignant tale of a world that has, quite nearly, gone by—and a leading-edge report on the coming fate of countless coastal communities.
Praise For Chesapeake Requiem: A Year with the Watermen of Vanishing Tangier Island…
"The best nonfiction book of 2018. … I can't remember a book in recent years that taught me quite so much. Every page is vivid and rich. … A model for what serious reportage should be." — Stephen L. Carter, Bloomberg
"[A] sweeping historical narrative. … Intimate, meticulously reported and captivating. … Earl Swift masterfully reveals Tangier as it is. … The definitive account of what once was and of what will soon be no more." — Washington Post (A Notable Book of the Year)
"Earl Swift has long shown a talent for locating the big and poignant stories that lay hidden in plain sight within the day-to-day lives of unsung Americans. With Chesapeake Requiem, his gift is on fine display. Here is a big story about a small place, a canary-in-the-coalmine tale that's sad and beautiful, haunting and true." — HAMPTON SIDES, New York Times bestselling author of In the Kingdom of Ice
"In a gripping, 400-page tome, Swift gracefully outlines the harsh inevitability of global warming and how the people on its front lines try to keep living their lives in its face. ... Fantastic." — Outside (A Best Book of the Year)
"A masterful narrative of place, people, and nature, supported by the best sort of on-the-ground journalism. … In Chesapeake Requiem, Swift does what only the best environmental writers can do." — Christian Science Monitor (A Best Book of the Year)
"America is about to learn what Virginians have known for decades—Earl Swift can flat-out write. A deeply moving and well-reported book." — BETH MACY, New York Times bestselling author of Dopesick and Truevine
"A provocative and respectful study of a culture that may soon be lost." — Esquire, "The Best Nonfiction Books of 2018 (So Far)"
"Swift paints vivid portraits of both the natural environment and the individuals and institutions of this close-knit community. ... Harrowing and moving. ... A well-rounded portrait of a rural community both dependent on and threatened by its natural environment." — Science
"Swift does such a good, interesting job of telling the stories of the people who live on this island. … He really gets [the] hard questions about the reality of climate change and … how we make decisions as a country and as a community about what we value." — Heather Hansman, NPR's All Things Considered
"One of the most powerful ways to tell the story of global climate change is to tell it local. And this meticulous, compassionate look at the fishermen and their families, who have for generations made a home on a tiny island in Chesapeake Bay, is a vivid portrait of what we are losing—and why we may fail to stop that loss." — Deborah Blum, NPR's Science Friday
"A deep dive into the past, present, and narrowing future of Tangier. ... Swift's twilit portrait of Tangier, based on a year he spent there, is immersive, sensitive, and clear-eyed. He captures the grain of the place, all its nicks and whorls." — Garden & Gun
"Earl Swift is as much a master of crafting words on the page as capturing the instructive voices on this shrinking Chesapeake island. He has written not a farewell but a commencement, not an insular but a universal story, one we all should know, of challenge, forbearance, and possibilities." — JACK E. DAVIS, author of The Gulf: The Making of an American Sea, winner of the 2018 Pulitzer Prize in History
"This is a powerful book. Fascinating people, clinging loyally to a fascinating and lovely place, even as the waters rise—Earl Swift's Chesapeake Requiem is a tale of our time, movingly told. Perhaps it will inspire some of us living safe on higher ground to more action on behalf of those at risk." — BILL MCKIBBEN, author of The End of Nature
"A graceful melding of history, nature writing, and perceptive cultural commentary. … An affectionate portrait... sharply drawn and empathetic." — Kirkus Reviews
"Wonderful, poetic, stirring writing. This lovely book is an elegy to a disappearing way of life." — CALLUM ROBERTS, marine conservation biologist, University of York, and author of The Ocean of Life: The Fate of Man and the Sea
"Chesapeake Requiem immerses us in an amazing American place. A humane and difficult and supremely reported book." — CHRISTOPHER COKINOS, director of creative writing, University of Arizona, and author of Hope is the Thing with Feathers: A Personal Chronicle of Vanished Birds
"[Swift's] book reads as an ode to a people who are disappearing, capturing the ins and out of their everyday lives: the ways they work, speak, fight, make jokes, and vote. Taken together, Swift's descriptions suggest that Tangier might be one of the most interesting—if strangest—places in the country." — Earther
"Chesapeake Requiem is a riveting documentary. It also has the deep currents and satisfactions of a magnificent novel." — JOHN CASEY, National Book Award-winning author of Spartina
"An important book, capturing macro changes through microcosm. ... A moving account of a vanishing place." — Library Journal
"A superb piece of reporting." — Telegraph (UK)
"An empathetic portrait of a small and unique community and its plight under environmental duress." — Booklist
"Earl Swift has hit the trifecta sought by all writers of nonfiction but achieved by very few. The book is the fruit of deep-dive, immersive research; it is deftly written, and it raises questions that affect every person on the planet. ... A soulful portrait of a complicated, endangered slice of America." — Bill Morris, The Millions
"A detailed portrait of this distinctive community. …. The dire fate of [Tangier] island runs through Swift's narrative. At its core, though, it's a look at its people." — John Yang, PBS NewsHour
Mariner Books, 9780062661395, 448pp.
Publication Date: August 7, 2018
About the Author
Journalist Earl Swift has written seven books and hundreds of major features for newspapers and magazines, all distinguished by evocative language and deeply immersive reporting. Since 2012, he has been a fellow of Virginia Humanities at the University of Virginia. Swift has a 26-year-old daughter, Saylor, who is his neighbor in the Blue Ridge mountains west of Charlottesville.