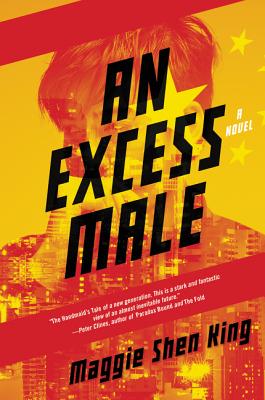 An Excess Male
A Novel
Paperback

* Individual store prices may vary.
Other Editions of This Title:
Digital Audiobook (9/11/2017)
MP3 CD (9/12/2017)
Compact Disc (9/12/2017)
Description
One of the Washington Posts' "The 5 best science fiction and fantasy novels of 2017"!
James Tiptree, Jr Literary Award Honor List
A B&N Sci-Fi and Fantasy Blog "Best SFF of 2017" pick!
A Kirkus "Best of the Best!" of 2017 Honorable Mention
From debut author Maggie Shen King, An Excess Male is the chilling dystopian tale of politics, inequality, marriage, love, and rebellion, set in a near-future China, that further explores the themes of the classics The Handmaid's Tale and When She Woke.
Under the One Child Policy, everyone plotted to have a son.
Now 40 million of them can't find wives.none 
noneChina's One Child Policy and its cultural preference for male heirs have created a society overrun by 40 million unmarriageable men. By the year 2030, more than twenty-five percent of men in their late thirties will not have a family of their own. An Excess Male is one such leftover man's quest for love and family under a State that seeks to glorify its past mistakes and impose order through authoritarian measures, reinvigorated Communist ideals, and social engineering.
Wei-guo holds fast to the belief that as long as he continues to improve himself, his small business, and in turn, his country, his chance at love will come. He finally saves up the dowry required to enter matchmaking talks at the lowest rung as a third husband—the maximum allowed by law. Only a single family—one harboring an illegal spouse—shows interest, yet with May-ling and her two husbands, Wei-guo feels seen, heard, and connected to like never before. But everyone and everything—walls, streetlights, garbage cans—are listening, and men, excess or not, are dispensable to the State. Wei-guo must reach a new understanding of patriotism and test the limits of his love and his resolve in order to save himself and this family he has come to hold dear.
In Maggie Shen King's startling and beautiful debut, An Excess Male looks to explore the intersection of marriage, family, gender, and state in an all-too-plausible future.
Praise For An Excess Male: A Novel…
"The Handmaid's Tale of a new generation.  This is a stark and fantastic view of an almost inevitable future." — Peter Clines, author of Paradox Bound and The Fold
"King writes distinctive and sympathetic characters, and her vision of a not-so-far future is unnerving and thought-provoking." — The Washington Post (a "Must read science fiction and fantasy" September 2017 pick)
"Disturbing, funny, suspenseful and keenly observed, "An Excess Male" demonstrates the toll exerted on individuals when the government takes too deep an interest in love and marriage. Although frequently chilling in its depiction of an authoritarian state, the novel celebrates the resilience of hope and the strength of family ties." — San Francisco Chronicle
"King's novel takes its cues from classic sci-fi dystopias, from The Handmaid's Tale to Ender's Game, to demonstrate the repressive control mechanisms already at work in everyday life. An intelligent, incisive commentary on how love survives—or doesn't—under the heel of the State."
— Kirkus Reviews
"An extraordinary first novel—an incisive, dryly funny examination of masculinity in a near-future China, where a gender imbalance in the population has resulted in some startling social changes. An Excess Male is a nuanced, meticulously structured character study that builds to a thrilling conclusion." — Dexter Palmer, author of Version Control
"In King's thoughtful, heartbreaking debut...[she] expertly explores the myriad routes to family, hope, and love in a repressive country." — Publishers Weekly
"King imagines a frightening reality, in which forced cultural norms run counter to basic human rights, leaving readers exceedingly uncomfortable with its feasibility." — Booklist
"Maggie Shen King has a great gift not only for creating a complicated, futuristic world but also for creating characters who win our hearts and minds.  An Excess Male is a wonderfully inventive and wonderfully funny novel." — Margot Livesey, author of Mercury and The Flight of Gemma Hardy
"[A] masterful, disturbing novel...The worldbuilding in this novel is brilliant...[King] offers a plausible look at a world where political manipulation reaches into our most intimate lives." — Ars Technica
"Boldly envisioned and executed, An Excess Male is thrilling, provocative and genuinely frightening in its implications." — Shelf Awareness
"I found An Excess Male eerie and riveting. This brilliantly crafted dystopia brings to mind Margaret Atwood's The Handmaid's Tale, but with its dire situation more probable and imminent. An Excess Male is a wonderful read, horrifying and humorous and bringing with it a warning." — Heather Stallings, author of Click City, a novel serialized by the San Francisco Chronicle
"In a remarkable debut, Maggie Shen King has brought to life an indelible dystopia that prefigures a looming future. Evocative and compelling, An Excess Male stands as a prescient, searing tale of the family in an imperative battle for sovereignty against totalitarian rule." — Lane von Herzen, author of Copper Crown
Harper Voyager, 9780062662552, 416pp.
Publication Date: September 12, 2017
About the Author
Maggie Shen King is the author of An Excess Male (Harper Voyager), one of The Washington Post's 5 Best Science Fiction and Fantasy Novels of 2017. She is Goodreads September 2017 Debut Author the Month. Her short stories have appeared in Ecotone, ZYZZYVA, Asimov's Science Fiction, and Fourteen Hills. Her manuscript Fortune's Fools, won Second Prize in Amazon's 2012 Breakthrough Novel Award. She grew up in Taiwan, moved to Seattle at age 16, and studied English literature at Harvard College.
or
Not Currently Available for Direct Purchase