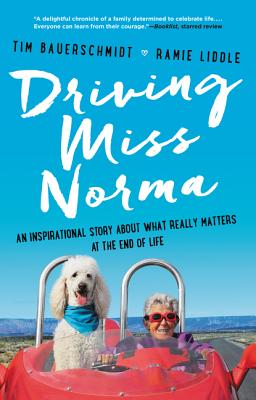 Driving Miss Norma (Paperback)
An Inspirational Story About What Really Matters at the End of Life
HarperOne, 9780062664389, 256pp.
Publication Date: May 8, 2018
Other Editions of This Title:
Paperback, Large Print (5/22/2018)
Compact Disc (5/2/2017)
Hardcover, Large Print (5/17/2017)
MP3 CD (5/2/2017)
* Individual store prices may vary.
Description
When Miss Norma was diagnosed with uterine cancer, she was advised to undergo surgery, radiation, and chemotherapy. But instead of confining herself to a hospital bed for what could be her last stay, Miss Norma—newly widowed after nearly seven decades of marriage—rose to her full height of five feet and told the doctor, "I'm ninety years old. I'm hitting the road." 
And so Miss Norma took off on an unforgettable around-the-country journey in a thirty-six-foot motor home with her retired son Tim, his wife Ramie, and their dog Ringo. 
As this once timid woman says "yes" to living in the face of death, she tries regional foods for the first time, reaches for the clouds in a hot air balloon, and mounts up for a horseback ride. With each passing mile (and one educational visit to a cannabis dispensary), Miss Norma's health improves and conversations that had once been taboo begin to unfold. Norma, Tim, and Ramie bond in ways they had never done before, and their definitions of home, family, and friendship expand. Stop by stop, state by state, they meet countless people from all walks of life—strangers who become fast friends and welcome them with kindness and open hearts.
Infused with this irrepressible nonagenarian's wisdom, courage, and generous spirit, Driving Miss Norma is the charming, infectiously joyous chronicle of their experiences on the road. It portrays a transformative journey of living life on your own terms that shows us it is never too late to begin an adventure, inspire hope, or become a trailblazer.
About the Author
Tim Bauerschmidt and Ramie Liddle are professional nomads who retired by age 50 to travel full-time in an Airstream travel trailer with Ringo, their Standard Poodle. They have explored every state but Alaska, and consider Mexico's Baja California Peninsula the closest thing to home. They continue to say "YES!" to living and have traded in their motor home for a boat, and will be cruising America's 6,000-mile Great Loop aboard M/V Miss Norma. 
Praise For Driving Miss Norma: An Inspirational Story About What Really Matters at the End of Life…
"This touching memoir…lays bare the fragile reality of human life, the deep strength of family bonds, and what it means to truly take in all the world has to offer."
— Mindful

"For the first time, as Bauerschmidt writes in this endearing memoir, they got to know one another as adults, and their trip transformed into a warm, thoughtful, and meaningful conversation on family, aging, caretaking, and what happens when you look to other ways to heal besides Western medicine."
— Publishers Weekly, Starred Review

"Depicting the ageless human capacity to learn and grow, the authors celebrate life and offer a heartfelt vision of what dying a good death really means. An uplifting and life-affirming memoir"
— Kirkus

"This is a delightful chronicle of a family determined to celebrate life rather than dread death, and everyone can learn from their courage."
— Booklist, Starred Review

"This story of a brave woman is truly inspiring. Living the way you want, when it matters most, needs to become the norm at the end of life."
— Bill Novelli, cofounder and co-chair of Coalition to Transform Advanced Care and Professor, McDonough School of Business, Georgetown University

"What a legacy Ms. Norma has left us! Too often, when advanced illness strikes, patients and their families feel like powerless spectators. Too often, their wishes are not honored, or even known. Ms. Norma made her wishes known, and they were honored. Each of us deserves such a happy ending."
— Eric Schneidewind, President of AARP