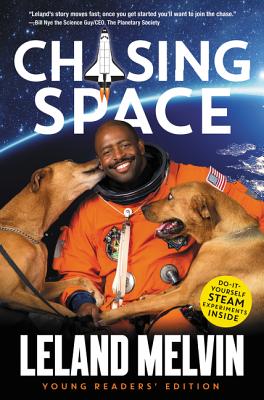 Chasing Space Young Readers' Edition
Hardcover

* Individual store prices may vary.
Other Editions of This Title:
Paperback (4/10/2018)
Description
"In Chasing Space, Leland Melvin tackles stupendous obstacles with dogged determination, showing you what is indeed possible in life—if you belive." —Neil deGrasse Tyson, author of Astrophysics for People in a Hurry and Welcome to the Universe. 
Winner of the 2019 Grand Canyon Reader Award for Tween Non-Fiction
Meet Leland Melvin—football star, NASA astronaut, and professional dream chaser.
In this inspiring memoir, adapted from the simultaneous version for adults, young readers will get to learn about Leland Melvin's remarkable life story, from being drafted by the Detroit Lions to bravely orbiting our planet in the International Space Station to writing songs with will.i.am, working with Serena Williams, and starring in top-rated television shows like The Dog Whisperer, Top Chef, and Child Genius.
With do-it-yourself experiments in the back of the book and sixteen pages of striking full-color photographs, this is the perfect book to inspire young readers.
When the former Detroit Lion's football career was cut short by an injury, Leland didn't waste time mourning his broken dream. Instead, he found a new one—something that was completely out of this world.
He joined NASA, braved an injury that nearly left him permanently deaf, and still managed to muster the courage and resolve to travel to space on the shuttle Atlantis to help build the International Space Station. Leland's problem-solving methods and can-do attitude turned his impossible-seeming dream into reality.
Leland's story introduces readers to the fascinating creative and scientific challenges he had to deal with in space and will encourage the next generation of can-do scientists to dare to follow their dreams.
Bill Nye the Science Guy says: "Leland's story moves fast; once you get started you'll want to join the chase."
Praise For Chasing Space Young Readers' Edition…
"A story of passion and perseverance told by a humble hero. Insightful and inspiring!" — Angela Duckworth, New York Times bestselling author of Grit
"In Chasing Space, Leland Melvin, the former NASA astronaut, shares this remarkable trajectory of his life. En route he tackles stupendous obstacles with dogged determination, showing you what is indeed possible in life—if you believe." — Neil deGrasse Tyson, Astrophysicist at the American Museum of Natural History and New York Times Bestselling author of Welcome to the Universe
"He shows us how he made the best of every opportunity and every setback on his way from his hometown to outer space. It moves fast; once you get started you'll want to join the chase." — Bill Nye, CEO, The Planetary Society
"It reminded me of how small the planet really is, and therefore, how insignificant our differences as humans are-the kind of issues that kept my own legacy at NASA hidden for so long. Chasing Space is a must read—a flight you shouldn't miss." — Katherine Johnson, former NASA physicist and mathematician, and recipient of the Presidential Medal of Freedom
"Henry Ford said, 'If you think you can or you think you can't, you're right.' Leland Melvin proves it. His story inspires me and reminds me of the value of staying positive and pushing through adversity. Chasing Space is uplifting and motivating." — Simon Sinek, the "Unshakable Optimist" and author of Start with Why and Leaders Eat Last
"I'm happy to be able to call Leland a friend and looking forward to many more years of learning with him. And now he will take you, too, on a journey." — Pharrell Williams
"A heartfelt offering for fans of inspiring memoirs, sports lovers, or those interested in the STEM fields." — School Library Journal
Amistad Books for Young Readers, 9780062665928, 240pp.
Publication Date: May 23, 2017
About the Author
A former wide receiver for the Detroit Lions, Leland Melvin is an engineer and NASA astronaut. He served on the space shuttle Atlantis as a mission specialist and was named the NASA Associate Administrator for Education in October 2010. He also served as the cochair on the White House's Federal Coordination in Science, Technology, Engineering, and Mathematics (STEM) Education Task Force, developing the nation's five-year STEM education plan. He is the host of the Lifetime show Child Genius and a judge for ABC's BattleBots. He holds four honorary doctorates and has received the NFL Player Association Award of Excellence. He lives in Lynchburg, Virginia.