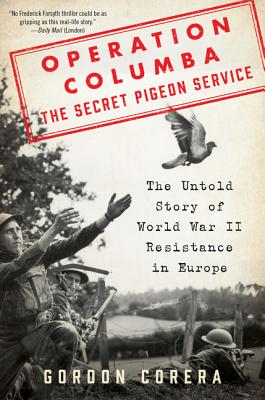 Operation Columba--The Secret Pigeon Service
The Untold Story of World War II Resistance in Europe
Hardcover

* Individual store prices may vary.
Other Editions of This Title:
Paperback (10/29/2019)
Compact Disc (10/16/2018)
Compact Disc (10/16/2018)
MP3 CD (10/16/2018)
Description
The fascinating, untold story of how British intelligence secretly used homing pigeons as part of a clandestine espionage operation to gather information, communicate, and coordinate with members of the Resistance to defeat the Nazis in occupied Europe during World War II.
Between 1941 and 1944, British intelligence dropped sixteen thousand homing pigeons in an arc across Nazi-occupied Europe, from Bordeaux, France to Copenhagen, Denmark, as part of a spy operation code-named Columba. Returning to MI14, the secret government branch in charge of the "Special Pigeon Service," the birds carried messages that offered a glimpse of life under the Germans in rural France, Holland, and Belgium. Written on tiny pieces of rice paper tucked into canisters and tied to the birds' legs, these messages were sometimes comic, often tragic, and occasionally invaluable—reporting details of German troop movements and fortifications, new Nazi weapons, radar systems, and even the deployment of the feared V-1 and V-2 rockets used to terrorize London.
The people who sent these messages were not trained spies. They were ordinary men and women willing to risk their lives in the name of freedom, including the "Leopold Vindictive" network—a small group of Belgian villagers led by an extraordinary priest named Joseph Raskin. The intelligence Raskin sent back by pigeon proved so valuable that it reached Churchill and MI6 parachuted agents behind enemy lines to assist him.
Gordon Corera uses declassified documents and extensive original research to tell the story of the Operation Columba and the Secret Pigeon Service for the first time. A powerful tale of wartime espionage, bitter rivalries, extraordinary courage, astonishing betrayal, harrowing tragedy, and a quirky, quarrelsome band of spy masters and their special mission, Operation Columba opens a fascinating new chapter in the annals of World War II. It is ultimately, the story of how, in one of the darkest and most dangerous times in history, under threat of death, people bravely chose to resist.
Praise For Operation Columba--The Secret Pigeon Service: The Untold Story of World War II Resistance in Europe…
"[An] amazing story of the secret pigeon service and how it helped to win the war. Well-researched and well-told, as much about humans as pigeons, it is replete with eccentric Englishmen, ruthless Nazis, and brave resisters in occupied Europe who risk their lives for the Allied cause."
— Nicholas Reynolds, author of Writer, Sailor, Soldier, Spy: Ernest Hemingway's Secret Adventures 1935-1961

"Witty and meticulously researched… Corera succeeds in bringing a virtually unknown chapter of the war to life and pays tribute to the ordinary people who risked their lives to resist the Nazis."
— Publishers Weekly

"The eccentric idea of enlisting pigeons as spies, combined with the bravery of those in occupied Europe who picked them up, vividly animates Corera's excellent addition to the annals of WWII espionage."
— Booklist

"There's undeniable drama in these pages, not just for the birds, the targets for German snipers' rifles and hungry hawks alike, but also for the groups of Resistance fighters who took part in Columba and, through the diligence of Belgian collaborators and Nazi officials… sometimes paid with their lives."
— Kirkus Reviews

"[An] extraordinary, colourful and moving story.… [A] thrilling tale."
— Sunday Times (London)

"Once you've read this book you'll never look at a pigeon disdainfully again … No Frederick Forsyth thriller could be as gripping as this real-life story… Corera's gripping book is an intoxicating mixture of comedy and high seriousness."
— Daily Mail (UK)

"Corera is to be congratulated for bringing to light, with humour and verve, a virtually unknown chapter of the war."
— Daily Telegraph (London)
William Morrow, 9780062667076, 352pp.
Publication Date: October 16, 2018
About the Author
Gordon Corera has been a security correspondent for BBC News since 2004, and has reported from across the United States, Asia, Africa and the Middle East. He is the author of Cyberspies: The Secret History of Surveillance, Hacking, and Digital Espionage; The Art of Betrayal: The Secret History of MI6; and Shopping for Bombs: Nuclear Proliferation, Global Insecurity, and the Rise and Fall of the A.Q. Khan Network. He was educated at Oxford and Harvard universities, and lives in England.
or
Not Currently Available for Direct Purchase