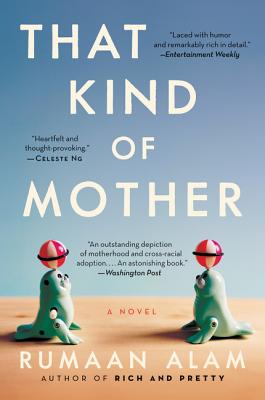 That Kind of Mother (Paperback)
A Novel
Ecco, 9780062667618, 304pp.
Publication Date: February 19, 2019
Other Editions of This Title:
Digital Audiobook (5/7/2018)
Hardcover (5/8/2018)
Paperback, Large Print (5/8/2018)
Compact Disc (5/8/2018)
MP3 CD (5/8/2018)
Compact Disc (5/8/2018)
* Individual store prices may vary.
Description
NAMED A RECOMMENDED BOOK OF 2018 BY:
Buzzfeed • The Boston Globe •  The Millions • InStyle • Southern Living • Vogue • Popsugar • Kirkus • The Washington Post • Library Journal • Real Simple • NPR
"With his unerring eye for nuance and unsparing sense of irony, Rumaan Alam's second novel is both heartfelt and thought-provoking."
   — Celeste Ng, author of Little Fires Everywhere
From the celebrated author of Rich and Pretty, a novel about the families we fight to build and those we fight to keep
Like many first-time mothers, Rebecca Stone finds herself both deeply in love with her newborn son and deeply overwhelmed. Struggling to juggle the demands of motherhood with her own aspirations and feeling utterly alone in the process, she reaches out to the only person at the hospital who offers her any real help—Priscilla Johnson—and begs her to come home with them as her son's nanny.

Priscilla's presence quickly does as much to shake up Rebecca's perception of the world as it does to stabilize her life. Rebecca is white, and Priscilla is black, and through their relationship, Rebecca finds herself confronting, for the first time, the blind spots of her own privilege. She feels profoundly connected to the woman who essentially taught her what it means to be a mother. When Priscilla dies unexpectedly in childbirth, Rebecca steps forward to adopt the baby. But she is unprepared for what it means to be a white mother with a black son. As she soon learns, navigating motherhood for her is a matter of learning how to raise two children whom she loves with equal ferocity, but whom the world is determined to treat differently.

Written with the warmth and psychological acuity that defined his debut, Rumaan Alam has crafted a remarkable novel about the lives we choose, and the lives that are chosen for us.
About the Author
Rumaan Alam is the author of Leave the World Behind, Rich and Pretty, and That Kind of Mother. His writing has appeared in The New York Times, Elle, New York Magazine, The Los Angeles Review of Books, The Wall Street Journal, The Rumpus, Buzzfeed, and elsewhere. He studied at Oberlin College, and lives in Brooklyn, New York.
Praise For That Kind of Mother: A Novel…
"Riveting..an outstanding depiction of motherhood and cross-racial adoption...The tensions of privilege and identity are brilliantly set against the backdrop of wealthy American cities, and Alam's pacing is phenomenal...An astonishing book."
— Washington Post

"That Kind of Mother's greatest triumph is its insistence on complicating the rescue narrative of transracial adoption without resorting to dogmatic indictments of its characters….the novel also reveals the extent to which Alam is attuned to the concerns and candor of women."
— The Atlantic

"Laced with humor and remarkably rich in detail…thrills in its attention to nuance…Alam's generous rendering rings authentic."
— Entertainment Weekly

"Alam's second novel, about two families brought together by the death of a beloved nanny, expertly and intrepidly blends topics of the zeitgeist, including race, privilege, and motherhood, without sacrificing elegant prose and signature wit."
— Vogue.com

"Coming off his celebrated debut Rich and Pretty, Rumaan Alam's sophomore novel returns to themes of family and culture in a powerful tale of a white mother raising a black son."
— Entertainment Weekly

"[Alam's] is a voice we want to read on just about every issue. In this novel, the issues he addresses are parenting, race, class, and privilege, and he explores these fraught topics with his trademark wit and sensitivity, never pandering or veering into cliche."
— Nylon Magazine

"From [a] heartbreaking premise, Alam plumbs still more heartbreaking questions about the power and limitations of maternal love, and the implacable persistence of racial divides."
— Huffington Post

"Alam explores questions [of race, class, and privilege] with exquisite tenderness, palpable detail, and excruciating empathy."
— Marie Claire

"If you want something smart, relevant, and compassionate…pitch-perfect…quite special."
— LitHub

"One of the glories of this novel, as it tracks Rebecca through 1999, is its compassionate exploration of individuals reaching across racial and class divides to create family."
— BBC.com

""Absorbing... Alam poses important questions about race, privilege, and the nature of family"
— Boston Globe

"That Kind of Mother is a thought-provoking story about what happens when a beloved nanny dies, leaving her own child motherless. Exploring themes of race, privilege, and family, Alam's second novel will leave you thinking about it long after finishing."
— Popsugar

"Alam details Rebecca's transforming journey of motherhood and interracial adoption with delightful irony. Boundaries of family and friendship expand in this thought-provoking read, revealing universal truths about parenting."
— Christian Science Monitor

"Alam's sharp narrative asides—lines like "Some percentage of the things she did for the children were actually for her"—carry such weight and truth that we trust his route toward the bigger question of the book: are we ever ready for the pain and joy that life delivers."
— The Millions

"This is a thought-provoking story about family, race, and the bond between mothers."
— Bookish

"This gorgeous book calls into question all our assumptions - about family and tribe, race and loyalty, privilege and paucity. Brave, sharp and empathetic, Rumaan Alam shows us motherhood as I've never seen it: at once a quotidian labor and a radical and transformative excavation of the self."
— Danzy Senna, author of New People

"Complex and absorbing."
— Oprah.com

"I read That Kind of Mother slowly, to savor it... [it] is a novel that is also a way of helping contemporary readers with our current silences and fraught dialogues."
— The Millions

"[A]n exploration of race, class, and power — as well as a fascinating look at the evolution of one woman's mind over decades. Alam is uniquely well-suited to write this story of adoption."
— Refinery29.com

"Mothers were big at the box office in 2017 (think: Lady Bird, mother!, I, Tonya). Rumaan Alam promises the same return on investment with his second novel."
— In Style

"Dives deep into big questions about parenthood, adoption, and race...With his unerring eye for nuance and unsparing sense of irony, Rumaan Alam's second novel is both heartfelt and thought-provoking."
— Celeste Ng

"A rich, complex, beautifully observed story about the collision of class, race and family.  Motherhood is an overwhelming and joyful job and this book takes on the minutia of that domestic sphere with quiet, but incendiary power."
— Stephanie Powell Watts, author of No One is Coming to Save Us

"Quietly brilliant...Alam's unerring yet unobtrusive eye asks uncomfortable questions: Can motherhood ever look beyond race? Can we learn to recognize the terrible blindness of our respective cultural perspectives?.... A stunning accomplishment."
— Booklist (starred review)

"Incisive...Alam skillfully tackles issues of race and parenthood...The novel offers a memorable depiction of a mother's journey as her children grow and her marriage collapses."
— Publishers Weekly

"Alam proves he is a writer brave and empathetic enough not only to look at life from the perspective of another gender and era, but also to boldly dive in and explore controversial topics...Alam cements his status as that kind of writer: insightful, intrepid, and truly impressive."
— Kirkus Reviews (starred review)