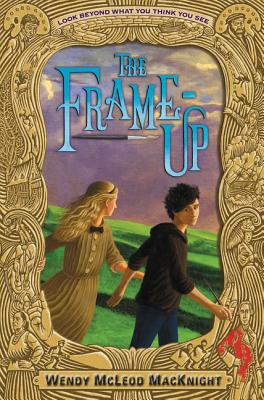 The Frame-Up (Hardcover)
Greenwillow Books, 9780062668301, 384pp.
Publication Date: June 5, 2018
* Individual store prices may vary.
Description
When Sargent Singer discovers that the paintings in his father's gallery are alive, he is pulled into a captivating world behind the frame that he never knew existed.
Filled with shady characters, devious plots, and a grand art heist, this inventive mystery-adventure celebrates art and artists and is perfect for fans of Night at the Museum and Blue Balliett's Chasing Vermeer.
There's one important rule at the Beaverbrook Gallery—don't let anyone know the paintings are alive. Mona Dunn, forever frozen at thirteen when her portrait was painted by William Orpen, has just broken that rule. Luckily twelve-year-old Sargent Singer, an aspiring artist himself, is more interested in learning about the vast and intriguing world behind the frame than he is in sharing her secret.
And when Mona and Sargent suspect shady dealings are happening behind the scenes at the gallery, they set out to find the culprit. They must find a way to save the gallery—and each other—before they are lost forever.  
With an imaginative setting, lots of intrigue, and a thoroughly engaging cast of characters, The Frame-Up will captivate readers of Jacqueline West's The Books of Elsewhere.
Includes a 16-page full-color insert showcasing the real paintings featured in the book.
About the Author
Wendy Mcleod MacKnight lives in Fredericton, New Brunswick, Canada, and wrote her debut novel at age nine. During her first career, she worked for the government of New Brunswick as the deputy minister of education, among other positions. She has been known to wander art galleries and have spirited conversations with the paintings—mostly in her head, though sometimes not. She hopes that readers will be inspired to create their own masterpieces and visit their own local art galleries. And even better, she hopes they'll come to Fredericton, visit the Beaverbrook Art Gallery, and meet Mona and the rest of the characters in her book.
Ian Schoenherr grew up near Locktown, New Jersey. He has written and illustrated three books—Read It, Don't Eat It!; Cat & Mouse; and Pip & Squeak—and illustrated numerous books by other authors, including Little Raccoon's Big Question, by Miriam Schlein. The artist lives in Woodside, New York.
Praise For The Frame-Up…
"[A] delicious tale...[a] clever, satisfying story for art-loving readers ages 11-14."
— Wall Street Journal

"The mystery plot will keep readers guessing until near the end, but they will find other parts of the story even more involving...While Sargent and Mona are vividly portrayed, this chapter book's most memorable element is also its most unusual: the imaginative conviction that art is alive."
— Booklist (starred review)

"Readers will delight in the canvas world that exists on the other side of the frame...Not just for art enthusiasts, this middle grade read paints fantasy, humor, and mystery into a satisfying tale about the power of friendship."
— School Library Journal

"A girl in a painting and a boy visiting the gallery she hangs in foil art thieves. ...MacKnight entices with art critique and technique. ...For anyone who's wondered about the people inside the frames."
— Kirkus Reviews