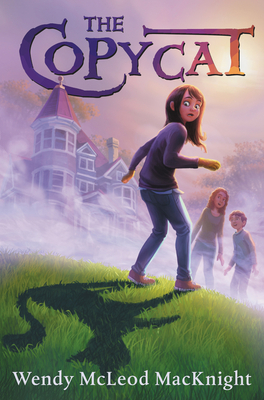 The Copycat
Hardcover

* Individual store prices may vary.
Other Editions of This Title:
Digital Audiobook (3/9/2020)
Paperback (3/9/2021)
MP3 CD (3/10/2020)
Compact Disc (3/10/2020)
Description
"A fun and fast-paced romp." —School Library Journal
Ali has always acted like a copycat to make friends, but when she unexpectedly inherits the ability to change her appearance at will, fitting in seems impossible! Luckily, with the help of her family, new friends, and a touch of magic, Ali might just survive middle school after all.
Ali and her parents have moved at least once a year for as long as Ali can remember. She's attended six different schools, lived in dozens of apartments, and never really felt at home anywhere.
But Ali's parents say living in Saint John, New Brunswick, will be different. They've moved in with Ali's great-grandmother?a lively ninety-nine-year-old with a quirky old house and room for all of them. Ali wants to believe it will be their last move, but everything seems too perfect to be true.
To Ali's surprise, things are different this time, but not in the way she'd hoped. She's inherited the Sloane family power?the ability to change her appearance into any living thing. Ali is a Copycat. Literally. And being the new kid at school is hard enough without worrying about turning into your teacher. Luckily, Ali's new friends are eager to help. But as Ali soon learns, being a Copycat is no substitute for being yourself.
The Copycat is a magical middle grade read for fans of Diana Wynne Jones, by the author of The Frame-Up.
Praise For The Copycat…
"[A] family story with its own twist: shapeshifting as an inherited trait. . . . [An] imaginative chapter book . . . [about] the limits of magic and the power of family, friendship, and courage."
— Booklist Online

"Trying to be likable and figuring out her own identity is extra tough when being a Copycat means [Ali] could literally be anyone; it's an amusing . . . play on adult advice to just be yourself."
— Bulletin of the Center for Children's Books

"This lightly fantastical novel explores themes of belonging, self-awareness, and individuality with a unique premise about inherited shapeshifting abilities. . . . A story brimming with angst, magic, and drama. . . . A fun and fast-paced romp."
— School Library Journal
Greenwillow Books, 9780062668332, 432pp.
Publication Date: March 10, 2020
About the Author
Wendy Mcleod MacKnight lives in Fredericton, New Brunswick, Canada, and wrote her debut novel at age nine. During her first career, she worked for the government of New Brunswick as the deputy minister of education, among other positions. She has been known to wander art galleries and have spirited conversations with the paintings—mostly in her head, though sometimes not. She hopes that readers will be inspired to create their own masterpieces and visit their own local art galleries. And even better, she hopes they'll come to Fredericton, visit the Beaverbrook Art Gallery, and meet Mona and the rest of the characters in her book.