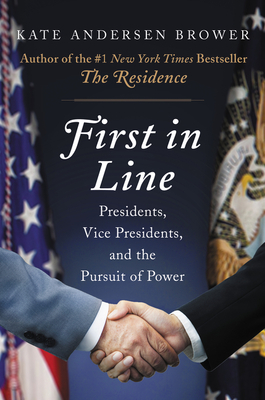 First in Line
Presidents, Vice Presidents, and the Pursuit of Power
Hardcover

* Individual store prices may vary.
Other Editions of This Title:
Paperback (5/28/2019)
Library Binding, Large Print (1/1/2019)
MP3 CD (6/5/2018)
Compact Disc (6/5/2018)
Compact Disc (6/5/2018)
Description
From the author of the New York Times bestsellers First Women and The Residence, an intimate, news-making look at the men who are next in line to the most powerful office in the world—the vice presidents of the modern era—from Richard Nixon to Joe Biden to Mike Pence.
Vice presidents occupy a unique and important position, living partway in the spotlight and part in the wings. Of the forty-eight vice presidents who have served the United States, fourteen have become president; eight of these have risen to the Oval Office because of a president's death or assassination, and one became president after his boss's resignation. John Nance Garner, FDR's first vice president, famously said the vice presidency is "not worth a bucket of warm piss" (later cleaned up to "warm spit"). But things have changed dramatically in recent years. In interviews with more than two hundred people, including former vice presidents, their family members, and insiders and confidants of every president since Jimmy Carter, Kate Andersen Brower pulls back the curtain and reveals the sometimes cold, sometimes close, and always complicated relationship between our modern presidents and their vice presidents.
Brower took us inside the lives of the White House staff and gave us an intimate look at the modern First Ladies; now, in her signature style, she introduces us to the second most powerful men in the world, exploring the lives and roles of thirteen modern vice presidents—eight Republicans and five Democrats. And she shares surprising revelations about the relationship between former Vice President Joe Biden and former President Barack Obama and how Vice President Mike Pence and President Donald Trump interact behind closed doors.
From rivals to coworkers, there is a very tangible sense of admiration mixed with jealousy and resentment in nearly all these relationships between the number two and his boss, even the best ones, Brower reveals. Vice presidents owe their position to the president, a connection that affects not only how they are perceived but also their possible future as a presidential candidate—which is tied, for better or worse, to the president they serve. George H. W. Bush and Ronald Reagan had a famously prickly relationship during the 1980 primary, yet Bush would not have been elected president in 1988 without Reagan's high approval rating. Al Gore's 2000 loss, meanwhile, could be attributed to the Monica Lewinsky sex scandal and Bill Clinton's impeachment. Current Vice President Mike Pence is walking a high-stakes political tightrope as he tries to reassure anxious Republicans while staying on his boss's good side.
This rich dynamic between the president and the vice president has never been fully explored or understood. Compelling and deeply reported, grounded in history and politics, and full of previously untold and incredibly personal stories, First In Line pierces the veil of secrecy enveloping this historic political office to offer us a candid portrait of what it's truly like to be a heartbeat away.
Praise For First in Line: Presidents, Vice Presidents, and the Pursuit of Power…
"An intimate, compulsively readable account of the dynamics that have shaped—and sometimes destroyed—relations at the top of the American political hierarchy.... [and] a valuable addition to the literature of the modern presidency."
— Wall Street Journal

"The queen of inside-Washington storytelling has extended her reign. With First in Line, Kate Andersen Brower finds yet another one of the political world's most intriguing untold stories and delivers it to readers with the unparalleled reporting and compelling, fast-moving prose that have made her one of the few must-read authors of our time. Americans' understanding of vice presidents — how they're chosen, how they've maneuvered for more power and how they've increasingly shaped modern politics — will never be the same."
— Jonathan Allen, co-author, Shattered: Inside Hillary Clinton's Doomed Campaign

"First in Line is a nonfiction book that reads as quickly as a novel you can't put down. As Kate Andersen Brower pulls back the curtain on the relationships between Presidents and Vice Presidents, readers will be delighted by a trove of stories, secrets, and life lessons. Her interviews and research supplemented my own experience in watching the importance of a strong, loyal, and trusting relationship between the two highest officeholders in the land." 
— Dana Perino, Former White House Press Secretary and author of And the Good News Is... Lessons and Advice from the Bright Side

"Combining fascinating inside stories with astute political insights, First in Line fills a long-missing hole in American history. We learn here how men from Richard Nixon to Mike Pence have played their sometimes essential, sometimes useless roles in the prestigious but peculiar job of Vice President."
— Cokie Roberts, author of Ladies of Liberty

"Kate Andersen Brower has a wonderful reporter's eye for the telling detail that makes history engaging and real. In First in Line, she explores the fraught relationship between president and vice-president up to the present day in a pithy, revealing, and timely fashion. Her many fans from The Residence will not be disappointed."
— Evan Thomas, author of Ike's Bluff and Being Nixon

"Crisp, engrossing.... Brower delivers what she did in her previous books, a readable, insightful account of how the vice presidency has evolved and the men could end up in the Oval Office some day."
— USA Today
Harper, 9780062668943, 352pp.
Publication Date: June 5, 2018
About the Author
Kate Andersen Brower is the author of the #1 New York Times bestseller The Residence, First Women—also a New York Times bestseller—and First in Line. She is a CNN contributor who covered the Obama White House for Bloomberg News and is a former CBS News staffer and Fox News producer. Her writing has appeared in the New York Times, Vanity Fair, and the Washington Post. She lives outside Washington, D.C., with her husband and their three young children.

or
Not Currently Available for Direct Purchase