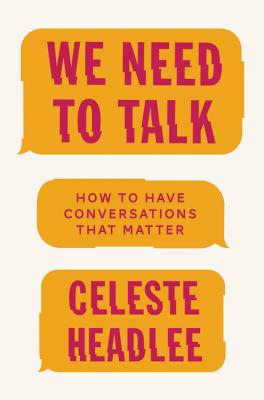 We Need to Talk
How to Have Conversations That Matter
Hardcover

* Individual store prices may vary.
Other Editions of This Title:
Digital Audiobook (9/18/2017)
Paperback (9/18/2018)
Compact Disc (9/19/2017)
MP3 CD (9/19/2017)
Compact Disc (9/19/2017)
Description
"WE NEED TO TALK."
In this urgent and insightful book, public radio journalist Celeste Headlee shows us how to bridge what divides us--by having real conversations
BASED ON THE TED TALK WITH OVER 10 MILLION VIEWS
NPR's Best Books of 2017
Winner of the 2017 Silver Nautilus Award in Relationships & Communication
"We Need to Talk is an important read for a conversationally-challenged, disconnected age. Headlee is a talented, honest storyteller, and her advice has helped me become a better spouse, friend, and mother."  (Jessica Lahey, author of New York Times bestseller The Gift of Failure)
Today most of us communicate from behind electronic screens, and studies show that Americans feel less connected and more divided than ever before. The blame for some of this disconnect can be attributed to our political landscape, but the erosion of our conversational skills as a society lies with us as individuals.
And the only way forward, says Headlee, is to start talking to each other. In We Need to Talk, she outlines the strategies that have made her a better conversationalist—and offers simple tools that can improve anyone's communication. For example: 
BE THERE OR GO ELSEWHERE. Human beings are incapable of multitasking, and this is especially true of tasks that involve language. Think you can type up a few emails while on a business call, or hold a conversation with your child while texting your spouse? Think again.
CHECK YOUR BIAS. The belief that your intelligence protects you from erroneous assumptions can end up making you more vulnerable to them. We all have blind spots that affect the way we view others. Check your bias before you judge someone else.
HIDE YOUR PHONE. Don't just put down your phone, put it away. New research suggests that the mere presence of a cell phone can negatively impact the quality of a conversation.
Whether you're struggling to communicate with your kid's teacher at school, an employee at work, or the people you love the most—Headlee offers smart strategies that can help us all have conversations that matter.
Praise For We Need to Talk: How to Have Conversations That Matter…
"Civil discourse is one of humanity's founding institutions and it faces an existential threat: We, the people, need to talk about how we talk to one another. Celeste Headlee shows us how."   — Ron Fournier, New York Times bestselling author of Love That Boy and Publisher of Crain's Detroit
"We Need To Talk is an important read for a conversationally-challenged, disconnected age. Headlee is a talented, honest storyteller, and her advice has helped me become a better spouse, friend, and mother."  — Jessica Lahey, author of New York Times bestseller The Gift of Failure
"This powerful debut offers 10 strategies for improving conversational skills. Tidbits from sociological studies and anecdotes from history, including from civil rights activist Xernona Clayton's groundbreaking conversations with KKK leader Calvin Craig, round out a book that takes its own advice and has much to communicate." — Publishers Weekly
"In the course of her career, Headlee has interviewed thousands of people from all walks of life and learned that sparking a great conversation is really a matter of a few simple habits that anyone can learn." — Jessica Stillman, Inc.
"This book is necessary…Headlee's treatise on creating space for valuable mutual reciprocity is one that should become a handbook in any school, business or even a doctor's office where the everyday person visits." — George Elerick, Buzzfeed
"A well-researched and careful analysis of how and why we talk with one another—our strengths and (myriad) weaknesses…A thoughtful discussion and sometimes-passionate plea for civility and consideration in conversation." — Kirkus Reviews
"Refreshingly honest….In the era of the lost art of conversation, Headlee helps us find our voice." — Henry Bass, Essence
"The perfect pre-Thanksgiving read to head off family squabbles and turn the holiday meal into a feast of ideas instead of a political fracas." — Karin Gillespie, Augusta Karin Gillespie, Augusta Chronicle
Harper Wave, 9780062669001, 272pp.
Publication Date: September 19, 2017
About the Author
CELESTE HEADLEE is an award-winning journalist, professional speaker and the author of We Need To Talk: How To Have Conversations That Matter, and Do Nothing: How to Break Away from Overworking, Overdoing, and Underliving. An expert in conversation, human nature, reclaiming our common humanity and finding well-being, Celeste frequently provides insight on what is good for all humans and what is bad for us, focusing on the best research in neuro and social science to increase understanding of how we relate with one another and can work together in beneficial ways in our workplaces, neighborhoods, communities and homes. She is a regular guest host on NPR and American Public Media and a highly sought consultant, advising companies around the world on conversations about race, diversity and inclusion. Her TEDx Talk sharing 10 ways to have a better conversation has over 23 million total views, and she serves as an advisory board member for ProCon.org and The Listen First Project. Celeste is the recipient of the 2019 Media Changemaker Award. She is the proud granddaughter of composer William Grant Still, the Dean of African American Composers. 
or
Not Currently Available for Direct Purchase