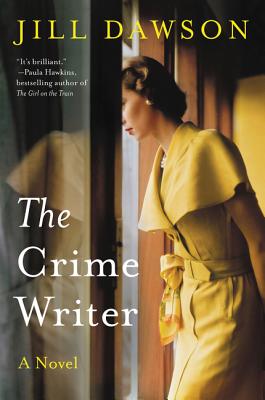 The Crime Writer (Paperback)
A Novel
Harper Perennial, 9780062669582, 256pp.
Publication Date: June 6, 2017
Other Editions of This Title:
MP3 CD (8/1/2016)
Compact Disc (8/1/2016)
* Individual store prices may vary.
Description
From acclaimed novelist Jill Dawson comes this imaginative psychological thriller—a dark and compelling snapshot into the life of Patricia Highsmith that immerses readers into the intoxicating, nightmarish psyche of this brilliant, complex author. 
When novelist Patricia Highsmith moves into a small cottage in Suffolk, England, in the mid-1960s, she's seeking seclusion and time to write. There's another reason for seeking privacy too—Pat is involved in a secret romance with Sam, a married woman living in London.
But even in this quaint village, Pat can't escape the obligations of her success. A young reporter, Virginia "Ginny" Smythson-Balby, sets her sights on Pat for an article she's writing. Ginny is both tenacious and oddly familiar, but Pat can't quite place where she's seen her before. Intent on unearthing details about Pat's fascination with not just the subject of murder but the psychology of a murderer, Ginny constantly intrudes into the sanctuary Pat had hoped to create, much to her dismay.
As Pat observes, love is a kind of madness. And when Sam comes for a visit, tension between Pat and Sam's husband escalates with deadly results. For so long she's wondered what it would feel like to commit the ultimate transgression. Now she's not just a chronicler of murder and violence, but a participant as she becomes a character from her own thrilling, disturbing novels. But just like her books, she discovers crime has consequences…dark, surprising, and inescapable.
Jill Dawson deftly explores the public and private life of one of the most intriguing writers of our time, blending fact and fiction in a novel as thrilling as Patricia Highsmith's own work.
About the Author
Jill Dawson is the author of Trick of the Light, Magpie, Fred and Edie, which was short-listed for the Whitbread Novel Award and the Orange Prize, Wild Boy, Watch Me Disappear, which was long-listed for the Orange Prize, The Great Lover, and Lucky Bunny. She has edited six anthologies of short stories and poetry, and has written for numerous UK publications, including The Guardian, The Times, Vogue, and Harper's Bazaar. She lives in Norfolk with her husband and two sons.
Praise For The Crime Writer: A Novel…
"If, as they say, imitation is the sincerest form of flattery, this fictionalized account of author Patricia Highsmith's 1964 sojourn in Sussex is high-grade flattery indeed… Fans of The Price of Salt (the basis for the 2015 film Carol) will savor this phantasmagoria."
— Library Journal

"Suspense novelist Patricia Highsmith finds herself caught in a real-life situation that seems to have sprung from the pages of one of her novels. It's a clever conceit, plunging an author into a scenario right out of her own queasy-making fiction, and it's adroitly handled, forcing Pat to live out her ideas of crime and guilt."
— Kirkus Reviews

"[A] dreamlike, high-tension novel...Dawson smoothly marries fact with fiction to capture the famously prickly Highsmith while astutely exploring love, obsession, and the myriad shades of darkness within us all."
— Publishers Weekly

"This novel is the real deal. Beautifully written and a must for all Highsmith fans."
— Phyllis Nagy, scriptwriter of the film Carol

"It's brilliant."
— Paula Hawkins, Bestselling Author of The Girl on the Train

The Crime Writer represents an astonishing act of literary ventriloquism, easily on a par with The Master, Colm Tóibín's fine novel about Henry James.
— Craig Brown, Mail on Sunday

"Ventriloquy is Dawson's forte . . . this fascinating, skillfully constructed novel builds a convincing picture of Patricia Highsmith "
— Andrew Taylor, Spectator

"All great writers' biographies are less interesting than their work, but Patricia Highsmith gave hers a run for its money...[The Crime Writer is]sharp and absorbing, with brilliant imaginative flights and a fine sensitivity to its subject's thorny, wounded, uncanny mind."
— USA Today

"You do not need to be a passionate Highsmith fan to admire this beautifully written and elegant novel, but I think it will particularly appeal to those who have read her books and know something about her life; they should recognise many of the allusions and ideas."
— Jessica Mann Literary Review

"A beautifully crafted and utterly riveting blend of fact and fiction about a fascinating 20th-century figure."
— Carla McKay, Daily Mail

"Dawson has drawn a witty, creepy plot as well as a convincing character sketch of a woman all too easy to caricature."
— Jake Kerridge, The Daily Telegraph

"Dawson skillfully constructs a dark tale that Highsmith fans will love."
— Sunday Times

"A dark tale of madness and murder, of obsession and delusion, that's worthy of Highsmith herself."
— Red Magazine

"[An] impeccable portrait . . . a hugely compelling read, jam-packed full of tensions and psychological insight, all beautifully observed."
— Sunday Express (London)

"An assured and visceral page-turner, as convincing as it is bold."
— Stephanie Cross Lady

"An intoxicating, shadowy narrative . . . [Dawson's] version of events will delight Highsmith's fans."
— Crime Scene magazine

"This novel is one wonderful long riff on Patricia Highsmith . . . Unsettling, sexy and gripping."
— Tim Pears

"Fantastically moody and appealingly unhinged — a piece of sophisticated literary ventriloquism that achieves a wonderful blurring of the lines between fact and fantasy."
— Sarah Waters, Guardian, Summer Reads
or
Not Currently Available for Direct Purchase