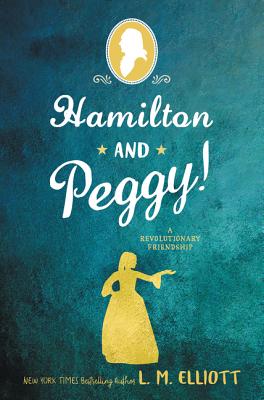 Hamilton and Peggy!
A Revolutionary Friendship
Hardcover

* Individual store prices may vary.
Other Editions of This Title:
Digital Audiobook (12/10/2018)
Paperback (9/10/2019)
MP3 CD (12/11/2018)
Compact Disc (12/11/2018)
Compact Disc (12/11/2018)
Description
Drawing from historical journals and letters, New York Times bestselling author Laura Elliot weaves a richly detailed tale about the extraordinary Peggy Schuyler and her revolutionary friendship with Alexander Hamilton. Perfect for fans of the smash musical sensation Hamilton.

Peggy Schuyler has always felt like she's existed in the shadows of her beloved sisters: the fiery, intelligent Angelica and beautiful, sweet Eliza. But it's in the throes of a chaotic war that Peggy finds herself a central figure amid Loyalists and Patriots, spies and traitors, friends and family.
When a flirtatious aide-de-camp, Alexander Hamilton, writes to Peggy asking for her help in wooing the earnest Eliza, Peggy finds herself unable to deny such an impassioned plea. A fast friendship forms between the two, but Alexander is caught in the same war as her father, and the danger to all their lives is real.
Everything is a battlefield—from the frontlines to their carefully coded letters—but will Peggy's bravery's and intelligence be enough to keep them all safe?
 Bank Street College Best Book of the Year (Historical Fiction, 2019) * 2018 Grateful American Book Prize Honorable Mention
Praise For Hamilton and Peggy!: A Revolutionary Friendship…
"Elliott combines a flair for fiction with masterly research...the 'stubborn, defiant, willful' Peggy will win their hearts as she forges on to take her place alongside her older sisters." — Publishers Weekly
"Elliott has written an engaging novel...[and] successfully navigates the challenge of maintaining historical accuracy while upholding the personalities popularized by the musical. [Peggy] is showcased as a strong protagonist who is confident in the best possible ways. Her memorable story will keep readers interested from start to finish."   — Booklist
"Set during the American Revolution, the tale offers the adventure of war, the family dynamic of sisterhood, and the drama of young love. While Elliott was inspired by Lin-Manuel Miranda's musical Hamilton, her story is based on independent research, and her afterword is as readable as the novel itself." — Kirkus Reviews
"The story is drawn from extensive research on each of the characters, through their letters, magazines, newspapers, and personal diaries. Elliott has accomplished something wonderful here, and this is an absolute must-have for all middle and high school collections." — School Library Journal
"Hamilton and Peggy allows us to relive the tumultuous years of the War for Independence through the eyes of Peggy Schuyler. It is rare to find YA historical fiction so steeped in research; Hamilton and Peggy! is sure to fire the imaginations and minds of its readers." — Ian Mumpton, Historical Interpreter at Schuyler Mansion  
"Laura Elliot's work richly colorizes the often sepia-toned narrative of America's founding era. Her characters restore humanity to a myriad of historical actors, some famous, some long forgotten."
— Joseph F. Stolz III, Ph.D., Historian, The George Washington National Library
"Set during the American Revolution, the tale offers the adventure of war, the family dynamic of sisterhood, and the drama of young love. Like many historical novels for teens, the language is quite modern, and the narrative has a fast pace. " — Kirkus Reviews
Praise for Da Vinci's Tiger: "An exquisitely detailed story of the passionate relationship between artist and muse, whose spirited yet gentle Renaissance heroine put me in awe of just how far women have had to come in 500 years. Beautifully painted." — Elizabeth Wein, Michael L. Printz Honor winner and New York Times bestselling author of Code Name Verity
"Elliott's novel is thoroughly researched, portraying three-dimensional characters in a lively atmosphere of love and art. Renaissance Florence breathes through this book, bringing readers to a fuller understanding of the portrait, the era, and an indomitable young woman." — Publishers Weekly (starred review)
"[With] descriptions of well-known works of art, complex societal protocols, and political power plays… fans of historical fiction will find Italy's Renaissance fascinating." — Voice of Youth Advocates (VOYA)
"Elliott meticulously researched the 15th century to bring alive the affluence, art, and clothing Florence was known for. In many ways, this intriguing novel is a feminist piece. Add this gem to round-out collections skewed toward 20th century history." — School Library Journal
"[T]he independent female narrator and the richly drawn portrait of Italian culture will attract history buffs and artists alike to this story behind da Vinci's first-known painting." — Booklist
Katherine Tegen Books, 9780062671301, 448pp.
Publication Date: February 13, 2018
About the Author
L. M. Elliott is the New York Times bestselling author of Da Vinci's Tiger; Under a War-Torn Sky; A Troubled Peace; Across a War-Tossed Sea; Annie, Between the States; Give Me Liberty; Flying South; and Hamilton and Peggy! She lives in Virginia with her family. You can visit her online at www.lmelliott.com.