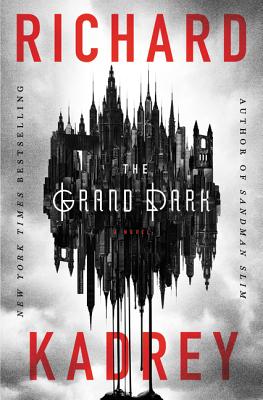 The Grand Dark
Hardcover

* Individual store prices may vary.
Other Editions of This Title:
Paperback (6/2/2020)
Compact Disc (6/11/2019)
MP3 CD (6/11/2019)
Compact Disc (6/11/2019)
Description
"A stand-alone heavy hitter that's more in line with recent deviants like Chuck Wendig's upcoming Wanderers (2019) and Daniel H. Wilson's The Clockwork Dynasty (2017). Tonally, this lush novel is closer to Scott Lynch's pirate fantasy The Lies of Locke Lamora (2006), but technologically it resembles the near-future dystopias of Cory Doctorow or China Miéville […] Wildly ambitious and inventive fantasy from an author who's punching above his weight in terms of worldbuilding—and winning."
-- Kirkus (starred review)
From the bestselling author of the Sandman Slim series, a lush, dark, stand-alone fantasy built off the insurgent tradition of China Mieville and M. John Harrison—a subversive tale that immerses us in a world where the extremes of bleakness and beauty exist together in dangerous harmony in a city on the edge of civility and chaos.

The Great War is over. The city of Lower Proszawa celebrates the peace with a decadence and carefree spirit as intense as the war's horrifying despair. But this newfound hedonism—drugs and sex and endless parties—distracts from strange realities of everyday life: Intelligent automata taking jobs. Genetically engineered creatures that serve as pets and beasts of war. A theater where gruesome murders happen twice a day. And a new plague that even the ceaseless euphoria can't mask.
Unlike others who live strictly for fun, Largo is an addict with ambitions. A bike messenger who grew up in the slums, he knows the city's streets and its secrets intimately. His life seems set. He has a beautiful girlfriend, drugs, a chance at a promotion—and maybe, an opportunity for complete transformation: a contact among the elite who will set him on the course to lift himself up out of the streets.
But dreams can be a dangerous thing in a city whose mood is turning dark and inward. Others have a vision of life very different from Largo's, and they will use any methods to secure control. And in behind it all, beyond the frivolity and chaos, the threat of new war always looms.
Praise For The Grand Dark…
"The Grand Dark is a miracle of the old and the new: a tale of weimar decadence that is also a parable for our New Gilded Age [...] It's a fun and terrifying ride, gritty and relentless, burning with true love and revolutionary fervor."
— Cory Doctorow, author of Radicalized and Walkaway

"Kadrey has written for us a beautiful nightmare — one that's often eerily familiar — showing a theatrical world set on the edge of war, and losing itself in the shadows of brutality and oppression."
— Chuck Wendig, New York Times bestselling author of Wanderers

"The Grand Dark is more than just another reliably strong outing from a veteran writer. It's the work of a major science fiction/fantasy creator going way out in a limb in the effort to wholly redefine himself, all while crystallizing what's made him great."
— NPR

"Wildly ambitious and inventive fantasy from an author who's punching above his weight in terms of worldbuilding—and winning."
— Kirkus Reviews (starred review)

"Stunning. The hard, spare, considered voice that's driven Kadrey's gonzo supernatural noir has been honed to a deft Kafka-esque edge. Unsettling and dreamlike, seductive and bleak, the jaws of The Grand Dark gape to devour you."
— Max Gladstone, author of Empress of Forever

"Artisanal gene mod and robots and coal dust and a big middle finger to the oligarchs, plus bicycles!"
— New York Times bestselling author Kevin Hearne

"[For] readers who like morally complex characters and enjoy their fantasy on the dark side."
— Booklist

"The novel feels almost China Mieville-esque in its tone and themes."
— Seattle Book Review

"The Grand Dark is a thematic buffet. Wealth, addiction, and censorship are only a few of its social and political layers. Foremost among its concerns are mankind's relationship to technology, the treatment of veterans, and how a society handles its 'undesirables.'"
— ZYZZYVA

"A constant underlying tension makes the city's powder-keg agitation visceral, and the individual neighborhoods and their residents are well wrought."
— Publishers Weekly

"This book is being compared in several places to China Mieville's Perdido Street Station, and it's an apt comparison."
— Locus Magazine

"The Grand Dark reads as something not only unique to the author, but to the genre. We discuss it within the constraints of genre, but it is really just literature and deserves consideration in that loftier categorization. Kadrey will see his name on the Hugo and Nebula ballots, but he deserves the shortlists for literary prizes beyond those."
— Spectrum Culture
Harper Voyager, 9780062672490, 432pp.
Publication Date: June 11, 2019
About the Author
Richard Kadrey is the New York Times bestselling author of the Sandman Slim supernatural noir books. Sandman Slim was included in Amazon's "100 Science Fiction & Fantasy Books to Read in a Lifetime," and is in development as a feature film. Some of his other books include The Wrong Dead Guy, The Everything Box, Metrophage, and Butcher Bird. He also writes the Vertigo comic Lucifer.