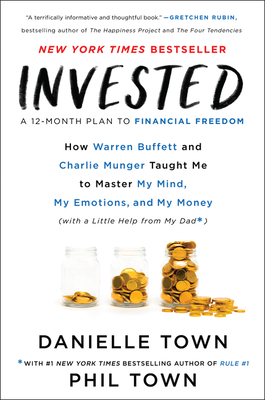 Invested
How Warren Buffett and Charlie Munger Taught Me to Master My Mind, My Emotions, and My Money (with a Little Help from My Dad)
Hardcover

* Individual store prices may vary.
Other Editions of This Title:
Digital Audiobook (3/26/2018)
Paperback (3/5/2019)
MP3 CD (3/27/2018)
Compact Disc (3/27/2018)
Compact Disc (3/27/2018)
Description
New York Times bestseller! 
A 12-Month Plan to Financial Freedom
"A terrifically informative and thoughtful book." - Gretchen Rubin, bestselling author of The Happiness Project and The Four Tendencies
In this essential handbook—a blend of Rich Dad, Poor Dad and The Happiness Project—the co-host of the wildly popular InvestED podcast shares her yearlong journey learning to invest, as taught to her by her father, investor and bestselling author Phil Town.
Growing up, the words finance, savings, and portfolio made Danielle Town's eyes glaze over, and the thought of stocks and financial statements shut down her brain. The daughter of a successful investor and bestselling financial author of Rule #1, Phil Town, she spent most of her adult life avoiding investing—until she realized that her time-consuming career as lawyer was making her feel anything but in control of her life or her money. Determined to regain her freedom, vote for her values with her money, and deal with her fear of the unpredictable stock market, she turned to her father, Phil, to help her take charge of her life and her future through Warren Buffett-style value investing. Over the course of a year, Danielle went from avoiding everything to do with the financial industrial complex to knowing exactly how and when to invest in wonderful companies.
In Invested, Danielle shows you how to do the same: how to take command of your own life and finances by choosing companies with missions that match your values, using the same gold standard strategies that have catapulted Warren Buffett and Charlie Munger to the top of the Forbes 400. Avoiding complex math and obsolete financial models, she turns her father's investing knowledge into twelve easy-to understand lessons.
In each chapter, Danielle examines the investment strategies she mastered as her increasing know-how deepens the trust between her and her father. Throughout, she streamlines the process of making wise financial decisions and shows you just how easy—and profitable—investing can be.
Capturing a warm, charming, and down-to-earth give and take between a headstrong daughter and her mostly patient dad, Invested makes the complex world of investing simple, straightforward, and approachable, and will help you formulate your own investment plan—and foster the confidence to put it into action.
Praise For Invested: How Warren Buffett and Charlie Munger Taught Me to Master My Mind, My Emotions, and My Money (with a Little Help from My Dad)…
"This is a warm, wonderful book that shows how a father and daughter can connect at a deeper level, on both a personal and a financial level, enriching them both for the years ahead." — Brian Tracy, bestselling author of Eat That Frog!: 21 Great Ways to Stop Procrastinating and Get More Done in Less Time
"Stunning! Invested is the only book that seriously addresses how inner health becomes outer wealth with straightforward steps to financial freedom. Anyone who wants an all-around better life should read this book." — JJ Virgin, bestselling author of The Virgin Diet
"Invested makes complex ideas about stocks and markets make sense to anyone! Get ready to level-up your knowledge of active investing from any starting point." — Amanda Steinberg, founder of DailyWorth and author of Worth It: Your Life, Your Money, Your Terms
"Fear holds most people back from real wealth. This book addresses head-on being afraid of the stock market and being afraid of not knowing enough. For everyone who knows they need to do something with their money but doesn't know what, this is the book for you." — John Assaraf, star of The Secret, founder of myNeuroGym.com, and author of Having It All
"In Invested, Danielle Town shows how she learned to overcome her anxieties about money to take control of her own happiness. A terrifically informative and thoughtful book." — GRETCHEN RUBIN, bestselling author of The Happiness Project and The Four Tendencies
William Morrow, 9780062672650, 336pp.
Publication Date: March 27, 2018
About the Author
A corporate startup attorney, Danielle Town earned her law degree from New York University, and holds degrees from Wellesley, Oxford, and University of Colorado. She cohosts the InvestED podcast with her father, Phil Town.
Phil Town is a motivational speaker, investor, and the author of the #1 New York Times bestsellers Rule #1 and Payback Time. He cohosts the InvestED podcast with his daughter, Danielle Town.