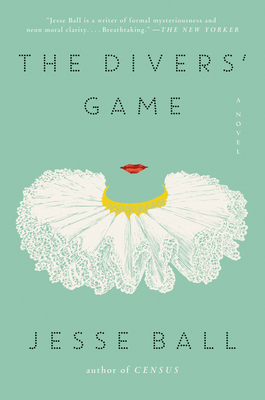 The Divers' Game
A Novel
Paperback

* Individual store prices may vary.
Other Editions of This Title:
Digital Audiobook (9/9/2019)
Hardcover (9/10/2019)
MP3 CD (9/10/2019)
Compact Disc (9/10/2019)
Compact Disc (9/10/2019)
Description
From the inimitable mind of award-winning author Jesse Ball, a novel about an unsettlingly familiar society that has renounced the concept of equality—and the devastating consequences of unmitigated power

The old-fashioned struggle for fairness has finally been abandoned. It was a misguided endeavor. The world is divided into two groups, pats and quads. The pats may kill the quads as they like, and do. The quads have no recourse but to continue with their lives.
The Divers' Game is a thinly veiled description of our society, an extreme case that demonstrates a truth: we must change or our world will collapse.
What is the effect of constant fear on a life, or on a culture? The Divers' Game explores the consequences of violence through two festivals, and through the dramatic and excruciating examination of a woman's final moments.
Brilliantly constructed and achingly tender, The Divers' Game shatters the notion of common decency as the binding agent between individuals, forcing us to consider whether compassion is intrinsic to the human experience. With his signature empathy and ingenuity, Jesse Ball's latest work solidifies his reputation as one of contemporary fiction's most mesmerizing talents.
Praise For The Divers' Game: A Novel…
"Jesse Ball is a writer of formal mysteriousness and neon moral clarity... His language is spare, strange, and evocative.... His themes are human savagery, often state-sanctioned, and human kindness, a thin thread of resistance.... The final section [of The Divers' Game] is breathtaking." — The New Yorker
"A book that contemplates, with the gravity and grace it deserves, a world beyond the point of no return..... Stunning.... The book's final section, in which a woman confronts the violence within herself, is one of the more beautiful things I've ever read." — Paris Review
"It's hard to read a book like 'The Divers' Game' — in which an unnamed nation receives an influx of refugees and abandons the notion of human fellow feeling — and not immediately think of the present moment.... [An] interlocking puzzle box of a novel, artful and often inscrutable... The society in 'The Divers' Game' uses rituals like festivals and games to paper over its own violence. They merely reveal how untenable that violence is." — New York Times Book Review
"Jesse Ball ("Census") levels a steely gaze at the very concept of humanity in this three-part novel that introduces the lower-class "quads" and the rich "pats," who treat those below them with impunity. When a group of pats conceals the grisly fate of a young quad girl behind an elaborate festival, you may start to wonder just how different this dystopian world is from our own." — Washington Post
"Affecting… Uncomfortably familiar…. [The Divers' Game] should certainly make you question what kind of world we are preparing for the generations to come." — AM New York
"Radical.... If they don't teach Ball's work in college by now, they should.... Readers who appreciate Ball's keen, melancholic, and often sadly satirical view of human society will likely appreciate this timely assessment of where division might take us and how it affects the generations that come after us." — Kirkus Reviews
"Mesmerizing... Ball (Census) delivers a strident condemnation of inequality in an imagined nation....  The novel's depiction of life in this dystopian world is eerie and suffused with symbolic weight." — Publishers Weekly
"Ball (Census, 2018), a writer of exceptional and pensive imagination, adds another trenchant fable to his distinctively disquieting oeuvre…. One hears the beat of Animal Farm…. Writing with blood-freezing sparseness, Ball illuminates this calamitously immoral place…. Distressingly mirrors aspects of our own [world]." — Booklist
Ecco, 9780062676122, 240pp.
Publication Date: October 13, 2020
About the Author
Jesse Ball is the author of fifteen books, and his works have been translated into more than a dozen languages. He is on the faculty at the School of the Art Institute of Chicago, a winner of The Paris Review's Plimpton Prize for Fiction and the Gordon Burn Prize, and was long-listed for the National Book Award. 
or
Not Currently Available for Direct Purchase