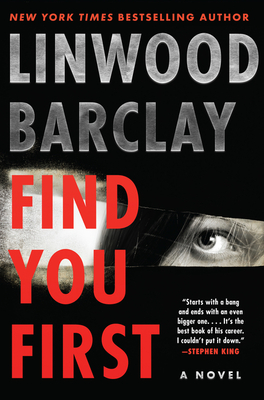 Find You First
A Novel
Hardcover

* Individual store prices may vary.
Other Editions of This Title:
MP3 CD (5/4/2021)
Compact Disc (5/4/2021)
Description
The New York Times bestselling author of Elevator Pitch and master of psychological suspense returns with a riveting thriller in which the possible heirs of a dying tech millionaire are mysteriously being eliminated, one by one.
"Linwood Barclay is a stone-cold pro." — #1 New York Times bestselling author Joe Hill

Tech millionaire Miles Cookson has more money than he can ever spend, and everything he could dream of—except time. He has recently been diagnosed with a terminal illness, and there is a fifty percent chance that it can be passed on to the next generation. For Miles, this means taking a long hard look at his past . . .
Two decades ago, a young, struggling Miles was a sperm donor. Somewhere out there, he has kids—nine of them. And they might be about to inherit both the good and the bad from him—maybe his fortune, or maybe something much worse.
As Miles begins to search for the children he's never known, aspiring film documentarian Chloe Swanson embarks on a quest to find her biological father, armed with the knowledge that twenty-two years ago, her mother used a New York sperm bank to become pregnant.
When Miles and Chloe eventually connect, their excitement at finding each other is overshadowed by a series of mysterious and terrifying events. One by one, Miles's other potential heirs are vanishing—every trace of them wiped, like they never existed at all.
Who is the vicious killer—another heir methodically erasing rivals? Or is something even more sinister going on?
It's a deadly race against time . . .
Praise For Find You First: A Novel…
"Find You First starts with a bang and ends with an even bigger one. Barclay is a terrific writer, but he's outdone himself with this. It's the best book of his career. I couldn't put it down, and you won't be able to, either. If you enjoy thrillers, this is the real deal. It never lets up."
— Stephen King

"A full-throttle powerhouse of a thriller—Linwood Barclay is in a class of his own."
— T. M. Logan, author of The Vacation and Lies

"Read Elevator Pitch as soon as possible. It's one hell of a suspense novel."
— Stephen King on ELEVATOR PITCH

"This novel moves as fast as a falling elevator and hits with just as much force. Linwood Barclay is a stone cold pro and Elevator Pitch is a shameless good time."
— Joe Hill, #1 New York Times bestselling author of The Fireman and Strange Weather on ELEVATOR PITCH

"Barclay [is] always good for a touch of cardiac arrest. . . . Chilling . . . wildly inventive and really scary."
— New York Times Book Review on Elevator Pitch

"Mr. Barclay's books are distinguished by wit and startling twists. In Elevator Pitch, he surpasses himself with a premise suited for the big screen, a plot filled with stunning surprises—and an ending that leaves the reader greatly satisfied."
— Wall Street Journal on ELEVATOR PITCH

"A vivid story with a compelling cast of characters mixed with a truly terrifying scenario. . . . Barclay has crafted a great thriller with a surprising ending and readers will sweat a little the next time they get on an elevator."
— Associated Press on ELEVATOR PITCH

"Barclay's latest combines an engrossing, fast-moving, well-twisted modern-day plot with believable characters. Fans of psychological thrillers and the author's previous books will love this."
— Library Journal [starred review] on ELEVATOR PITCH

"Elevator Pitch is a white-knuckled ride of a book with twists on every level and an unforgettable cast of characters brought to life with Linwood Barclay's signature flair and acuity. I gulped it down."
— Gilly Macmillan, New York Times bestselling author of What She Knew and The Nanny on ELEVATOR PITCh

"Linwood Barclay's novels – as intelligent as Michael Connelly's, as compelling as Harlan Coben's – never fail to astonish. A Noise Downstairs, his best work yet, is a cobra of a story: smooth, slippery, unnerving . . . and likely to strike when you least expect it. I devoured this book."
— A. J. Finn, #1 New York Times bestselling author of The Woman in the Window on A NOISE DOWNSTAIRS

"Vintage Barclay – A Noise Downstairs is an utterly compelling read with a twist you won't see coming. I loved it!"
— Shari Lapena, New York Times bestselling author of A Stranger in the House and The Couple Next Door on A NOISE DOWNSTAIRS

"[Barclay] does a masterful job of layering on the mysteries until we're almost frantically turning the pages, impatient to find out what the hell is going on. A beautifully executed thriller."
— Booklist (starred review) on A NOISE DOWNSTAIRS
William Morrow, 9780062678317, 448pp.
Publication Date: May 4, 2021
About the Author
Linwood Barclay is the author of eighteen previous novels, and two thrillers for children. A New York Times bestselling author, his books have been translated into more than two dozen languages. He wrote the screenplay adaptation for his novel Never Saw it Coming and his book The Accident has been made into a TV series in France. His novel No Time for Goodbye was a global bestseller. Born and raised in Connecticut, he now lives in Toronto with his wife, Neetha.