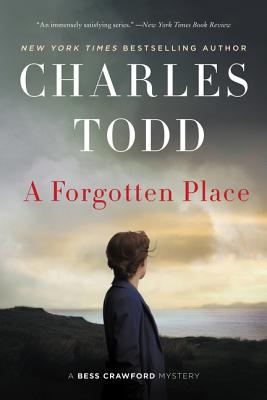 A Forgotten Place
A Bess Crawford Mystery (Bess Crawford Mysteries #10)
Hardcover

* Individual store prices may vary.
Other Editions of This Title:
Digital Audiobook (9/17/2018)
Description
Though the Great War has ended, Bess Crawford finds herself caught in deadly circumstances on a remote Welsh headland in this tenth entry from the acclaimed New York Times bestselling author.
The fighting has ended, the Armistice signed, but the war has left wounds that are still agonizingly raw. Battlefield Nurse Bess Crawford has been assigned to a clinic for amputees, and the Welsh patients worry her. She does her best to help them, but it's clear that they have nothing to go home to, in a valley where only the fit can work in the coal pits. When they are released, she fears that peace will do what war couldn't—take their lives.
Their officer, Captain Williams, writes to describe their despair, and his own at trying to save his men. Bess feels compelled to look into their situation, but the Army and the clinic can do nothing. Requesting leave, she quietly travels to Wales, and that bleak coal mining village, but she is too late.
Captain Williams' sister tells Bess he has left the valley. Bess is afraid he intends to kill himself. She follows him to an isolated, storm-battered peninsula—a harsh and forgotten place where secrets and death go hand in hand. Deserted by her frightened driver, Bess is stranded among strangers suspicious of outsiders. She quickly discovers these villagers are hiding something, and she's learned too much to be allowed to leave. What's more, no one in England knows where she is.
Why is there no Constable out here? And who is the mysterious Ellen? Captain Williams and his brother's widow are her only allies, and Bess must take care not to put them at risk as she tries to find answers. But there is a murderer here who is driven to kill again and again. And the next person in his sights is Simon Brandon, searching for Bess and unaware of his danger. . . .
Praise For A Forgotten Place: A Bess Crawford Mystery (Bess Crawford Mysteries #10)…
Praise for A Casualty of War: "[Charles] Todd's strongest war book." — Washington Times
"It is intensely personal, as all great stories should be." — Anne Perry, Internationally Bestselling Author
"Harsh period attitudes toward traumatic stress and the exhaustion of a long war add poignancy to Todd's satisfying puzzle of identity and inheritance." — Publishers Weekly
Praise for No Shred of Evidence: "It's that melancholy tone, the legacy of the trenches, that gives Todd's polite rural mystery such uncommon depth." — Marilyn Stasio, New York Times Book Review
The novel has a distinctly gothic feel to it: remote locale, harsh landscape, stormy weather, mysterious villagers—and the sense that something truly evil is hiding, perhaps in plain sight. Followers of the Crawford series will find much to like here. — Booklist on A Forgotten Place
"A masterpiece of imagination." — New York Times bestselling author Lee Child on the Ian Rutledge series
"I love series that follow particular characters over time and through their experiences, so I automatically read the latest installments from ... Charles Todd." — Hillary Rodham Clinton, New York Times Book Review
"A superb entry in a superb series: an exquisite sense of time and place, a satisfying mystery with a breathless conclusion, and above all the complex, haunted, charismatic Inspector Ian Rutledge himself-truly one of crime fiction's most absorbing characters." — Lee Child, #1 New York Times bestselling author on Racing the Devil
"A Casualty of War is another masterful work in this series, and I cannot recommend it enough."
— Bookreporter.com on A Casualty of War
"The latest Crawford mystery is rich in character and period detail, with a solidly constructed story that should keep readers immersed in the action." — Booklist on A Casualty of War
"Todd's meticulous research... illustrates the toll the war has taken on the battle-weary military as well as the nurses and doctors, the sacrifices of the residents, [and] the citizens' valiant struggle to maintain a sense of normalcy. . . . . A vivid and personal look at WWI." — SouthFlorida.com on A Casualty of War
"The Shattered Tree is an enjoyable and quick read-well worth the time." — New York Journal of Books on The Shattered Tree
"Admirable, courageous and occasionally reckless, Bess ranks among the best of fictional amateur sleuths. [Todd] again creates a thought-provoking novel that evokes the terrors and suspicions of war." — Richmond Times-Dispatch on The Shattered Tree
"A superb whodunit—just when you think you have it figured out, Todd throws a curve—and a moving evocation of a world at war." — Richmond Times-Dispatch on A Bitter Truth
"The atmosphere of the claustrophobic community Bess is trapped in is palpable as Todd (the mother-and-son writing team of Caroline and Charles Todd) expertly ratchets up the suspense." — Publishers Weekly
William Morrow, 9780062678829, 368pp.
Publication Date: September 18, 2018
About the Author
Charles Todd is the New York Times bestselling author of the Inspector Ian Rutledge mysteries, the Bess Crawford mysteries, and two stand-alone novels. A mother-and-son writing team, Caroline passed away in August 2021 and Charles lives in Florida.
or
Not Currently Available for Direct Purchase