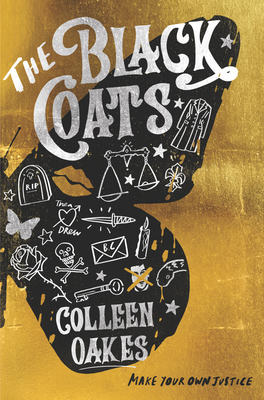 The Black Coats (Hardcover)
HarperTeen, 9780062679628, 400pp.
Publication Date: February 12, 2019
Other Editions of This Title:
Compact Disc (2/12/2019)
Compact Disc (2/12/2019)
MP3 CD (2/12/2019)
Paperback (2/18/2020)
* Individual store prices may vary.
Description
ROSES ARE RED, VIOLETS ARE BLUE. IF YOU HURT US, WE'RE COMING FOR YOU.
Moxie meets Female of the Species in this powerful, thrilling, and deeply resonant novel about a secret society of girls who plot revenge on the men who hurt them.
The enigmatic Black Coats have been exacting vengeance on men who have hurt girls and women for years. The killer of Thea's cousin went free, and Thea has just received an invitation to join the Black Coats' balancings—acts of revenge meant to teach a lesson. Justice for Natalie has never felt so close.
But as the balancings escalate in brutality, Thea's clear-cut mission begins to unravel and she must decide just how far she is willing to go for justice.
Because when the line between justice and revenge is paper thin, it's hard not to get cut.
About the Author
Colleen Oakes is the bestselling author of books for both teens and adults, including the Queen of Hearts trilogy, the Elly in Bloom series, and the Wendy Darling saga. She lives in North Denver with her husband and son and surrounds herself with the most lovely family and friends imaginable. When not penning new books, Colleen can be found swimming, traveling, reading, or advocating for adoption and literacy. Visit her at www.colleenoakes.com.
Praise For The Black Coats…
"This satisfying feminist tale is so fierce… An explosive thriller that is all too timely in the #MeToo era."
— Kirkus Reviews

"There is fun to be had between the action-packed training sequences [and] dashes of romance, but Coates' main message is about trauma, abuse, who deserves an opportunity for redemption, and who gets to decide… Enjoyably over the top, with some great ethical questions to explore."
— ALA Booklist

"Mindy McGinnis's The Female of the Species meets Ally Carter's "Gallagher Girls" in this thriller with deeper themes about grief and justice. A perfectly paced thriller…this timely page-turner has a strong hook and will not sit on shelves for long."
— School Library Journal

"The Black Coats provide[s] pure satisfaction with the idea of fighting back against misogyny and sexism… a relevant read in the #metoo era."
— Bulletin of the Center for Children's Books

Praise for Queen of Hearts: "Oakes continues to weave literary magic as she pulls you down the rabbit hole into a Wonderland like you've never read before."
— NEW YORK TIMES bestselling author Chanda Hahn


Praise for Queen of Hearts: "Fans of Alice's Adventures in Wonderland will enjoy the twists Oakes gives to familiar characters. Heart-stopping action makes the pages fly, and Dinah's struggle to stay true to herself amid impossible expectations resonates."
— Publishers Weekly

Praise for Queen of Hearts: "This latest in fairy tales retold makes the classic villain less villainous by showing her tenderhearted backstory."
— Booklist

Praise for Queen of Hearts: "Every good villain deserves an origin story, and Oakes offers a fascinating glimpse into the mad queen's complex and heartbreaking past. The novel offers some wonderful reinventions of Carroll's classic, and fans of Alice's more sinister elements will appreciate Oakes' macabre touches."
— Bulletin of the Center for Children's Books