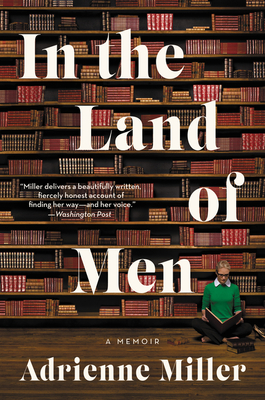 In the Land of Men
A Memoir
Paperback

* Individual store prices may vary.
Other Editions of This Title:
Digital Audiobook (2/10/2020)
Hardcover (2/11/2020)
MP3 CD (2/11/2020)
Compact Disc (2/11/2020)
Description
A fiercely personal memoir about coming of age in the male-dominated literary world of the nineties, becoming the first female literary editor of Esquire, and Miller's personal and working relationship with David Foster Wallace

A naive and idealistic twenty-two-year-old from the Midwest, Adrienne Miller got her lucky break when she was hired as an editorial assistant at GQ magazine in the mid-nineties. Even if its sensibilities were manifestly mid-century—the martinis, powerful male egos, and unquestioned authority of kings—GQ still seemed the red-hot center of the literary world. It was there that Miller began learning how to survive in a man's world. Three years later, she forged her own path, becoming the first woman to take on the role of literary editor of Esquire, home to the male writers who had defined manhood itself— Hemingway, Mailer, and Carver. Up against this old world, she would soon discover that it wanted nothing to do with a "mere girl." 
But this was also a unique moment in history that saw the rise of a new literary movement, as exemplified by McSweeney's and the work of David Foster Wallace. A decade older than Miller, the mercurial Wallace would become the defining voice of a generation and the fiction writer she would work with most. He was her closest friend, confidant—and antagonist. Their intellectual and artistic exchange grew into a highly charged professional and personal relationship between the most prominent male writer of the era and a young woman still finding her voice. 
This memoir—a rich, dazzling story of power, ambition, and identity—ultimately asks the question "How does a young woman fit into this male culture and at what cost?" With great wit and deep intelligence, Miller presents an inspiring and moving portrayal of a young woman's education in a land of men.
"The memoir I've been waiting for: a bold, incisive, and illuminating story of a woman whose devotion to language and literature comes at a hideous cost. It's Joanna Rakoff's My Salinger Year updated for the age of She Said: a literary New York now long past; an intimate, fiercely realist portrait of a mythic literary figure; and now, a tender reckoning with possession, power, and what Jia Tolentino called the 'Important, Inappropriate Literary Man.' A poised and superbly perceptive narration of the problems of working with men, and of loving them."— Eleanor Henderson, author of 10,000 Saints

Praise For In the Land of Men: A Memoir…
"During this nasty, nasty year, I looked for intelligent escapism in my reading, and one of the books that filled the bill was In the Land of Men . . . With a kind of deploring bemusement, and love, Ms. Miller gives us Wallace more or less in the round, and even manages to be funny about it—no mean feat." — Wall Street Journal
"Deftly evok[es] the spirit of a particular world at a particular time . . . presenting ample evidence of the power structures—some obvious, some not so visible—that bound it and all its problems together . . . The most enjoyable quality of the book is its relentless cataloging of Wallace's inventively awful behavior, and of Miller's efforts to withstand the onslaught. That Wallace was not a great guy is no surprise, but a lot of the detail here is fresh." — New Republic
"The jury's still out on whether or not one must ultimately choose between the perfection of the life or the perfection of the life's work. But, after taking an invigorating tour through Miller's bookish world, it is clear that the verdict still matters." — Artsfuse
"She makes magic on the page. . . . If you're a devotee of David Foster Wallace, you'll devour this memoir with pleasure. If not, you may enjoy the cultural scavenger hunt and appreciate how much Adrienne Miller makes you stretch." — Washington Independent Review of Books
"Deftly brings to life the free-spending and freewheeling glossy magazine culture of the 1990s." — The New York Times Book Review
"An irresistible glimpse into the glory days of print magazines and the not-so-glorious behind-the-scenes moments." — The Skimm
"In the Land of Men is both tender and painful. It's power and mercy. If you love literature, novels, or anything that has to do with the written word, you will enjoy [this book.]" — Associated Press
"A story of coming of age in the last gasp of the golden era of magazine journalism, against the backdrop of a thoroughly male and insistently masculine literary landscape. . . . The most powerful thing that In the Land of Men does is make Wallace nothing more or less than a character in the story of Miller's life—a fascinating and indispensable one, but a character nonetheless." — Literary Hub
"Bookworms, former English majors, and anyone tired of Old White Men novels will enjoy the blunt descriptions of petulant literary giants (John Updike), high-brow celebrities (Todd Solondz), and other behind-the-scenes figures." — AV Club
"[Miller] recounts her career as an 'improbable gatekeeper' and spins an elegy for the glory days of American magazines, with cameos by Norman Mailer, George Plimpton, and Dave Eggers. The star of the show, though, is David Foster Wallace . . . who quickly became her greatest confidant. So began a long-distance love affair that defied definition. . . .What a treat to listen in." — Vogue
"Riveting . . . reckons with power, and the dark truth about who gets to have it." — Esquire, "The Best Books Coming Out This Winter" 
"Funny and shrewd . . . Miller offers a keen and caustic take on the literary universe at a crossroads . . . Her musings on the 'psychologically intimate' work of an editor are enlightening; her passages recounting blatant and insidious sexism are bracing, and her disclosures about her relationship with Wallace are cathartic. Miller's love for language and faith in the power of art deepen this finely composed, forthright, witty, and involving memoir of one woman's triumph in the competitive literary cosmos." — Donna Seaman, Booklist
"This cool, careful, enraged book about condescension has quiet humor . . . perfect pitch . . . and an unfashionable stoicism. When finally the fuse that's been burning under her desk for nearly a decade of literary gate-keeping and risk-taking goes off, you don't even feel as if Miller is raising her voice, only saying what she means, editing out, as was her profession, whatever doesn't need to be there." — Greil Marcus, Los Angeles Review of Books, "Real Life Rock Top 10"
"Miller delivers a beautifully written, fiercely honest account of finding her way — and her voice — in a male-dominated industry." — The Washington Post, "10 Books to Read in February"
"A deeply personal memoir by former Esquire editor Adrienne Miller, In the Land of Men recounts her coming-of-age career in a male-dominated magazine world and the cost of breaking in." — Parade, "Books We Love"
"Adrienne Miller did not merely find herself in the midst of a bright, innovative, challenging, unforgettable moment in literary culture: she made it happen. It was easy to miss that then, given all the attention paid to the brilliant writers, mostly men, that she discovered, nurtured, and endured. But now, with ferocious humor and honesty she conjures once more that Narnia-like world of books before blogs, magazines before the internet—capturing all its giddy verve, and all its frank injustices with her own unmatchable taste and wit at the dead center, where it always belonged." — John Hodgman, author of Medallion Status

"In The Land of Men is about being the only woman in the room. But, beyond that, it's about the magic of rooms themselves. It's a revisiting of life before the age of ubiquitous screens, when we shared physical space—sometimes uncomfortably and sometimes ecstatically—with our heroes and our nemeses alike. I was thrilled to make the trip." — Meghan Daum, author of The Problem with Everything: My Journey Through The New Culture Wars
"Adrienne Miller's voice is lucid and remorseful, and she's brought us a beautiful, painful book, a tender dissection of elusive subjects up to and including the passage of time and youth itself." — Jonathan Lethem
"An incredible guide to a ridiculous era and its outrages. Many will praise Miller's ability to bring a time and place to life, but I would also like to add that this book is very, very funny." — Gary Shteyngart, author of Lake Success
"It's Joanna Rakoff's My Salinger Year updated for the age of She Said. A tender reckoning with possession, power, and what Jia Tolentino called the 'Important, Inappropriate Literary Man." — Eleanor Henderson, author of 10,000 Saints
"[A] sharp blend of memoir and cultural/literary history . . . A good portion of her book centers on her difficult-to-define relationship with Wallace; her excerpts from phone conversations and voicemails and dates with him illustrate a personality that was undefinable yet brilliant. Miller exhibits a particular adroitness in her ability to re-create, with at times biting humor, various events and interactions in her career and relationships . . . A refreshingly relatable memoir from a gifted, intellectual writer." — Library Journal
"Intimate . . . intriguing . . . will appeal to book nerds and fans of David Foster Wallace." — Publishers Weekly
"Movingly recount[s] the sexism she endured . . . . Miller's experience as a woman at a male-dominated magazine is unique." — Kirkus Reviews
Ecco, 9780062682420, 352pp.
Publication Date: February 16, 2021
About the Author
Adrienne Miller was the literary and fiction editor of Esquire from 1997-2006. She is the author of the novel The Coast of Akron (FSG), and has taught writing at the University of Pennsylvania, Haverford College, and Bryn Mawr. She lives in New York City with her husband, son, and Italian Greyhound.