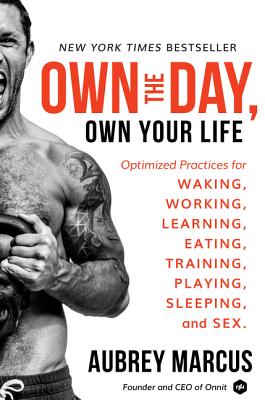 Own the Day, Own Your Life
Optimized Practices for Waking, Working, Learning, Eating, Training, Playing, Sleeping, and Sex
Hardcover

* Individual store prices may vary.
Other Editions of This Title:
Digital Audiobook (4/16/2018)
Compact Disc (4/17/2018)
MP3 CD (4/17/2018)
Compact Disc (4/17/2018)
Description
The founder and CEO of Onnit, the mega lifestyle brand and one of the fastest growing companies in the country, teaches us how one single day of positive choices leads to a lifetime of concrete strategies for better living, optimal performance, and a stronger mind, body, and spirit.
Human optimization thought leader Aubrey Marcus's personal and professional mission rests on a single question: How can we get the most out of our body and mind on a daily basis?
Marcus answers that question in Own the Day, Own Your Life an empowering handbook that guides readers to optimize every moment of the day, from waking in the morning, through work and play, until bedtime each night. With small, actionable changes implemented throughout the course of one day, we can feel better, perform more efficiently, and live happier. And these daily habits turn into weekly routines, ultimately becoming part of lifelong healthy choices.
From workouts and diet to inbox triage, mindfulness, shower temperature, and sex, this ground-breaking manual provides simple strategies for each element of your day. Drawing from the latest studies and traditional practices from around the world, Own the Day, Own Your Life delivers an optimization philosophy, including cutting-edge life-hacking tips, nutritional expertise, brain upgrades, and fitness regiments.
Own the Day, Own Your Life is a must-have "choose-your-own-adventure" guide for the everyman and everywoman—packed with pragmatic and effective strategies that empower you to enjoy your life, take charge of your health, and own the day.
Praise For Own the Day, Own Your Life: Optimized Practices for Waking, Working, Learning, Eating, Training, Playing, Sleeping, and Sex…
 "The best way to change your life is to change what your life is made up of—your rituals, your habits, how you eat and think. This book is a road map for doing exactly that, written by an author whose results can't be argued with." — Ryan Holiday, bestselling author of The Obstacle Is the Way and Ego Is the Enemy
"Each day is an opportunity. Own the Day, Own Your Life provides only the best tools for optimizing your health, your body, your brain, and your performance." — Shawn Stevenson, author of Sleep Smarter and host of The Model Health Show podcast
"Aubrey is the ultimate life hacker—the Indiana Jones of mind and body optimization—and his book breaks down becoming a master of your mind-set and body, building businesses, sustaining peak energy, incredible connections, tantric sex, and having it all." — Lewis Howes, All-American athlete, New York Time bestselling author, and host of The School of Greatness podcast
"When it comes to priming your body and brain with simple, practical, trench-tested methods steeped in science, this book is, bar none, the best guide I've ever read. Own this book and you will own your day." — Ben Greenfield, podcaster and New York Times bestselling author of Beyond Training: Mastering Endurance, Health & Life
"Aubrey Marcus is not fucking around. Own the Day, Own Your Life is a category-killing manual on human optimization…as ambitious as it is useful." — Jason Feifer, editor in chief of Entrepreneur magazine
Harper Wave, 9780062684073, 448pp.
Publication Date: April 17, 2018
About the Author
Aubrey Marcus is the founder and CEO of Onnit, a lifestyle brand based on a holistic health philosophy he calls Total Human Optimization. Onnit is an Inc. 500 company and an industry leader with products optimizing millions of lives, including many top professional athletes around the world.
Aubrey currently hosts The Aubrey Marcus Podcast, a motivational destination for conversations with the brightest minds in athletics, business, science, relationships and spirituality with over 10MM downloads on iTunes. He regularly provides commentary to outlets like Entrepreneur, Forbes, The Doctors and The Joe Rogan Experience. He has been featured on the cover of Men's Health, is the author of the course Go For Your Win, and his newest (and first!) book is Own The Day, Own Your Life from HarperCollins.
or
Not Currently Available for Direct Purchase