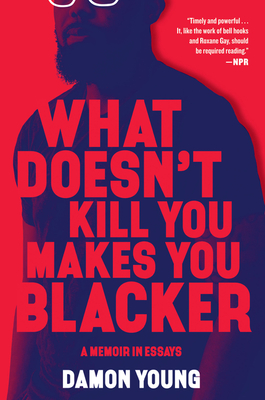 What Doesn't Kill You Makes You Blacker
A Memoir in Essays
Paperback

* Individual store prices may vary.
Other Editions of This Title:
Digital Audiobook (3/25/2019)
Hardcover (3/26/2019)
MP3 CD (3/26/2019)
Compact Disc (3/26/2019)
Description
A Finalist for the NAACP Image Award
A Finalist for the Hurston/Wright Legacy Award for Nonfiction
A Finalist for the Thurber Prize for American Humor
Longlisted for the PEN/Diamonstein-Spielvogel Award for the Art of the Essay
An NPR Best Book of the Year
A Washington Independent Review of Books Favorite of the Year
From the host of podcast "Stuck with Damon Young," cofounder of VerySmartBrothas.com, and one of the most read writers on race and culture at work today, a provocative and humorous memoir-in-essays that explores the ever-shifting definitions of what it means to be Black (and male) in America
For Damon Young, existing while Black is an extreme sport. The act of possessing black skin while searching for space to breathe in America is enough to induce a ceaseless state of angst where questions such as "How should I react here, as a professional black person?" and "Will this white person's potato salad kill me?" are forever relevant.
What Doesn't Kill You Makes You Blacker chronicles Young's efforts to survive while battling and making sense of the various neuroses his country has given him.
It's a condition that's sometimes stretched to absurd limits: creating the farce where, as a teen, he wished for a white person to call him a racial slur just so he could fight him and have a great story about it; provoking the angst that made him question if "being straight" was something he could practice and get better at, like a crossover dribble; and generating the surreal experience of watching his Pittsburgh neighborhood getrify from predominantly Black to "Portlandia . . . but with Pierogies." 
And, at its most devastating, it provides him reason to believe that his mother would be alive today if she were white.
From one of our most respected cultural observers, What Doesn't Kill You Makes You Blacker is a hilarious and honest debut that is both a celebration of the idiosyncrasies and distinctions of Blackness and a critique of white supremacy and how we define masculinity.
Praise For What Doesn't Kill You Makes You Blacker: A Memoir in Essays…
"His essays are pointed, ruminative, often barbed and funny reflections on how the fact of his skin color has posed particular lifelong challenges, questions, and anxieties." — "Weekend Edition," NPR
"With candor, self-awareness and considerable humor, [Young] turns an unflinching eye on both himself and an American society constructed and sustained by racism." — Washington Post
"The VerySmartBrothas.com cofounder and senior editor for The Root has already established himself as one of our most vibrant voices on race. Now comes his first book, a blazing memoir in essays." — Entertainment Weekly, "20 Great New Books to Read this March"
"One of the freshest, most impor¬tant black voices on the internet." — Mother Jones
"Authentic, keen, and touching . . . The beauty of What Doesn't Kill You Makes You Blacker is that Young never tries to make it easy for readers. . . this timely and powerful book. . . like the work of bell hooks and Roxane Gay, should be required reading." — NPR
"A fascinating exploration of how race, class and gender, inform notions of black identity in American life [and] an astute critique of the contours along which black people survive the limitations of historic and systemic racism . . . language is itself a central character." — Pittsburgh Post-Gazette
"Readers who know Young's work from the blog he co-founded, Very Smart Brothas, will recognize his voice, his fondness for lists, his precise, comprehensive and spectacular references to pop culture, his wit and his keen mind." — Minneapolis Star Tribune
"Fans of Young's posts on VSB will recognize the wit, but these essays dig deeper than his typical blog posts. Here, you see his vulnerability and insecurities." — Pittsburgh City Paper
"Brave, incisive and witty. . . an essential American voice . . . Young is . . . the American writer who could bridge our racial divide . . . Sometimes as profanely magnificent as a Richard Pryor routine, but just as often droll in the vein of David Sedaris." — Pittsburg Quarterly
"With this absurdly trenchant, bouncy, tragicomic, expansive yet intimate book, Damon somehow, someway, made the page bend around my head and heart in a manner I honestly didn't think the essay or memoir forms were capable of bending." — Kiese Laymon, author of Heavy
"In this funny, illuminating and occasionally gutting book, Damon Young wrestles with his own masculinity, fears and lies, all while remaining unrelenting in his determination to learn and teach something valuable about blackness in America. He more than succeeds, in a volume that is a pleasure and an education." — Rebecca Traister, author of Good and Mad
"Striking in its storytelling and imagery, in its honesty and humor, in its self-reflection and self-criticism, in its Blackness and humanity. Damon Young produced an unobstructed and unsanitized memoir that few people have the courage to write and all people should be encouraged to read."  — Ibram X. Kendi, National Book Award-winning author Stamped from the Beginning: The Definitive History of Racist Ideas in America
"A passionate, wryly bittersweet tribute to black life…sharply observed…A must read." — Booklist (starred review)
"Darkly hilarious . . . Young's charm and wit make these essays a pleasure to read; his candid approach makes them memorable." — Publishers Weekly
"Acid-etched insight." — Library Journal
"Damon Young is one of the most fearless and important young writers today. A devastatingly funny critique of racism, What Doesn't Kill You Makes You Blacker is a humorous and deep dive into the culture and a life lived in that precarious state we call blackness." — Michael Eric Dyson, author of What Truth Sounds Like
Ecco, 9780062684318, 320pp.
Publication Date: January 14, 2020
About the Author
Damon Young is the cofounder and editor in chief of VerySmartBrothas, a senior editor at The Root, and a columnist for GQ. His work has appeared in outlets such as the New York Times, the Washington Post, CNN, MSNBC, Al-Jazeera, Slate, Salon, The Guardian (UK), New York magazine, Jezebel, Complex, EBONY, Essence, USA Today, and the Pittsburgh Post-Gazette.